Year 0: Building a Supply Chain with Regenerative Organic Certified® Cotton
April 10, 2023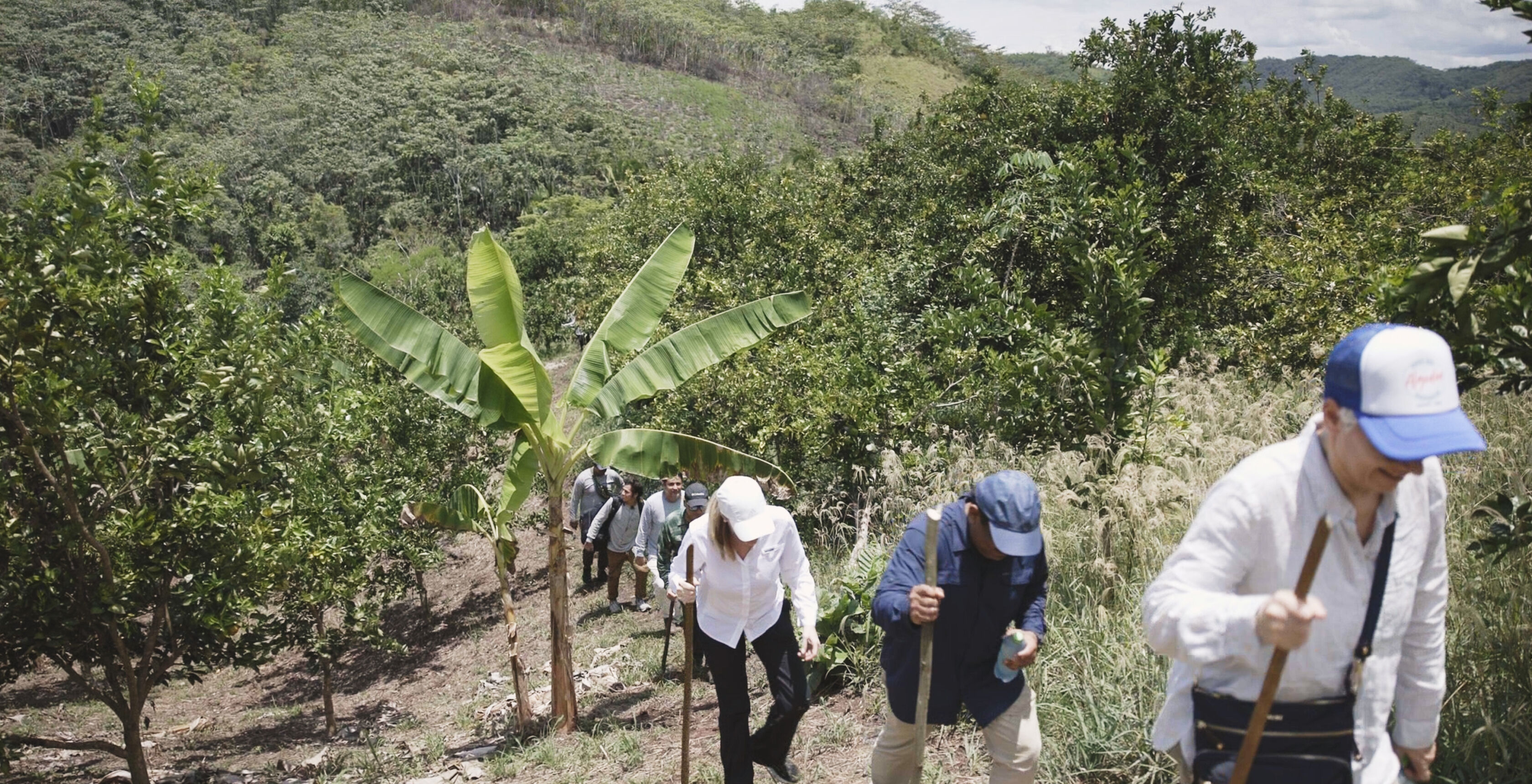 The EILEEN FISHER team and key partners from our Peruvian cotton supply chain visit a hilltop Regenerative Organic Certified® farm.
We flew over 4,000 miles to visit Regenerative Organic Certified® cotton fields—and get to know our supply chain in rural Peru. Why? Because we think this is a big deal.
On an overcast October day, EILEEN FISHER team members and business partners boarded a small plane in Lima, Peru wearing hiking boots, baseball hats and backpacks. Among the group were 20-odd representatives from every step of a local Peruvian cotton supply chain, from the textile agent to factory partners to the end customer—us.
This trip was unusual. Due to the complexities of the global supply chain, brands rarely know who their spinners and other second- and third-tier suppliers are—let alone their preference for aisle or window seats. In the current economic climate, manufacturers and brands are incentivized to protect the names of vendors they work with to maintain their competitive advantage. And yet, somewhat improbably, here were partners coming together around shared values and a common goal: learning everything there was to know about the cultivation of Regenerative Organic Certified® cotton in Peru's San Martin region.
Since 2020, our fabric and sourcing teams have worked hard to grow a local supply chain in Peru, where exceptional fibers and technical expertise make Peruvian fabrics some of the finest in the world. So when we heard about the opportunity to expand our local supply chain and be among the first brands to source Regenerative Organic Certified® cotton in Peru, we jumped—or rather, flew. First to Lima, then to rural Tarapoto, where we drove another three hours south by car just to see these fields firsthand.
WHY REGENERATIVE ORGANIC CERTIFIED® COTTON?
Following the launch of regenerative wool in 2018, our teams have been looking for innovative new programs that don't just do less harm to the environment, but actually help restore it. "We knew about the positive impact of rotational grazing and other regenerative practices on grasslands," explains Inka Apter, Director of Material Sustainability & Integrity, "but we've only more recently begun looking into regenerative agriculture in the context of land-based fibers like cotton. What we've realized is that organic cotton is no longer the end goal for us. We're on a journey of continuous improvement—and regenerative organic is our new north star."
Cotton is a staple on our line. Almost 99.6% of the cotton we use is certified organic, but there is still opportunity for us to make a greater impact. That's why, when we were approached with the possibility of sourcing cotton that is both organic and regenerative, we knew it was just the opportunity we'd hoped for. Not only is this Regenerative Organic Certified® cotton fiber completely traceable from the fields to the factory and grown without harmful pesticides or herbicides, it goes a step further: It's cultivated using holistic farming methods that support soil health and biodiversity in the region. Regenerative Organic Certified® cotton is the highest verifiable standard for growing cotton that's currently available.
In addition to better land management practices, the Regenerative Organic Certified® program encompasses strict guidelines for social responsibility, which include commitment to a living wage, safe working conditions and transparency about payments and contracts. Farmers earn a premium for growing organic cotton and an additional premium for growing Regenerative Organic Certified® fiber; the latter goes into a fund that the farmers manage and can choose to spend on community services, educational programs or new equipment.
The future is regenerative. As part of our commitment to a circular manufacturing model, we're continuing to invest in regenerative fibers that support healthy soil systems—a vital component in the fight against climate change.
So what exactly is the impact of regenerative organic cotton cultivation on the land, and how will this program improve farmers' livelihoods? The truth is we still don't exactly know. "We are in year zero," Cristina Rodríguez, a representative from Ecocert, explained. "It will likely take about 5 years for us to see any measurable difference in the soil." It follows that it will take just as many years to see what kind of impact this program has on the local community.
The first crop of Regenerative Organic Certified® cotton in San Martin was harvested last fall and is being spun, dyed and sewn into finished garments at the time of this writing. While we still have as many questions as answers about the long-term impact of this program, we do know that regenerative farming can play a vital role in developing more resilient ecosystems and are committed to the journey. As Inka put it: "We're all on a fact-finding mission together."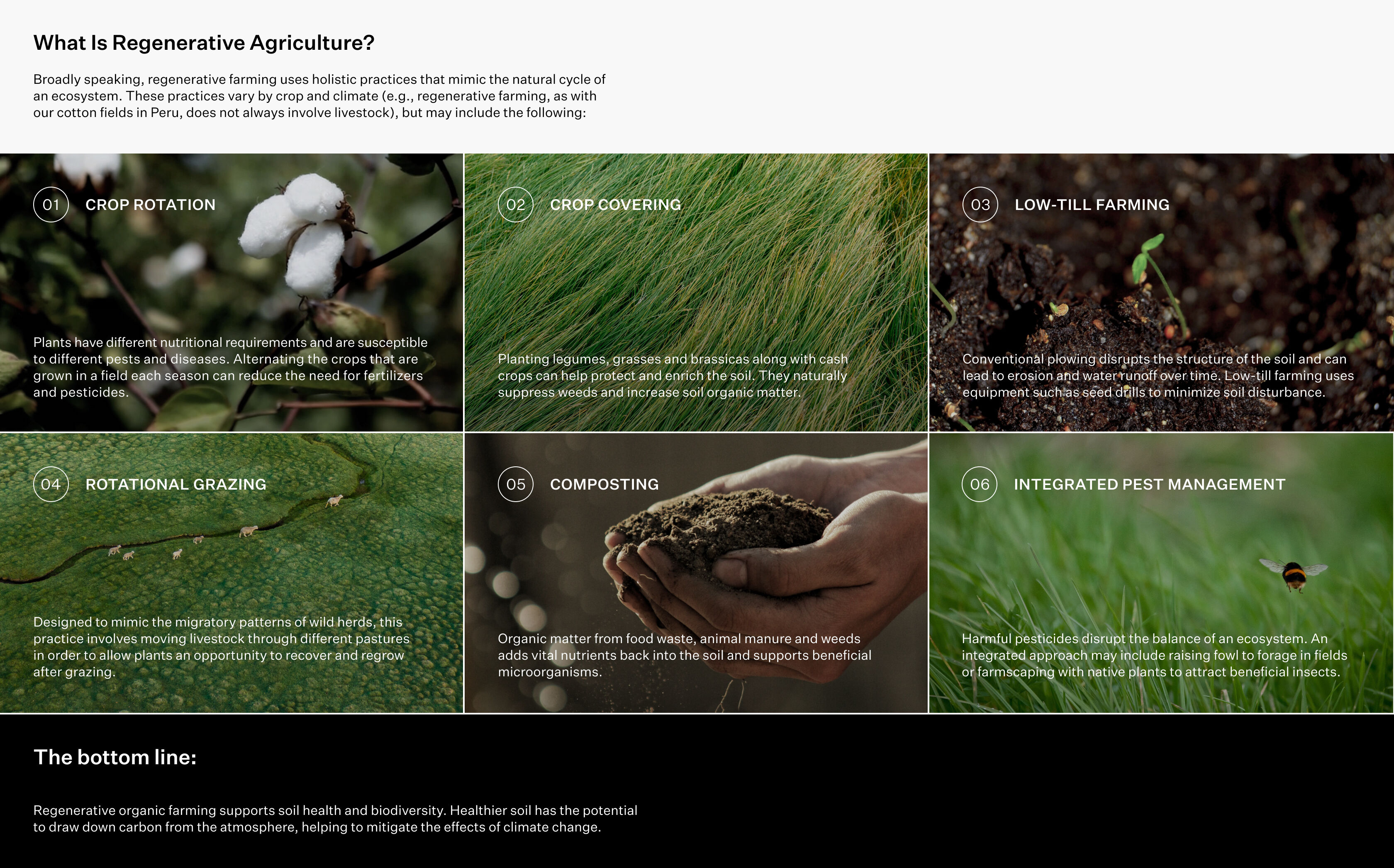 MEET OUR SUPPLY CHAIN
Our supply chain uses Regenerative Organic Certified® cotton fiber and is completely transparent, from field to spinning mill. Although the amount of Regenerative Organic Certified® fiber that's currently available is very small, it's our hope that, by working alongside our partners in support of this program, we can help to increase future capacity—a win for growers, our industry and the planet.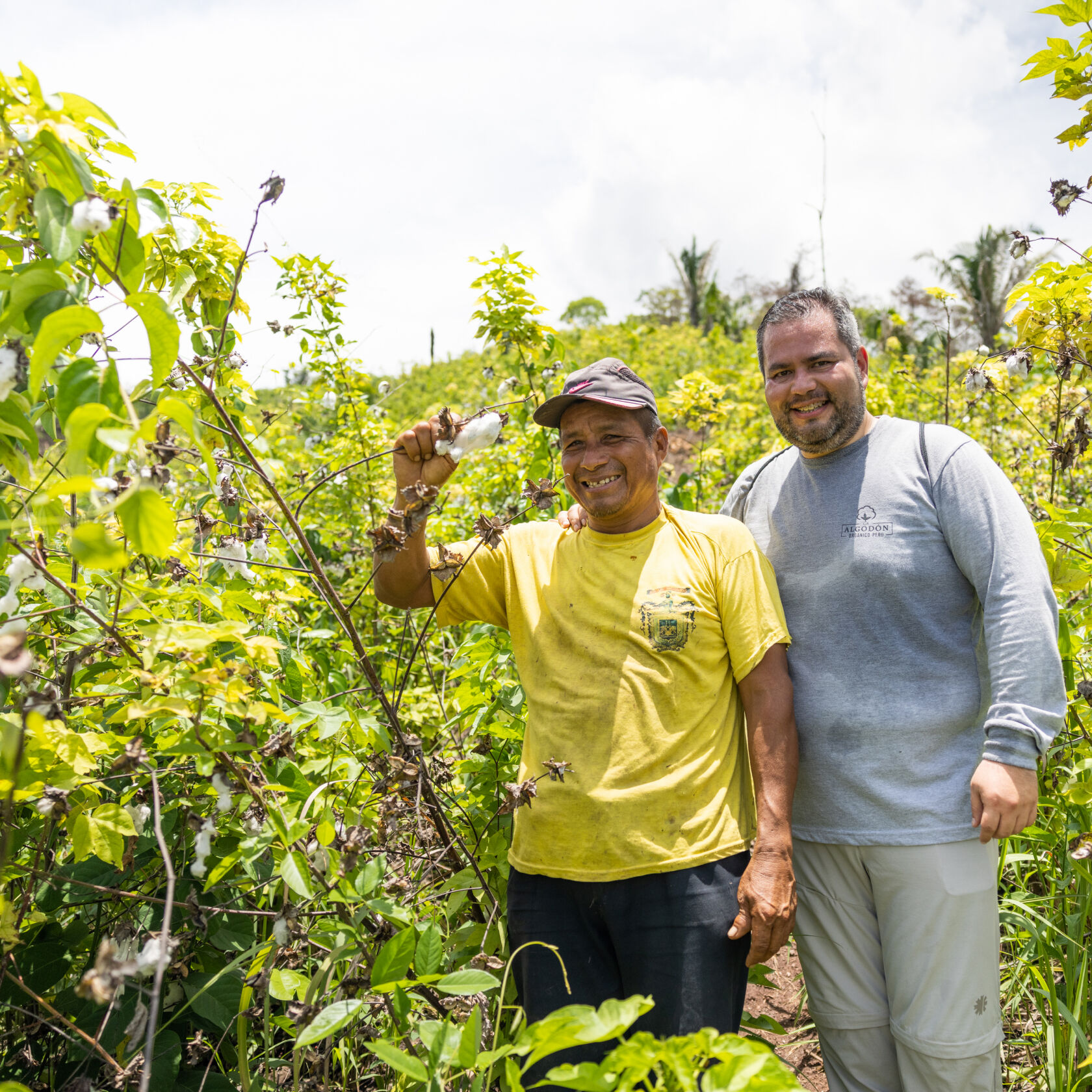 Jorge Sinarahua, a regenerative organic cotton farmer, and Andrés Rivero, co-founder and General Manager of Algodón Orgánico Perú.
THE FIELD TEAM: ALGODÓN ORGÁNICO PERÚ
Algodón Orgánico Perú (AOP) works directly with growers in the San Martin region to help them convert their fields to organic cotton and Regenerative Organic Certified® cotton. Rural San Martin has seen its share of economic struggle and cartel violence over the last few decades, and this organization is providing an alternative source of income for local farmers. AOP employs local field teams that teach growers (many of whom are first-time cotton farmers) how to sow the seeds, test the soil and harvest the cotton in a way that supports soil health. The organization then commits to buying all the cotton up front at a set price, protecting farmers from market dips. At the time of our visit, AOP had worked with smallholder farmers to convert 400 hectares to Regenerative Organic Certified® cotton, with even more hectares planned for conversion this year.
"Our investors challenged us to create the most socially and environmentally responsible project we could. So that's what we're doing here," says Miguel Grimaldi, co-founder and General Manager, who spends two weeks every month in the fields. "At the end of the day, the most important people in this project are the growers," he continues. "It's their care for the land that makes all of this possible. They are very proud of the work they are doing—and it gives them a lot of pride that brands and manufacturers want to see their fields and learn more." That pride was palpable on our visit, where farmers gave us a warm reception and generously shared fresh coconuts, sugarcane, and Cusqueña beer.
"As a brand, relying on third-party certifications is not enough. We need on-the-ground verification to truly see how our fiber is grown—and this trip was the ultimate proof of how important it is to connect with the growers."
—Inka Apter, Director: Material Sustainability & Integrity
THE GINNING FACILITY: MERCANTIL ALGODONERA
In partnership with AOP and Filasur, Mercantil Algodonera helps to finance up-front costs to farmers, then purchases the raw cotton fiber for processing at their ginning facility. Once the cotton fiber and seeds are separated, all viable seeds are recovered and given back to farmers at the beginning of each planting season.
Mercantil Algodonera also helps fund research projects that support natural seed diversity (genetically modified seeds are banned in Peru). By breeding plants with favorable traits, researchers are working to develop specimens that are perfectly suited to Peru's different microclimates. The latest success story? Organic Pima cotton, an extra-long staple variety that typically grows in arid regions, now thrives in the tropical climate of San Martin. The cotton bolls naturally turn upside down, which allows rain to run off and protects the fibers within from water damage.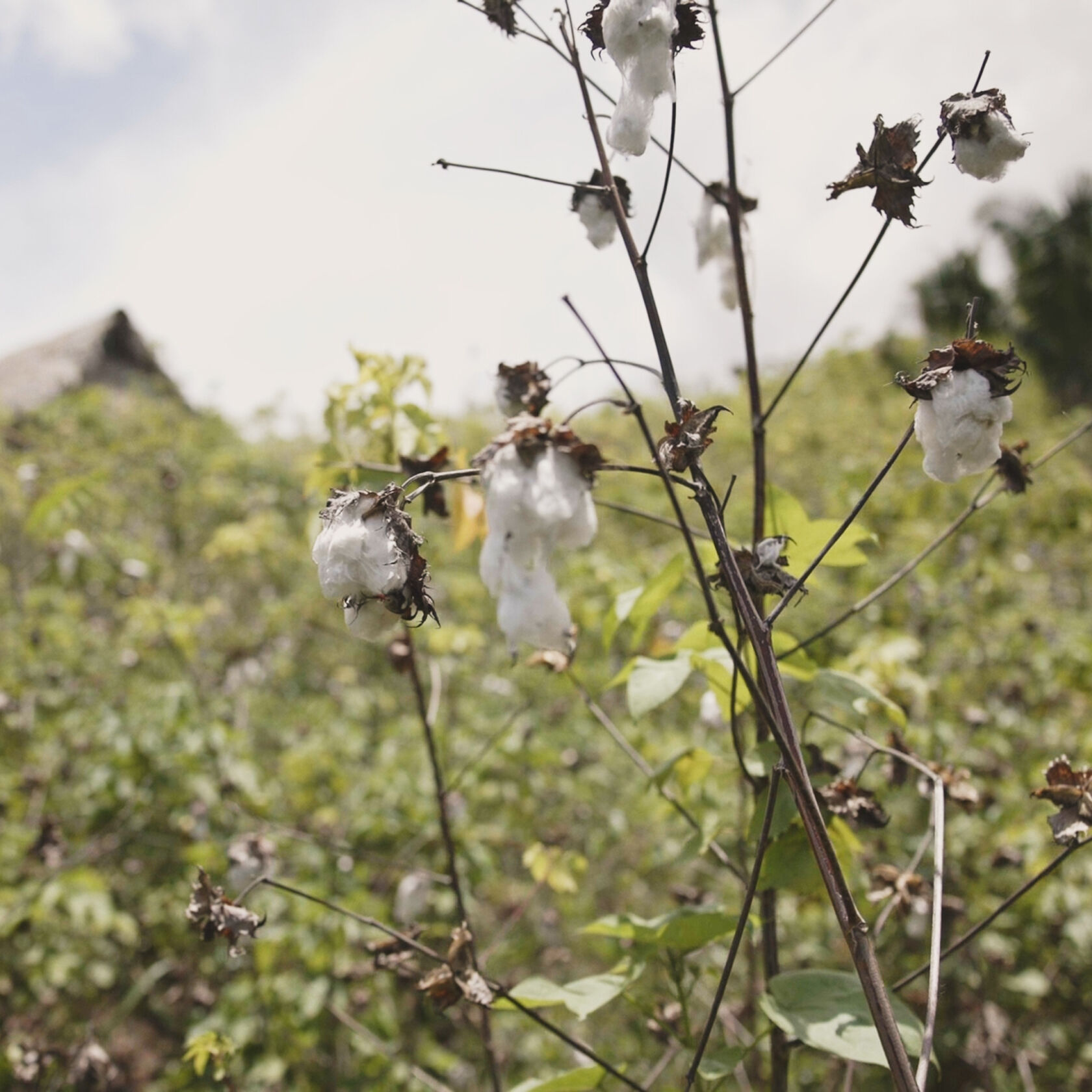 This organic Pima cotton boll naturally turns upside down, protecting the fibers from water damage in the tropical San Martin climate.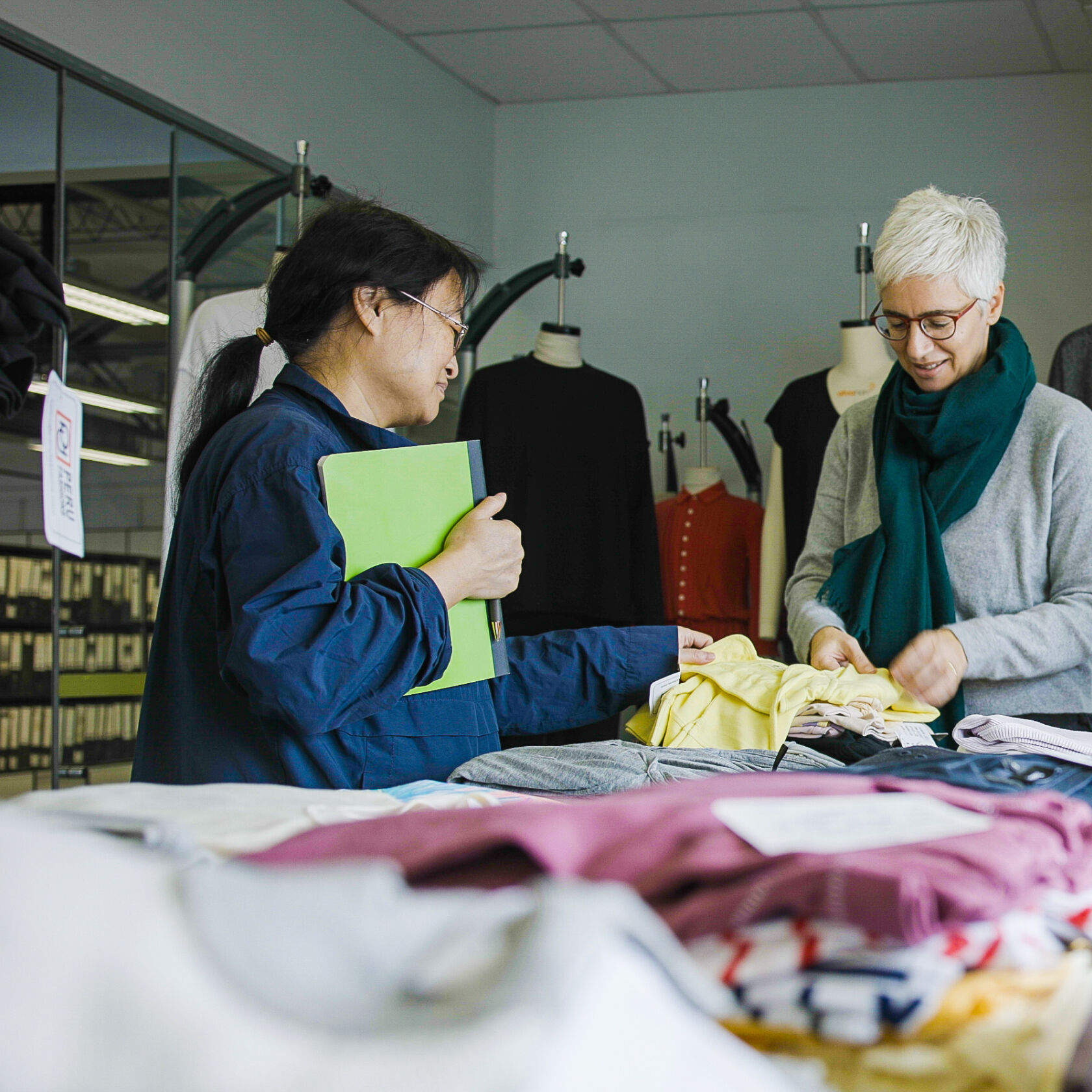 Inka Apter, Director of Material Sustainability & Integrity, and Xiaofei Li, Textile R&D Chemist & Transparency Specialist, examine fabric samples at our garment factory, Peru Fashions.
THE MILL: FILASUR
Located in the outskirts of Lima, this family-owned mill is the largest in Peru. They purchase the cotton from the gin, including Regenerative Organic Certified® fiber, to spin into the solid and heathered yarns that make up some of our best-loved Peruvian cotton fabrics.
THE GARMENT FACTORY: PERU FASHIONS
This family-owned dyeing, knitting and garment factory employs over 700 workers. Our designers and fabric teams partner closely with Peru Fashions to develop new stitches and finishes for many of our Peruvian fibers (our Organic Pima Cotton Jersey and Organic Cotton French Terry collections are made here).
THE BRAND: EILEEN FISHER
A small number of pieces made from cotton grown in Regenerative Organic Certified® fields will be on our line in the near future, with a larger offering planned for Spring 2024 as we convert more of our fabric programs to regenerative organic. Look out for signature shapes in Pima Cotton Jersey with the luxuriously smooth feel you know and love—updated with fiber that supports soil health and biodiversity.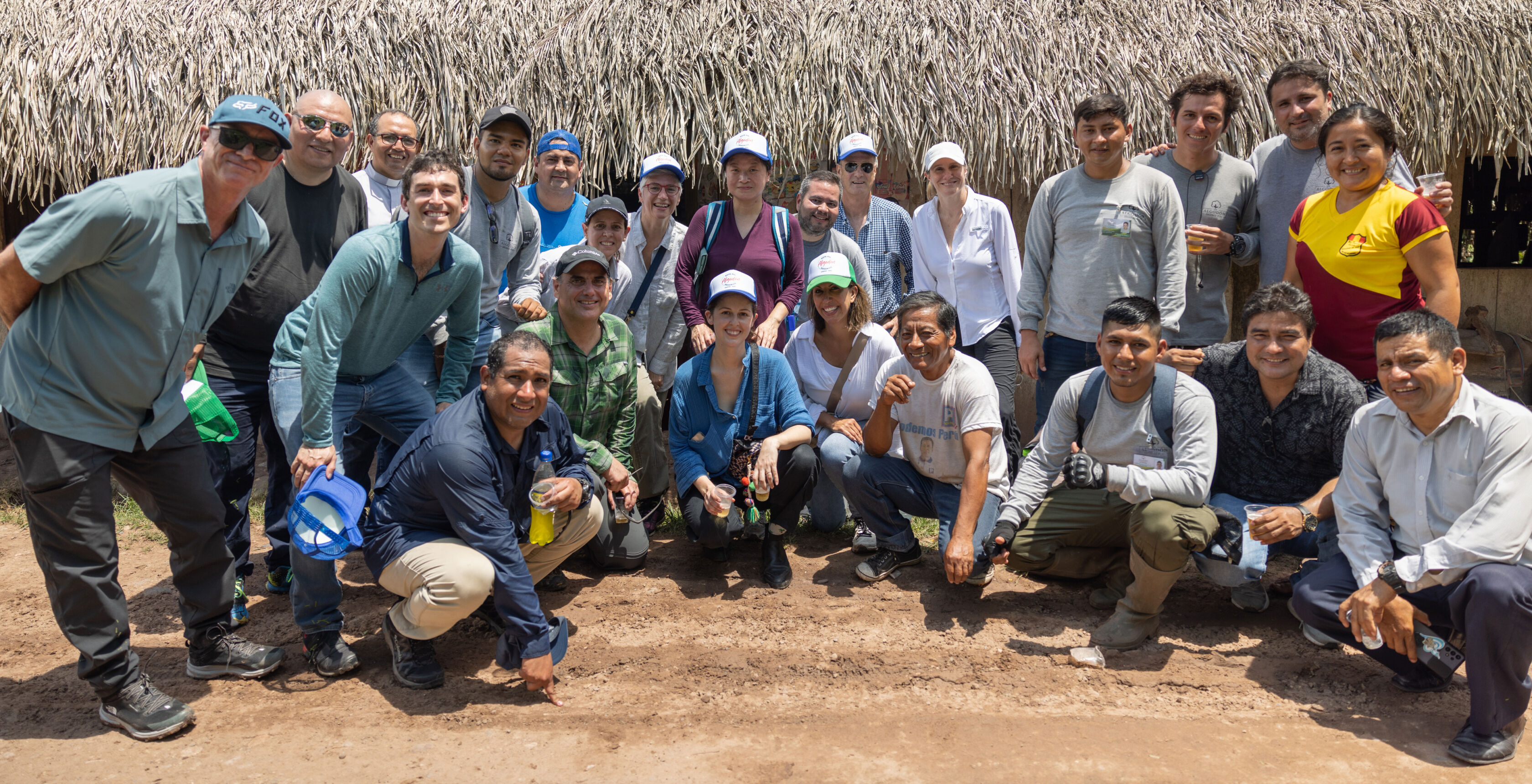 The EILEEN FISHER team and key partners from our Peruvian cotton supply chain enjoy a beer after a visit to a Regenerative Organic Certified® cotton farm.