The Pain of Progress: Our Renew Program Reaches 2 Million Garments
April 10, 2023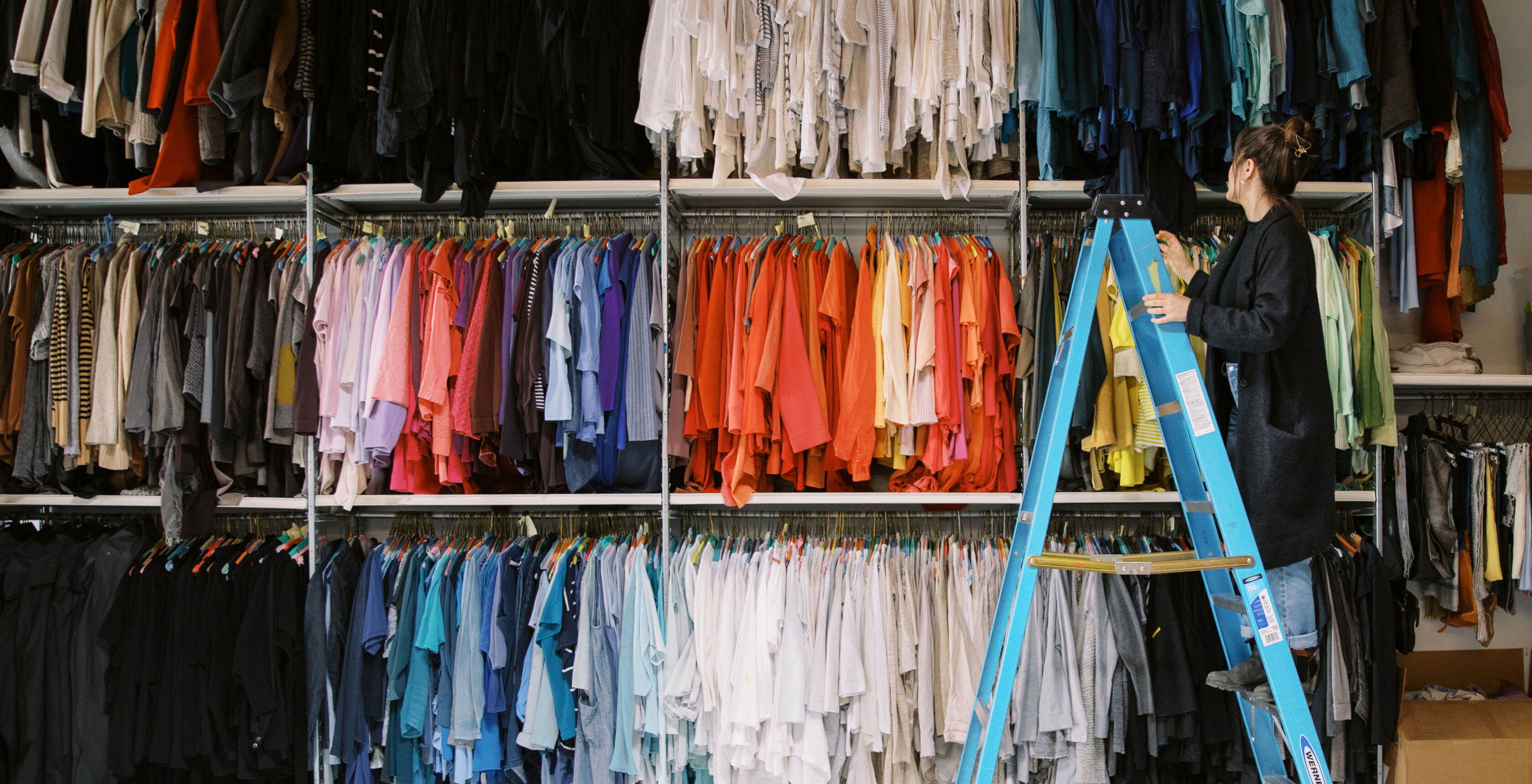 As the Renew program reaches a major milestone, Lilah Horwitz contemplates what it took to get there—and how far we still have to go.
Two million garments. That's the massive milestone the EILEEN FISHER Renew take-back program recently reached. Since its inception in 2009, the program has collected a total of two million garments. Of those, one million have been resold, donated or remade.
For Lilah Horwitz, Director of Renew Content & Marketing, who started with Renew back in 2014 when it was still called GREEN EILEEN, two million marks a moment to reflect on the hard work and innovation it took to get here. It's also a reminder that, before the program can make an impact on the level it was intended to have, there's a lot more work to be done. After all, two million is only scratching the surface—it amounts to just 5.4% of everything EILEEN FISHER has made in the last 39 years.
"We didn't wave a wand and do this," Horwitz says. "This is a really hard thing that the brand did."
Horwitz, who is based in Seattle, has fond memories of the early days of Renew. It was, she recalls, a time of small-scale, hands-on involvement, combined with an inventive spirit. "A lot of the innovation and process-building happened in Seattle," she explains. With EILEEN FISHER headquarters several time zones away in New York, "we were operating like a startup."
"Eileen has a saying that you're building the bridge as you walk across it," she says now. "We were figuring out the process in a really human, hands-on way."
The program began in 2009 as an opportunity for employees to bring back their unwanted clothes. Then in 2013, the program launched nationwide with a marketing push for customers to return their used EILEEN FISHER items—in any condition—in exchange for five dollars on a gift card. As the garments began to come in, a small staff assessed their readiness to be repaired or resold.
The campaign was a success and, as customers began returning used garments, what started as a trickle of just a few items soon became a deluge. The team had their work cut out for them, and the system evolved on the fly. "All of our inventory was on printed-out pieces of paper," Horwitz recalls, laughing. "We used a printed Excel sheet and penciled in the number of items. We were counting clothes, we were trying to come up with, 'Okay, what are our categories? Are we going by tops and bottoms? How do we sort, what are we sorting for?'"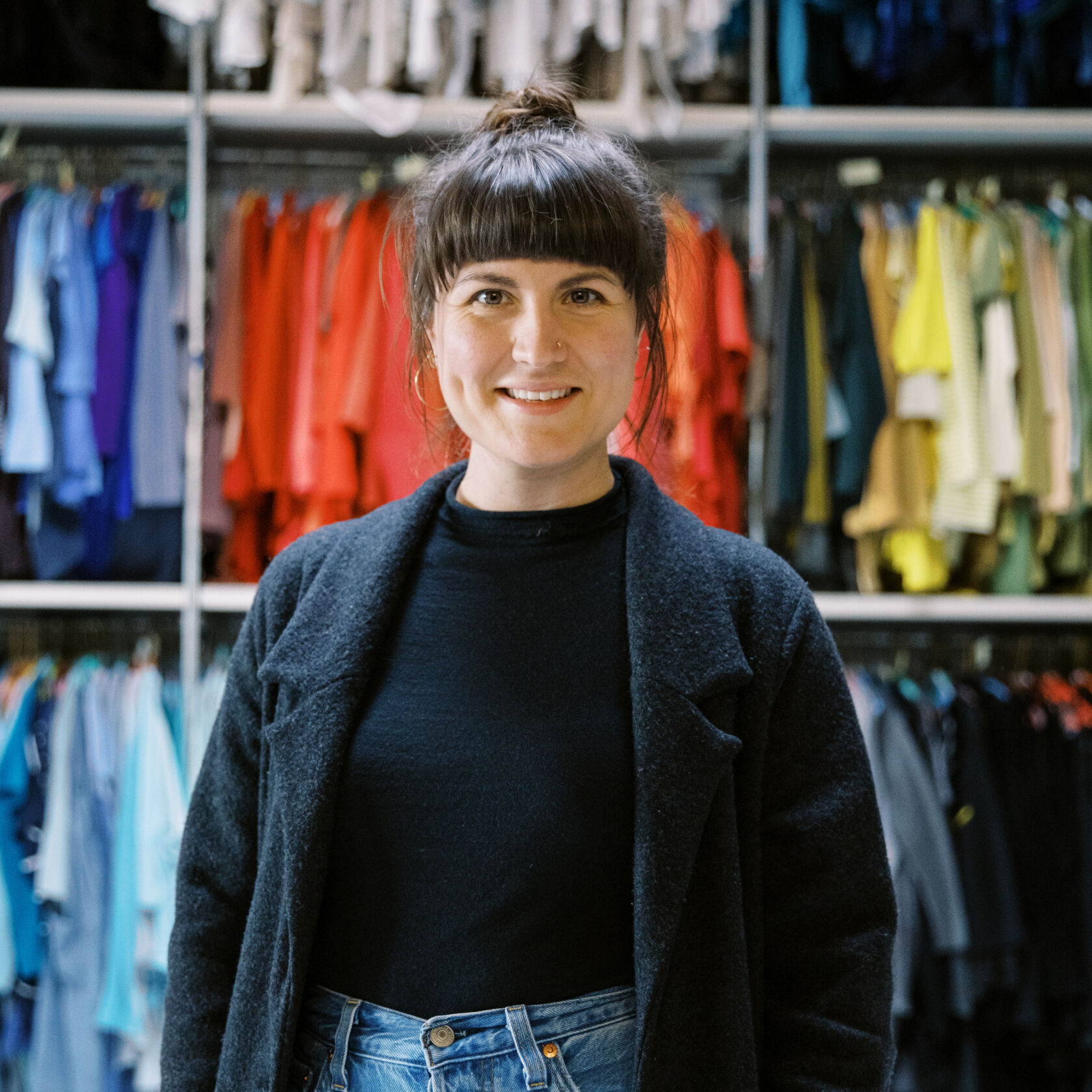 Lilah Horwitz, Director of Renew Content & Marketing, at our Seattle warehouse.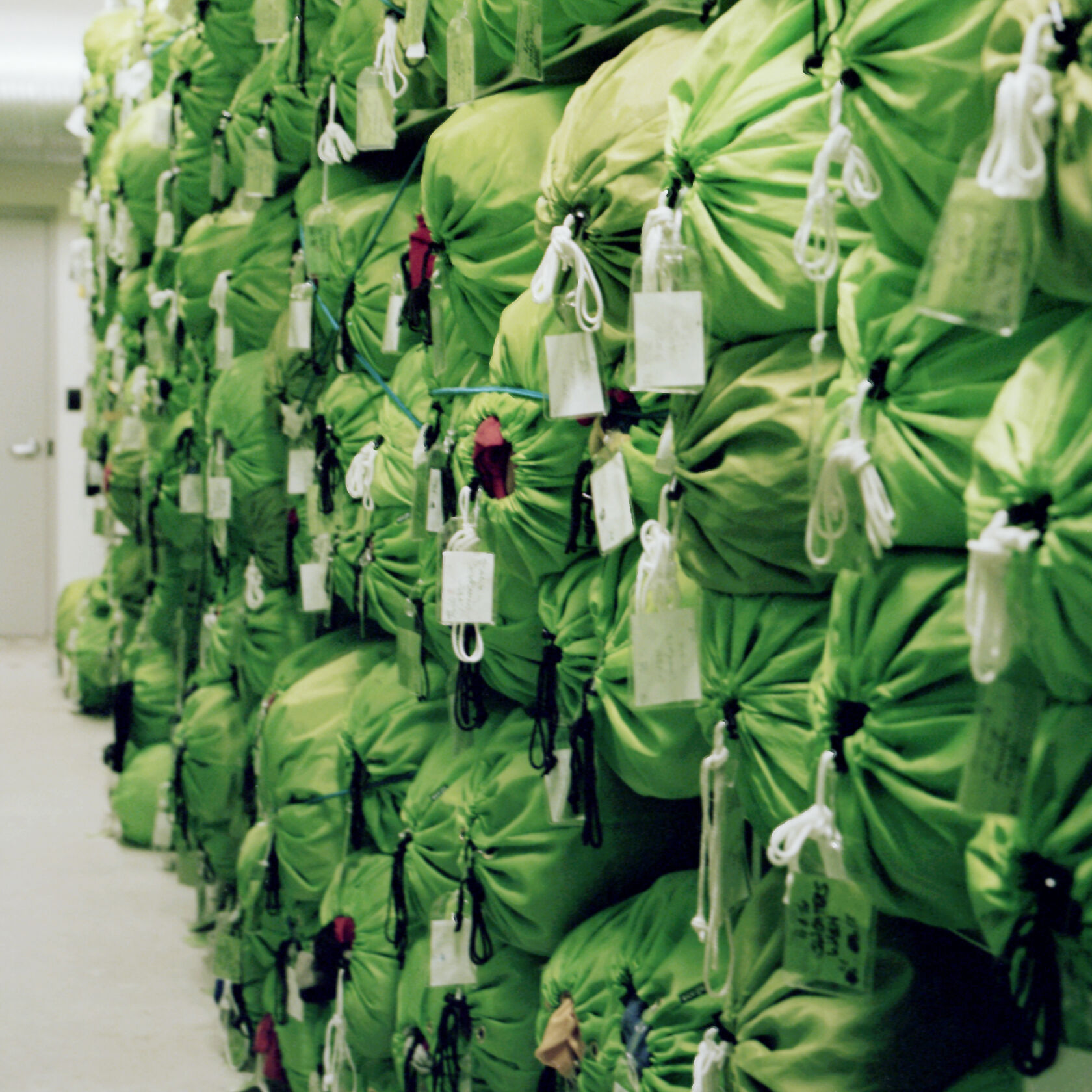 They came up with a system to sort the clothes into categories: clothes in near-perfect condition; slightly worn, flawed or damaged pieces; and clothing too damaged to repair. "We all used to take a day sorting and a day doing laundry each week, no matter what your job was. We used to wash all of the clothes in our warehouse, in home washing machines—they're not the industrial size. We would lay out all the wool to hang dry, so the whole place would be covered in racks with sweaters on them."
"It was very emotional work," Horwitz says now. It was also ahead of its time. "I think we're in this interesting space right now where every brand feels the need to be responsible and sustainable. We were a kind of pioneer, a heritage brand doing this in a very hands-on, high-touch way."
Though she has warm memories of those days, Horwitz acknowledges that at times the program was low-tech to a fault. "We were holding things together with chewing gum and duct tape. Which is cool, but sometimes painful, and needs to change and grow. So I think that's part of our reality check. Scale gets very difficult on a hand-touch level."
Now, she says, "I feel like things are speeding up." Sorting is currently handled by a Colorado-based company called Tersus, which uses a waterless washing technology. For online sales, warehousing and fulfillment are handled by Trove Recommerce.
"We were able to grow and scale because these new innovative partners appeared on the market," says Horwitz. As brands forge a path toward sustainability and circularity, more systems and support evolve too, making it a little easier for other brands to follow suit.
This is just one illustration of how innovation can slowly begin to reshape the industry. Another example lies in what Horwitz calls second-tier clothes: those slightly damaged pieces that still retain value for resale.
Horwitz wonders, "If we can find the right customer for slightly damaged pieces that are still super wearable, can we help people start offsetting purchases of new clothing?"
"We want to be responsible as a brand, that's part of our thing. We don't want to say to our customer 'Only bring back the things we can resell.'" The whole point is circularity; it's about keeping a garment in the cycle of use—whether that means mending, reselling, remaking or downcycling it. But the biggest win is making sure that wearable clothes live a longer life before having to transform at all. As Horwitz notes, "The most sustainable garment you can wear is one that's already been made, and already been worn."
"The most sustainable garment you can wear is one that's already been made, and already been worn."
—Lilah Horwitz, Director of Renew Content & Marketing
As more brands work toward mitigating the massive environmental impact of the fashion and apparel industry, one truth begins to emerge: There is no single, simple fix. Making clothing with the goal of creating a circular manufacturing model requires many small, successful efforts by stakeholders in every stage of the process, from agriculture and harvesting, to manufacturing, to retail and resale.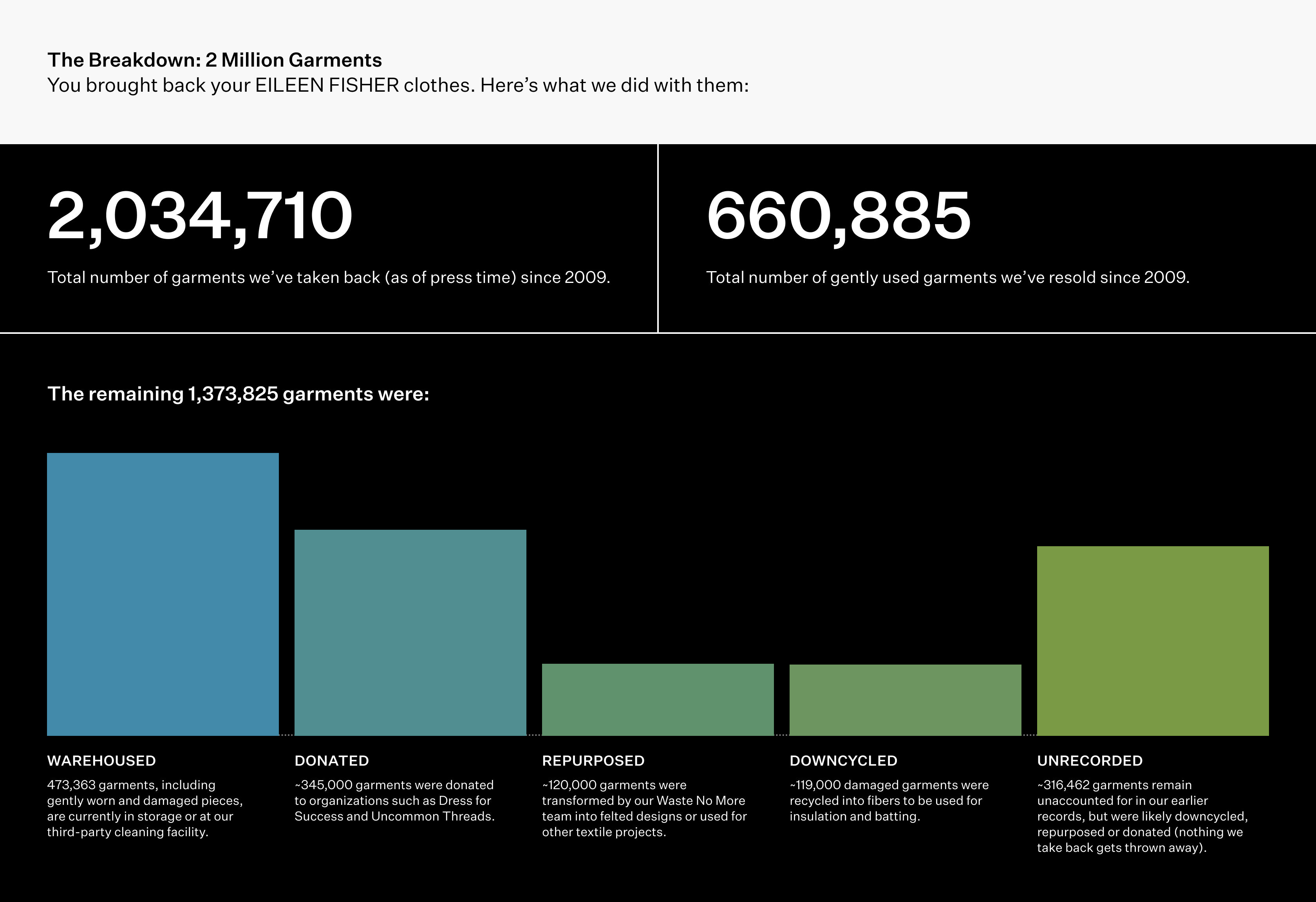 In other words, as we work toward circularity in the apparel industry, we aren't seeking one big, overarching solution. The trick is to trust that many small initiatives, pursued separately or knit together, can add up to a huge positive impact.
We can make a difference, but the work is far from finished. As Horwitz says, "Two million garments feels like a big number, but it's really a drop in the bucket."
Indeed, the EILEEN FISHER Renew program has brought home the reality that two million, while a formidable number, is only a small percentage of what a single brand has made within the vast landscape of the apparel industry. What's more, most of the clothing and textiles the industry produces are still landfilled, incinerated, illegally dumped in our precious natural environment or exported to lower-income countries.
"We are not circular by any means," says Carmen Gama, EILEEN FISHER's Director of Circularity. "No one in the world is circular, but one of the things that helps us on the path to becoming circular is that we start with high quality materials and most of them are natural fibers. And our garments are simple. That in itself allows a garment to have multiple lives. When they are no longer wearable as garments, the majority can go to fiber recycling, or textile-to-textile recycling."
As a brand, EILEEN FISHER has committed to finding and furthering the kind of small initiatives that add up: recycling water bottles to make shoes, promoting regenerative agriculture and sustainable farming when sourcing fabrics and using low-waste wool felting processes to turn post-consumer clothes into artisanal fabrics. EILEEN FISHER is also pursuing options like fiber-to-fiber recycling for damaged inventory that can't be felted.
One lesson from the growth of Renew is the importance of designing for circularity from the get-go. Quality is key. Well-made clothes, with simple, durable construction and natural fabrics lend themselves to being reused and reworn.
"Some of the best pieces we get back are the first pieces Eileen ever designed," says Horwitz. It's really clear, the connection there between the quality of the fabrics and the simple style of the design. I think it's a testament to the clothes."
Horwitz also notes that it wouldn't be possible without customers who care about environmental issues, and who understand and support the brand's efforts toward circularity. "Our customers are amazing," she says. "I think that they need to be hugely celebrated for the success of this program. Without them, we couldn't pursue this."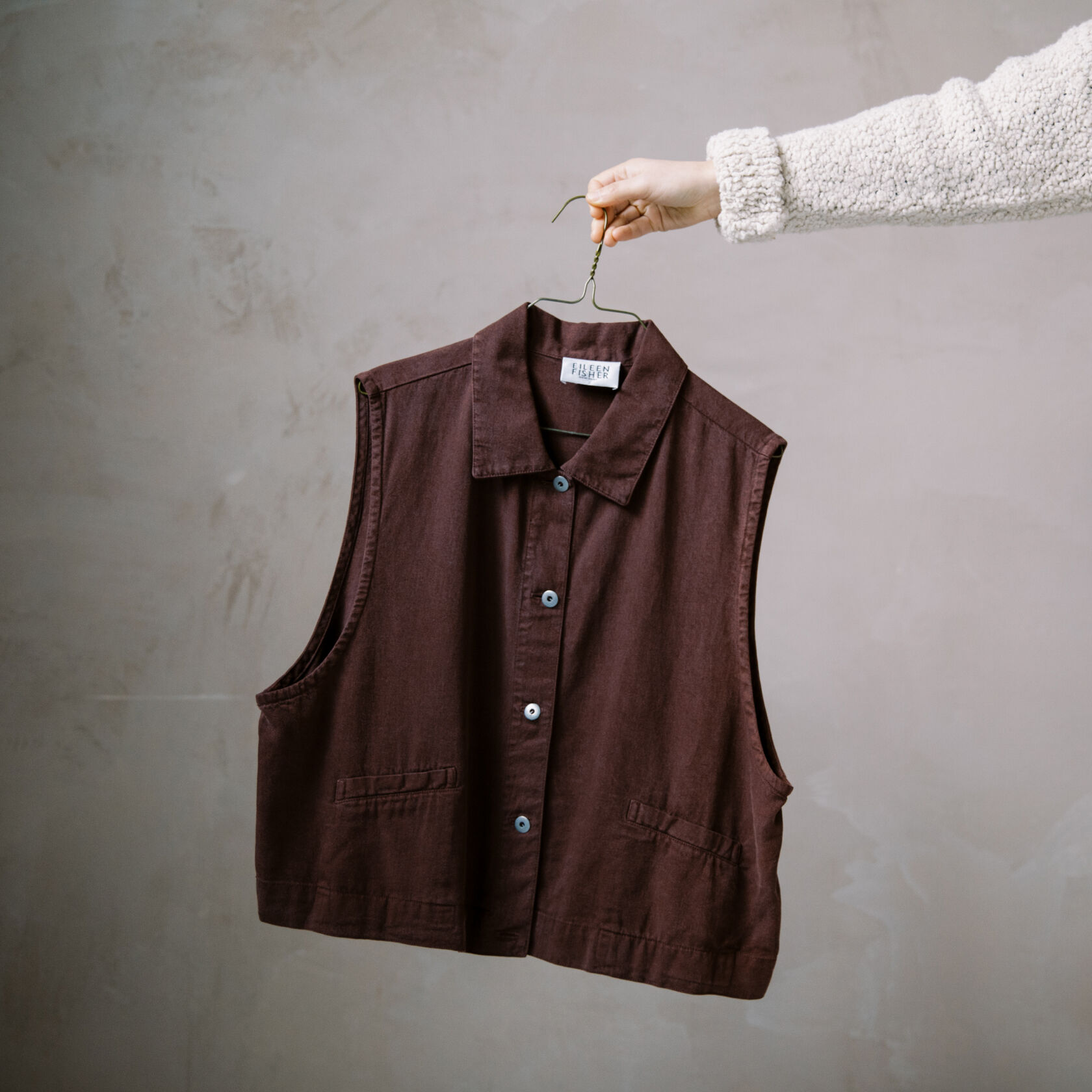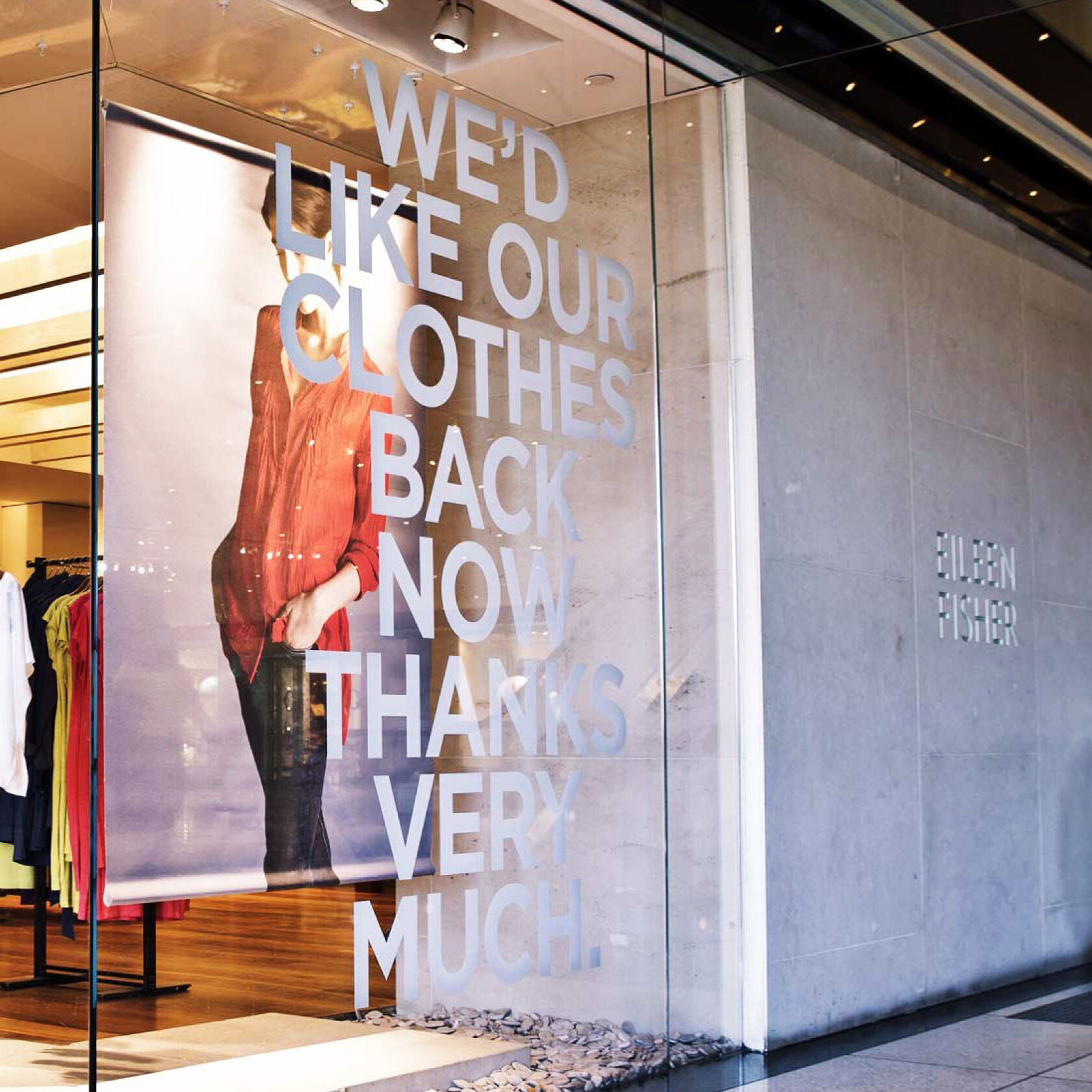 WE'D LIKE OUR CLOTHES BACK NOW
Bring your EILEEN FISHER clothes back to any US EILEEN FISHER or Renew store and receive $5 in Renew Rewards for each piece you return—no matter what condition it's in.
Don't live near a store? Ship your items directly to one of our recycling centers:
50 S. Buckhout St., Irvington, NY 10533
624 S. Lander St. #20, Seattle, WA 98134