Meet Our New CEO: A Conversation with Lisa Williams
March 17, 2023
There's a new CEO in town. Lisa Williams, formerly of Patagonia, is ready to lead our brand into its next chapter, continuing the legacy Eileen has built over the last 38 years.
After almost four decades of turning her vision of simple, sustainable clothes into a reality, Eileen Fisher was ready to pass on the torch. Enter Lisa Williams, a 20-year veteran of Patagonia, who most recently worked as the brand's chief product officer. After an exhaustive search that lasted well over a year, Eileen chose Williams to step into this pivotal moment of post-pandemic change and lead our brand into its next chapter. In some ways, Williams was an obvious choice. Her beliefs around growing the brand without growing its carbon footprint echo Eileen's sentiments almost to a T.
"We want growth to come from making responsible decisions—to be the byproduct of those decisions, rather than their driving force," Williams explained via video chat on a sunny Southern California afternoon. Now that she has six months of experience as CEO of EILEEN FISHER under her belt, we caught up with her to ask how she's finding her new role, what lessons helped prepare her for it and how she plans to build on Eileen's legacy.
You worked at Patagonia for 20 years. What are some important lessons you learned there and are bringing with you to EILEEN FISHER?
Lisa: So many—I worked with some very passionate, inspirational founders and leaders that I learned a lot from. One would be to be unapologetically clear about what's important to the company and its reason for being. Another is the importance of creating a place where colleagues are friends and people enjoy being there. Also, operating responsibly can be complicated and challenging but it's the only real choice. Finally, just getting outside. You don't have to be hanging off the side of a rock, but being outside in any way that works for you really changes your perspective for the better
Can you share a defining moment in your career?
I'll relay one from when I felt pretty overwhelmed as a working mom of two young girls. We had a big launch coming up at work. Some of the product wasn't going to arrive on time, and I stayed late at work trying to fix it. In reality, there wasn't anything I could do. When I finally left the office that night, I wanted to make it home in time to see my girls for a few minutes. Of course, there was an accident on the L.A. freeway, and I quickly realized I wasn't going to make it for their bedtime. I sort of broke down in tears feeling like I wasn't doing anything well, personally or professionally. I eventually pulled myself together and gave myself a real talking- to. I realized that you need perspective and how important it is to maintain that perspective, no matter the chaos. That's easier said than done, but I think that moment of rebounding helped me—and still helps me to this day when I can't get it all done and have to prioritize what's most important.
Did you have a mantra or mindset going into your new role as CEO?
I guess so—although I hadn't really thought about it as a mantra necessarily. I can't remember exactly where I read this quote, but it essentially says there's no single way to be a perfect mother, but a million ways to be a good one. And that's always inspired me to find many ways, big or small, to do better. I think it's easy to substitute "mother" with any role, including CEO.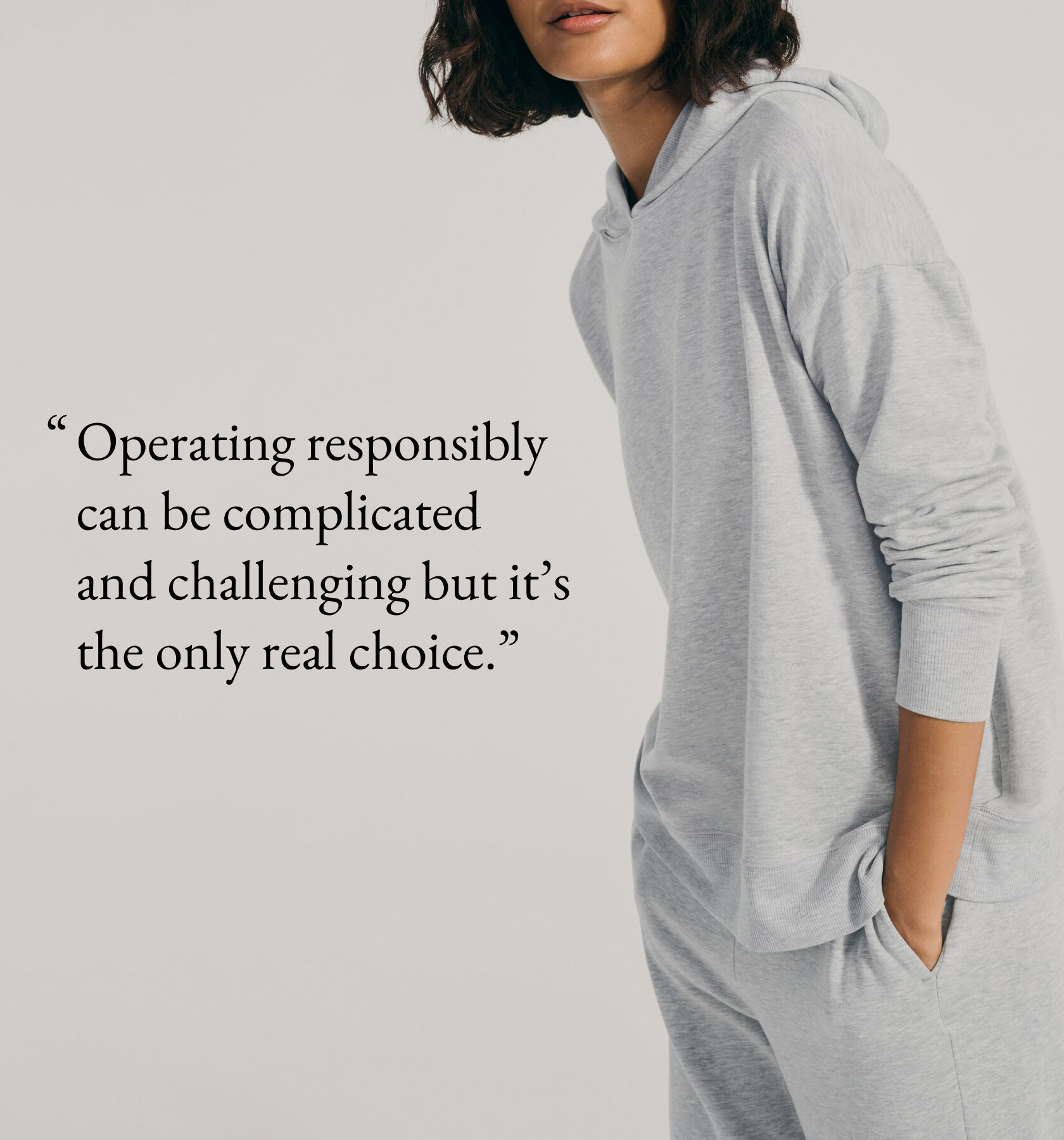 How are you finding your new role, any challenges or surprises?
I'm not at all surprised by the people and culture. It's exactly as I pictured it would be, having spent some time with Eileen. It's been amazing settling in and being welcomed by warm and talented people. Now that I have more insight into the company and the great work that's been going on for decades, what feels like the biggest challenge is helping to prioritize the many opportunities that we have in front of us to chart the right path forward in this post-pandemic moment.
You're splitting your time between California and New York; how do you manage work/life balance amid all the traveling?

I'm six months into it and, honestly, I'm still trying to work out the right balance and not think about my life in two-week increments: California, then New York. I'm getting there.
"If we can grow and still be an example of a business that is constantly challenging itself to meet a higher bar of responsibility, then we're doing things right."
Eileen has previously talked about grappling with how to grow our brand without growing our carbon footprint. What does this idea of what Eileen calls "good growth" mean to you?
That word growth—there's a real tension there. When you're trying to do it responsibly, you live in that tension every day as you make decisions. Of course, the business has to be financially successful to exist, and some level of growth is necessary just to offset an increasing expense structure every year. But we want growth to come from making responsible decisions—to be the byproduct of those decisions, rather than their driving force. We want to be a great choice for people who try to be conscientious about their personal consumption and support businesses that stand for more than just profit. If we can grow and still be an example of a business that is constantly challenging itself to meet a higher bar of responsibility, then we're doing things right.
In your opinion, what is the most important factor in making the clothing industry more sustainable?
Outside of helping consumers understand the impacts of their purchases, the decisions we make about the raw materials in our products are a critical factor. Things like where we get them, how they are grown and produced, whether they have an end-of-life solution. Understanding the answers to these questions and making informed decisions is really critical. The raw material component of our products is the lion's share of our footprint as a company. Ultimately, for all of us in the apparel industry, the biggest challenge right now is finding the right balance or business model for integrating new production with selling and extending the wearability of used garments, as well as being responsible for what we make when it reaches the end of its usable life. So, finding the right business model is really critical right now.
What do you think has been the secret to EILEEN FISHER's success?
I think a lot of our success is rooted in authenticity. Eileen was way ahead of her time in terms of how she thought about the business and the role of clothes in our lives. We now have decades worth of history and loyalty built on her principle of timeless pieces, designed to work together as a system.
There's a lot of overconsumption in our society today, especially in the clothing industry. How do you buy with intention and what does conscious consumption look like to you?
For me, personally, I really try to minimize what I buy. I consider my need to purchase and avoid it when possible. But when I do make a purchase, I try to be as thoughtful as I can, whether buying organic or local, seeking out transparent companies with good intentions, or looking for B Corp certified businesses.
What are some of the other sustainable practices you apply to your everyday life?
Buying used when possible. I love flea markets, and as I was setting up my place in New York, I bought my dishes and glassware used. I also just bought a used electric car for when I'm in New York, I have solar panels on my house in California—but we can always do more right? Maybe it's like the mantra we talked about earlier? There's no perfect way to be a sustainable citizen, but a million ways to be a good one. I think it's just trying to do a lot of the things that we know are the right things to do.
About 10% of CEOs at Fortune 500 companies are women. Do you have any words of advice for women in leadership or women hoping to fill leadership roles one day?
Such a good question. I'm for sure a work in progress, but I would say to be confident in your decisions, maintain balance—whatever that means for you—and give yourself a break physically and emotionally.
Would you name a woman who inspires you and tell us why?
There are so many. It's probably too obvious to say Eileen, but it's true. Her approach to the product and business was ahead of its time. Creating an apparel company rooted in helping women thrive while simultaneously helping them be confident, comfortable and conscientious, I mean—it's kind of genius. As a person, she's humble, she's a little bit shy yet so willing to put herself out there. I have a ton of respect for her. I would also say my sister. I lost her to cancer a few years ago. She was a larger-than-life figure who had a huge personality and really helped me be less introverted and a little more fun too.