How to Play with Proportion—and Maximize Your Wardrobe
August 30, 2022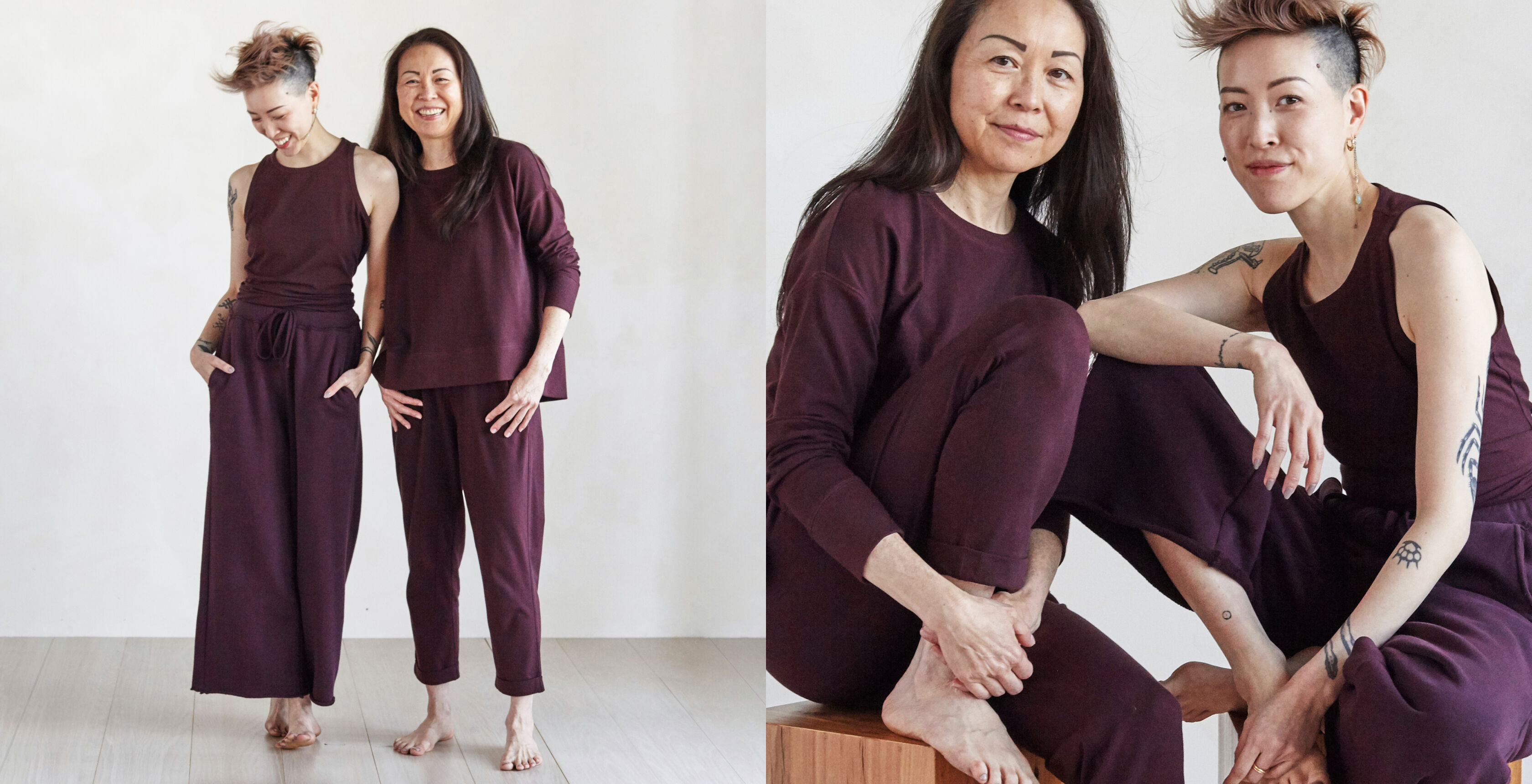 Ready to add a little variety to your wardrobe? Follow the simple formulas below—and watch your options multiply.
It's a familiar story. You're running late and find yourself standing in front of a jam-packed closet with nothing to wear. If you've been there—and I certainly have—you're in good company. According to a recent poll, nearly 61% of Americans admitted that they regularly struggled to get dressed. The reasons vary. For some, it's a lack of basics, the glue of every wardrobe. For others, it's dressers stuffed with pieces that don't fit quite right. My personal panic came down to a simple fact: I was uninspired by everything I owned.
Fortunately, working at EILEEN FISHER is like taking a master class in wardrobing (Eileen founded her company in 1984 because she wanted to help women get dressed easily, so you could say it's in the brand's DNA). My own aha moment came at a try-on session, where designers and merchandisers comb through seasonal collections to make sure all the pieces on the line work together. I watched as a model, elegant in a slim tank and slouchy pants, tried on different layers—a cropped sweater, a long vest and a boxy jacket. One bodysuit, entirely transformed with just a few simple swaps.
That night, as I surveyed the row of fitted blazers, slim tees and dark-wash skinny jeans hanging in my closet, it hit me. My wardrobe offered zero variety. So, I invested in a handful of new pieces that pushed me out of my comfort zone—a pair of wide-leg linen pants, a silk layering tank, a long jacket and a cropped box-top. Instantly, I was able to see new connections, new possibilities, new ways to wear that old dress that no longer sparked joy. Dressing with an eye to proportion showed me that a versatile wardrobe is truly greater than the sum of its parts. It's not about the individual pieces, it's about how you mix, match and play to create something more.
These days, moments of panic are few and far between. My closet may be tiny (hello, one-bedroom apartment), but limited storage has required me to carefully consider every piece I add to my wardrobe—and to get creative with restyling the clothes I already own. Seeing how the EILEEN FISHER collection is styled each season is a constant source of inspiration, and it has taught me that just as certain pieces feel right for the moment, so too do certain combinations—long over skinny feels fresh one year, long over long more relevant the next. The good news is that updating your wardrobe is not necessarily about changing what you own. It's about changing how you wear it.
Here are the basic formulas I turn to whenever I fall back into my jeans-and-tee rut. I hope this simple guide shows you that proportion play can be easy—even fun.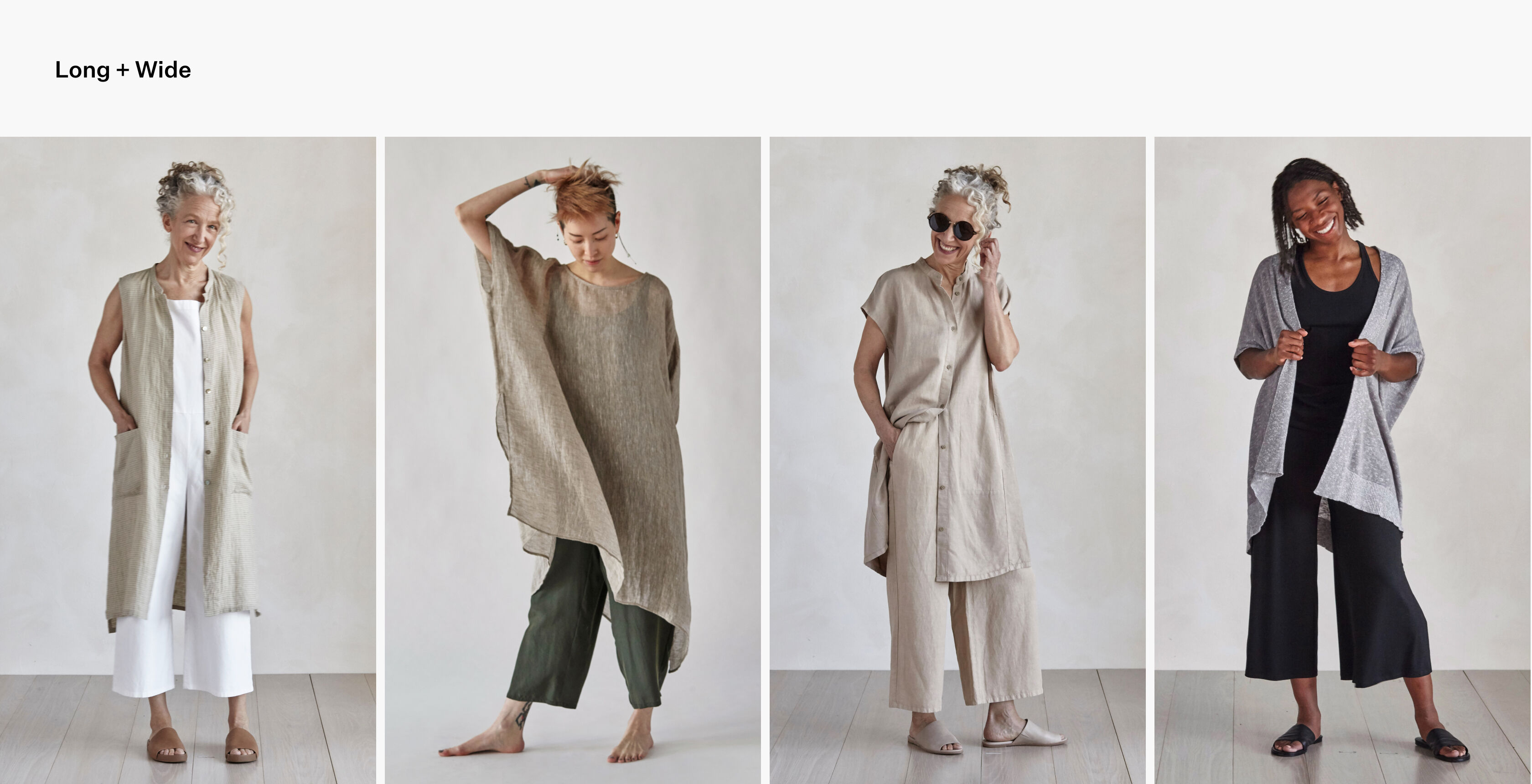 One word: drama. For the beginner, try a long cardigan over a monochrome bodysuit. It creates a clean line that flatters every shape.
To level up your layering, pair wide-leg pants with a shirtdress—or, even more daring, a caftan.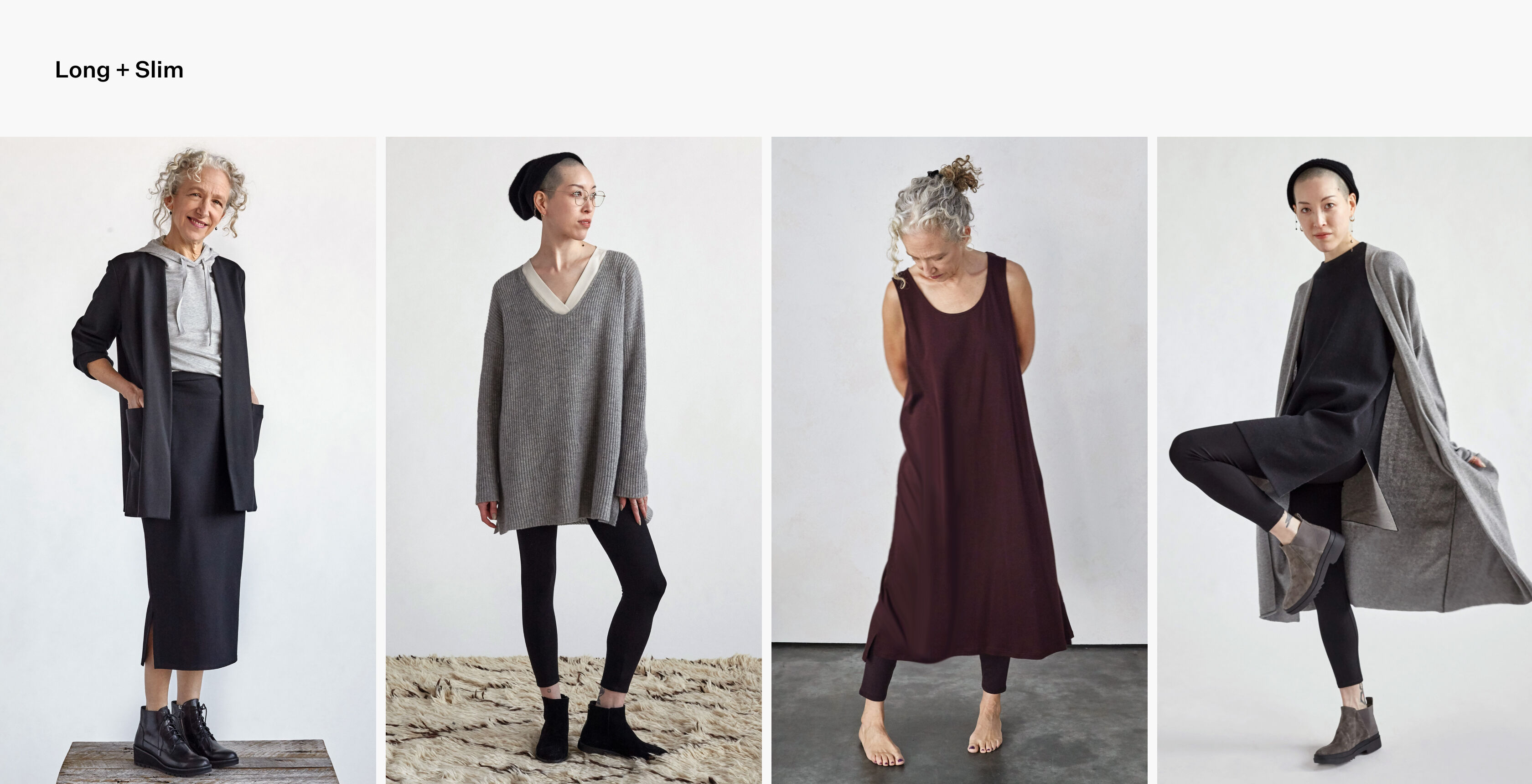 Chances are the tunic-plus-leggings combo is already in your repertoire. Less expected but equally comfortable? A maxi dress over leggings, or an easy cardigan paired with a slim pencil skirt.
Nothing says relaxed quite like boyfriend jeans or slouchy sweatpants. Up the polish by layering a long cardigan or jacket (we like a simple shirtdress worn open as a duster). One foolproof trick is to keep it monochrome—head-to-toe color creates the illusion of length.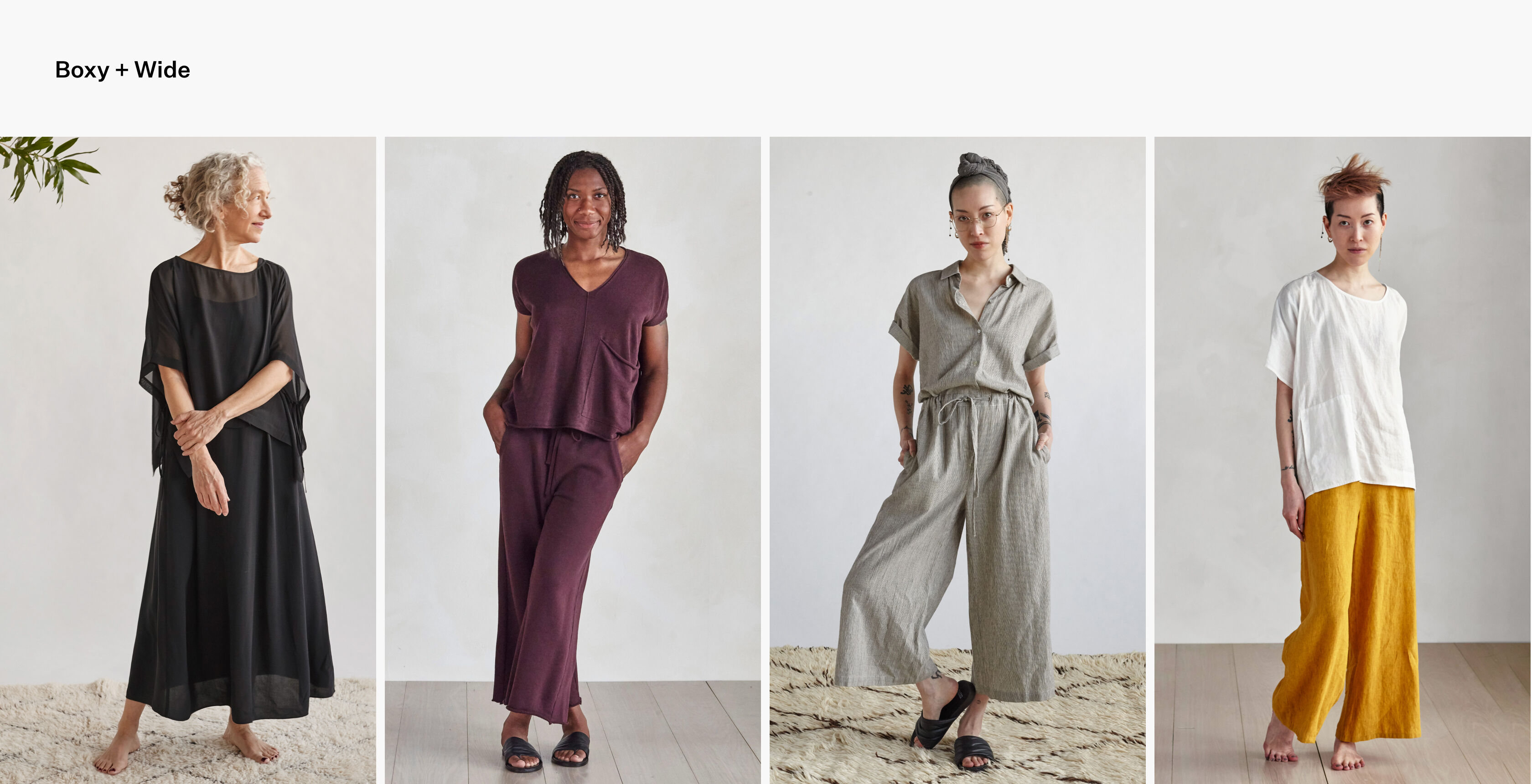 A classic pairing—and one we at EILEEN FISHER return to again and again. Not sure if this look is for you? Try tucking in your shirt, which defines the waist and adds structure. Another tip: Opt for a sheer box-top that adds interest but doesn't overwhelm smaller frames.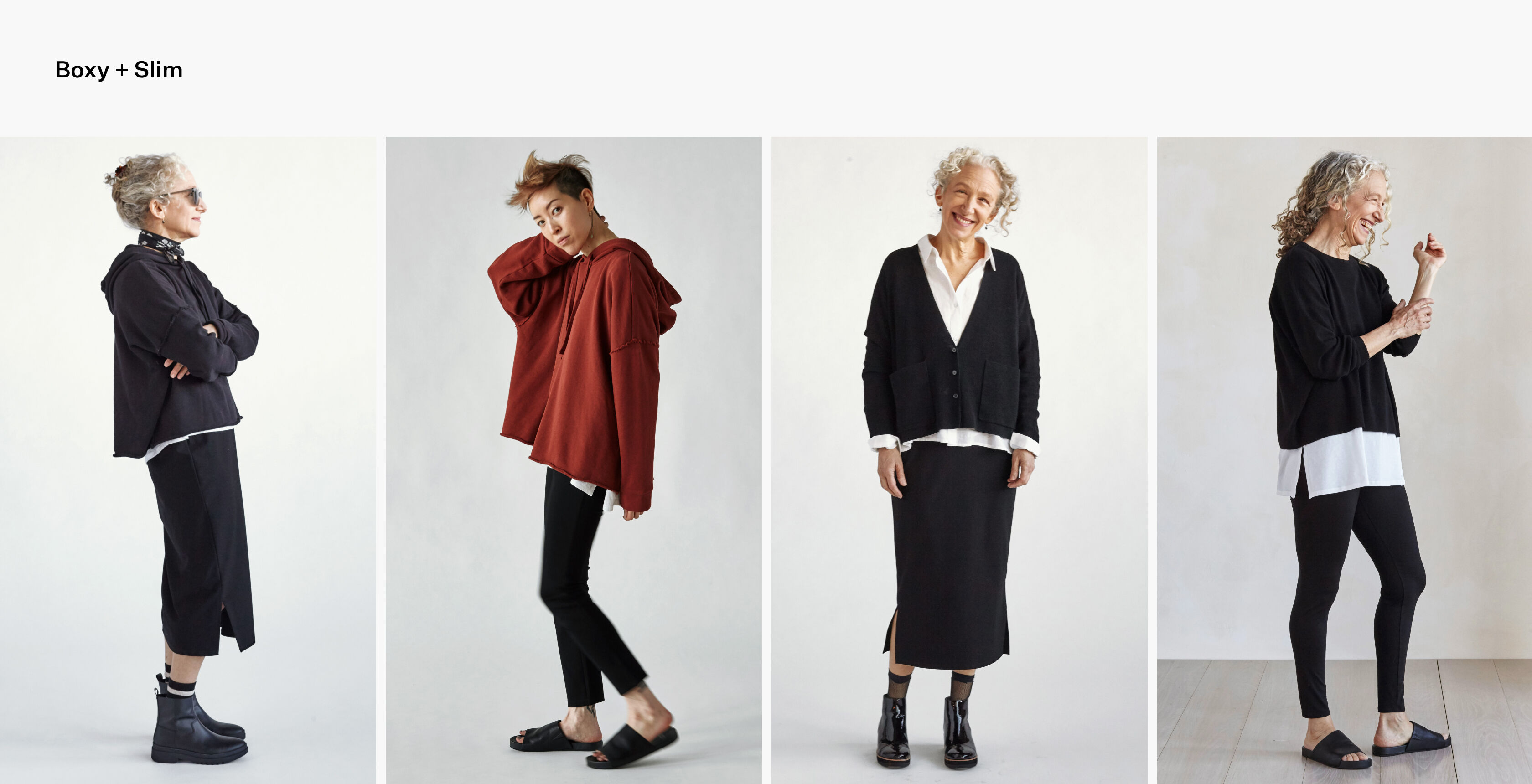 Yes, you
can
wear a box-top with leggings. The secret is to layer it over a long tank or shirt (
this silk shell
is a customer favorite) that provides some coverage. Another pro tip: Size up. An extra-slouchy sweater gives new attitude to skinny jeans and pencil skirts.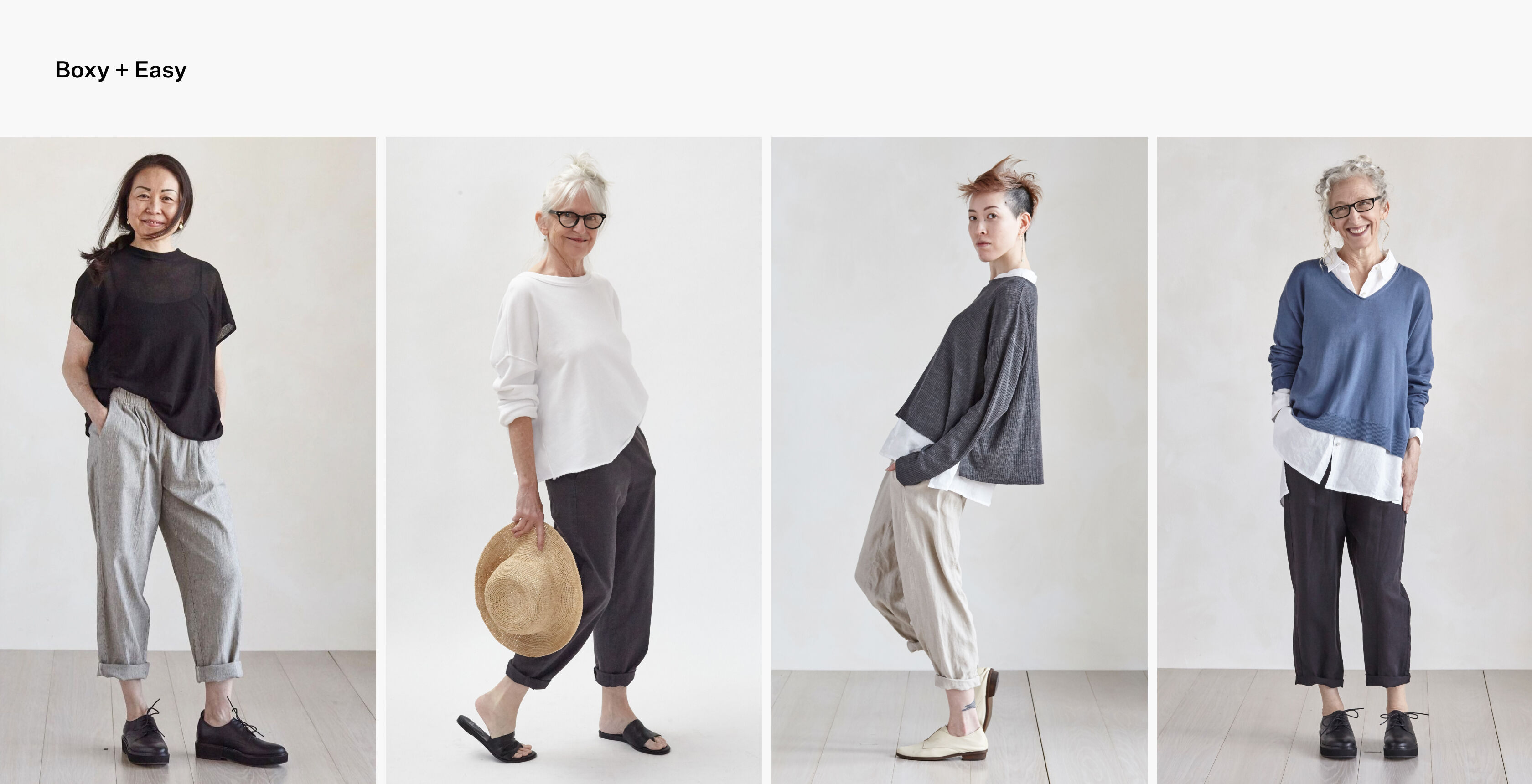 A weekend state of mind, any time. Try rolling up the cuffs of boyfriend jeans and slouchy trousers—the tapered line helps to balance boxy proportions. Plus a glimpse of ankle is always flattering.