Thinking in Systems Since 1984
When Eileen started the company in 1984, she was working as an interior and graphic designer and had trouble finding clothes. She kept imagining simple, timeless pieces like the kimono, which people have worn for thousands of years. That vision led to her "aha" moment: a system of shapes that worked together to make getting dressed easy.
Today, that systems approach has grown to include the whole life cycle of the clothes, from how they're made at the outset to what happens after you no longer need them, taking into account the well-being of those involved along the way. That's why we're designing a circular system and moving away from the take-make-waste manufacturing model toward one that reuses, replenishes or regenerates the resources involved.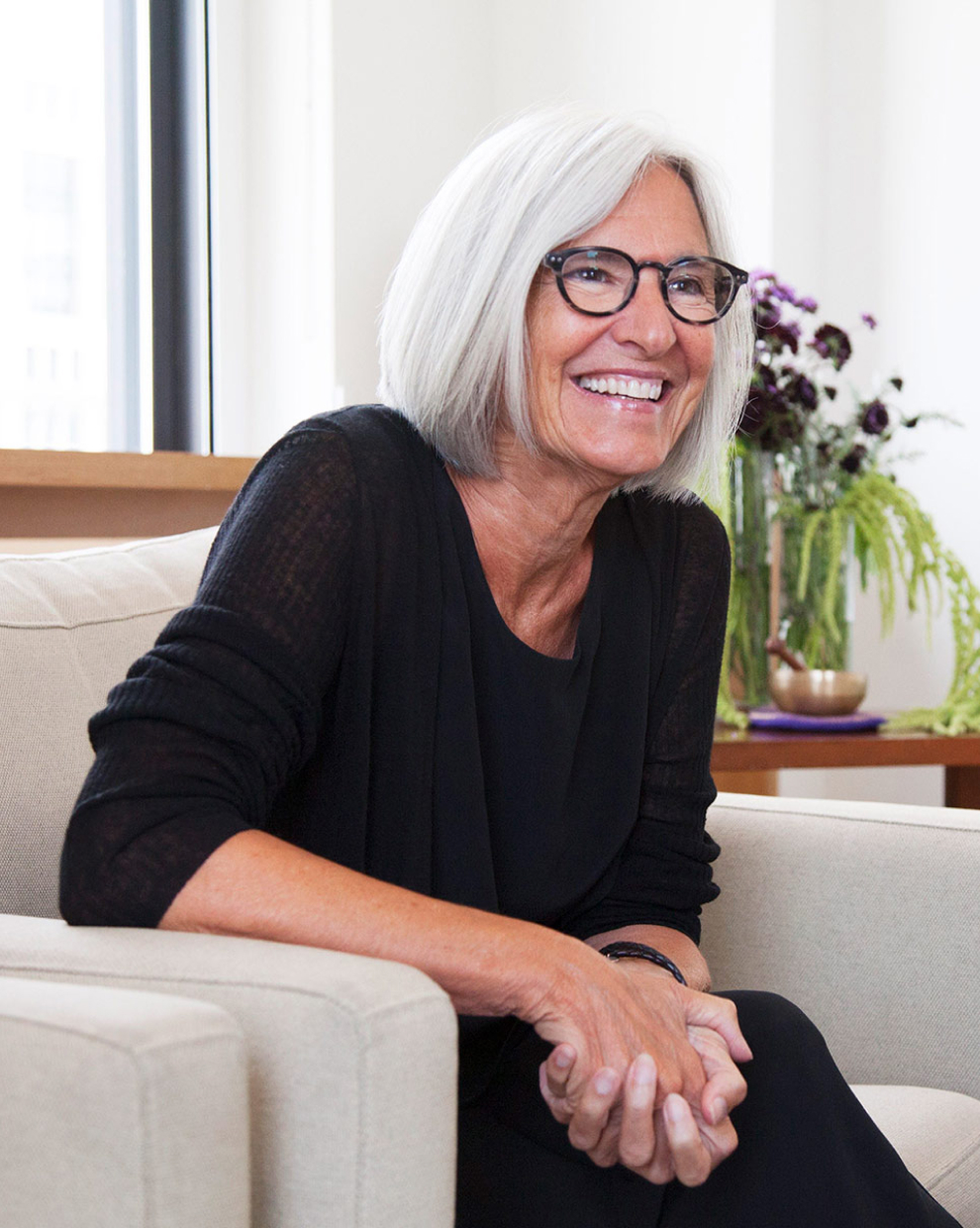 1984
Starting Up
With $350 in the bank in 1984, Eileen launched a line of 4 simple shapes in linen—box-top, crop pant, shell and vest—at the Boutique Show in New York City and got $3,000 in orders. They came in one size. The next season, she expanded the line to 8 shapes in French Terry, taking $40,000 in orders.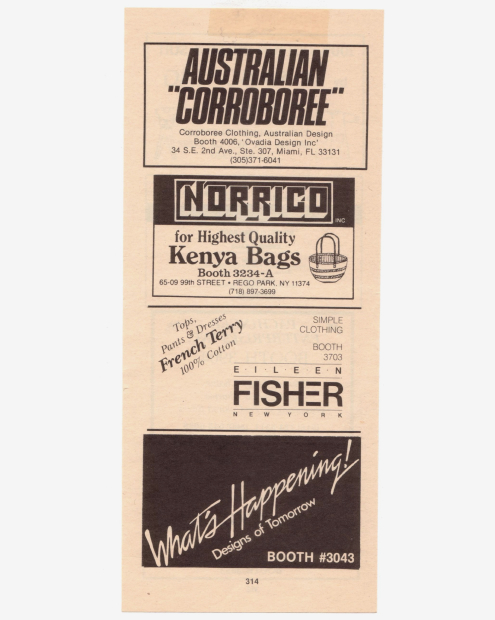 1984
Starting Up
Just two years in, Eileen had incorporated the company and, with 4 employees, moved it out of her loft and into an office on East 10th Street in New York City. That same year, the 9th Street boutique opened in New York City, offering samples and factory seconds.
1991
Two For All
With all manufacturing still being done in New York City, the line expanded to two clothing sizes—1 (S/M) and 2 (M/L). Also, the first EILEEN FISHER retail store opened at 521 Madison Avenue. Growth continued the following year as the company headquarters moved to Irvington, NY, and we began making our first silk garments in China, where silk production dates back thousands of years.
1994
Outward Bound
We opened our first retail stores outside New York City, expanding the brand from Massachusetts to Florida, and we offered a Plus collection for the first time.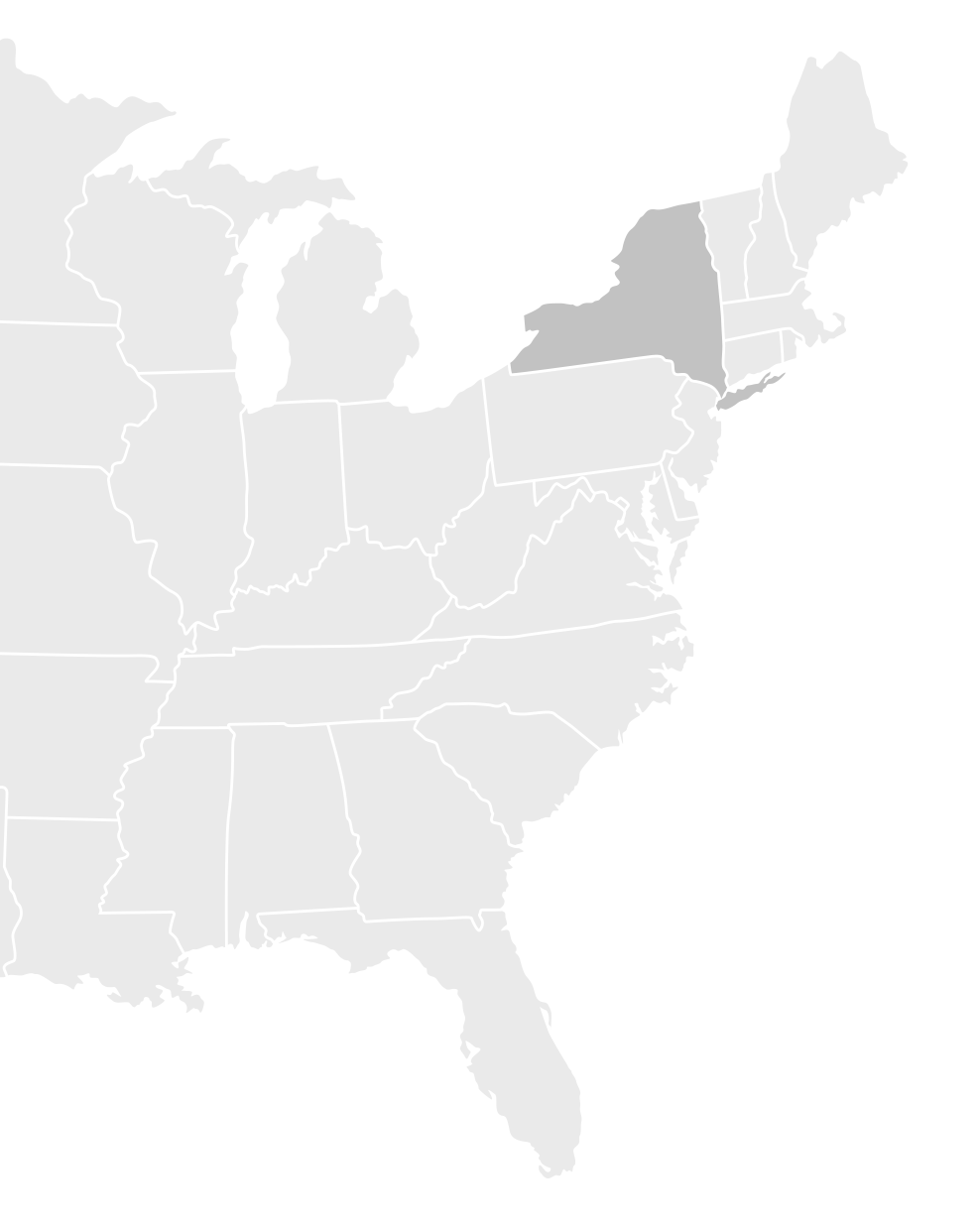 1994
Black Sheep, Green Garments
We produced the ECO collection—undyed wool sweaters in naturally occurring shades from black sheep, making the color of each sweater a little different.
1997
Brand Awareness
We created our first Social Consciousness position—leading to the launch of our Human Rights program and an ongoing commitment to philanthropy. We also joined Social Accountability International, the leading organization for advancing human rights in the workplace, and adopted SA8000 as the standard for our supply chain.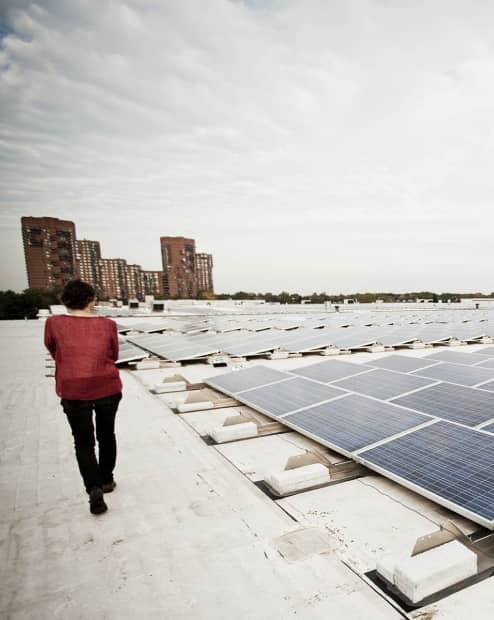 1998
Going Big
The EILEEN FISHER NEW YORK collection debuted with ads featuring Isabella Rossellini. A mix of refined knits and silks, the collection was designed to provide women with a workwear alternative to the kind of power dressing modeled on men's suits. It was produced for two seasons before being integrated with the main line.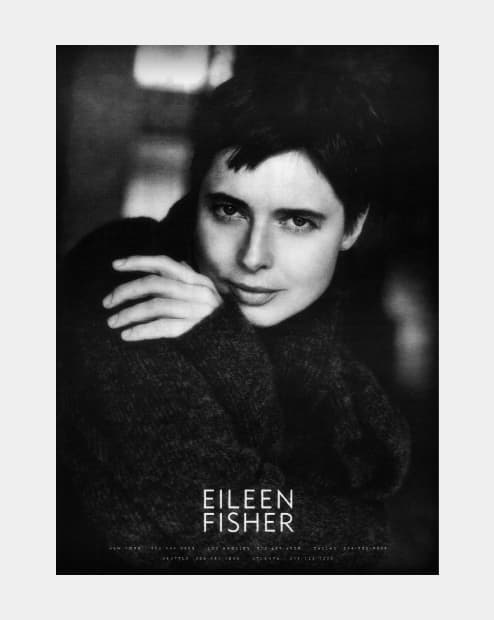 1998
We the People
In response to the impossible beauty standards often presented in fashion campaigns, our ads featured employees photographed by Timothy Greenfield-Sanders with the tagline "Simply to be ourselves." Greenfield-Sanders photographed employees and real women for multiple campaigns, ending with our 20th anniversary in 2004.
1999
Good Work
To appropriately value the people who make our clothes possible, we signed the Living Wage Proclamation (issued by United for a Fair Economy), indicating our commitment to prioritizing a minimum sufficient income for workers to meet their basic needs, including food, housing and clothing.
2000
We surpassed $100 million in sales.
2002
Who Run The World?
We used our ads as a reminder that "Women Change the World Every Day." The next year, EILEEN FISHER made the Great Place to Work list as one of the "Best Small & Medium Companies US," an honor we received for the next 10 years.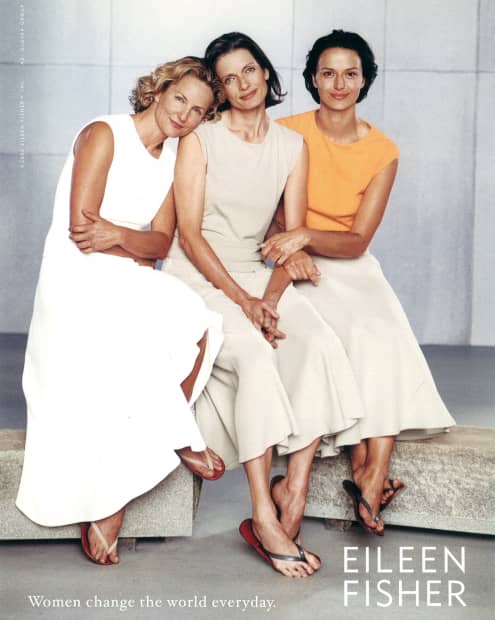 2004
Who Run The World?
For our 20th anniversary, we launched our Business Grant Program for Women Entrepreneurs, and established a set of leadership practices aimed at creating the kind of culture we want, thanks to Eileen's belief that how we work is as important as what we make.
2004
Organic. It's Not Just for Breakfast Anymore.
Organic Cotton Jersey made its appearance in the form of a yoga tank—it was the first of our signature fabrics to include organic fiber.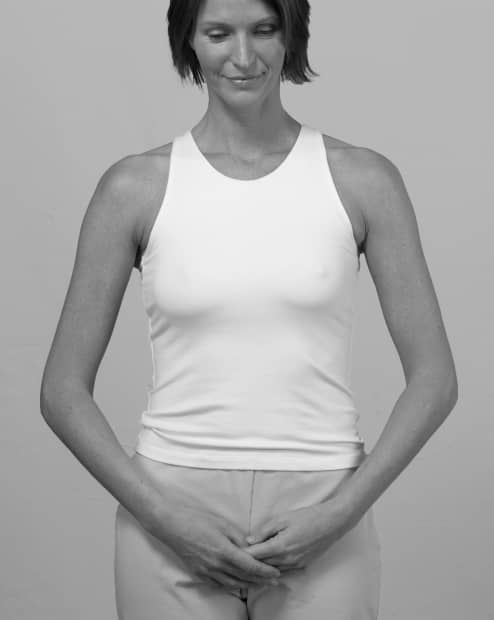 2006
Introducing the Employee Stock Ownership Program
"It feels right to give a piece of the business to the people who have grown it to what it is now. I could never have done this alone."
2006
Going Home
Garnet Hill debuted EILEEN FISHER HOME, a collection of bedding and accessories that feature the same quality of fabrics we use for clothing. Our only licensing venture, it would last 14 years.
2006
Love, Peru
We joined Organic Exchange (now called Textile Exchange), and the first fair trade organic cotton knits from Peru appeared on our line. 2006 was also the year Eileen became a member of the Clinton Global Initiative.
2008
Climate Control
We tackled our carbon footprint by beginning to work with NativeEnergy to offset our carbon emissions and renovating our Irvington, NY, headquarters. The redesign of the former industrial building on the Hudson River prioritizes energy efficiency, natural light and recycled materials—and won an AIA award.
2009
Climate Control
The LAB Store opened in Irvington, selling recycled clothing from the newly launched take-back program. We also joined BICEP (Business for Innovative Climate and Energy Policy) to partner with like-minded companies in advocating for renewable energy, clean energy jobs and forest preservation.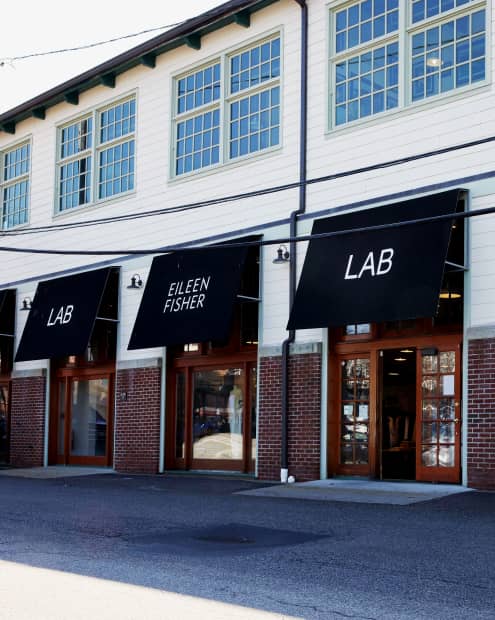 2011
Growth Spurt
Our Shoe Collection debuted, at long last making it possible to get dressed from head to toe. That same year, our first international stores opened in Canada and London.
2012
Doing Well by Doing Good
We doubled down on our commitment to fair labor practices by joining the Ethical Trading Initiative, pledging not to use Uzbek cotton while also training our employees and suppliers on human trafficking and slavery. It was the same year we joined the American Sustainable Business Network to help fight for legislation that supports sustainability, equity and justice.
Tourists visit abandoned ships in the dried bed of the Aral Sea, which has all but disappeared due to unsustainable irrigation practices in the Uzbek cotton industry, which also relies on forced labor.
2013
Creativity by Design
The LAB Store opened in Irvington, selling recycled clothing from the newly launched take-back program. We also joined BICEP (Business for Innovative Climate and Energy Policy) to partner with like-minded companies in advocating for renewable energy, clean energy jobs and forest preservation.The Fisher Project launched—intended to push our design boundaries, the capsule was produced for 2 years.
2013
Fashion Firsts. And Seconds.
This was the first year our customers could buy responsibly dyed silk—that's when our core silks received bluesign® certification for chemical, water and energy use, a first for a fashion company. At the same time, our dedicated used-clothing store quietly opened in Yonkers, NY. One year later we were ready to shout about it, launching the campaign "WE'D LIKE OUR CLOTHES BACK NOW, THANKS VERY MUCH" on Earth Day—all our retail stores began collecting gently worn EILEEN FISHER clothes.
2014
Square Roots
To mark our 30th anniversary, we rolled out the Icons, a collection of the simplest, most enduring shapes in our archives.
2014
Fashion Forward
Working with Canopy, we committed to ensuring that the tree-based fibers in our clothes don't come from ancient and endangered forests. We also joined the Sustainable Apparel Coalition to help promote transparency and standards for environmental and social impacts in the industry.
2015
No Excuses for Not Trying
The following year, Fashion Group International honored Eileen with its Sustainability Award and Parsons School of Design students Lucy Jones, Teslin Doud and Carmen Gama won the EFxCFDA Social Innovator Award and began a 12-month residency that produced 3 techniques—natural dyeing, felting and resewing—for remaking our old clothes into entirely new designs.

2015 also marked two major milestones: We announced VISION2020, our commitment to use sustainable materials in 100% of our products by 2020, and we became a B Corp, verifying that we voluntarily meet high criteria for social and environmental performance, accountability and transparency.
2016
Where Others See Waste, We See Possibility
We opened the Tiny Factory, where we make new designs with the clothes we take back, in Irvington, NY. Eileen spoke at Fast Company's Innovation Festival on growing the business by reducing its environmental impact.
2017
Where Others See Waste, We See Possibility
Our take-back program was reborn as Renew (Second Life). 2017 was also the year that Waste No More, which turns damaged clothes into new felted designs (Third Life), debuted at the Salone del Mobile in Milan. In other circular news, Heron Preston apprenticed at the Tiny Factory to observe our take-back and reuse program, while Eileen talked about redesigning fashion at the Copenhagen Fashion Summit.
2017
Shine On
Thanks to the brand's international reach, Eileen received an Honorary Award at the 69th Annual Parsons Benefit in 2017 for empowering young women on a global scale.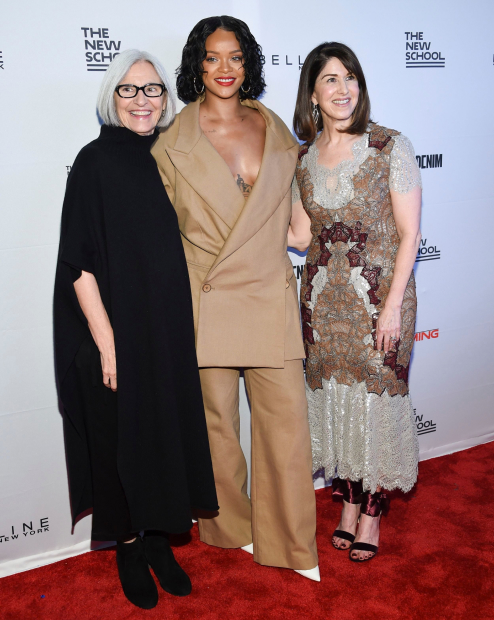 2018
The People We Touch
To further understand the connection between our purchasing practices and the well-being of the people in our supply chain, we signed on to the Harvard SHINE Worker Well-being program, which launched in 2018.
2018
Talking The Talk
Stepping up to the sustainable microphone, Eileen gave the talk "There Are Too Many Clothes in the World" at the Wall Street Journal's Future of Everything Festival, discussed "Mending the Fashion Industry" with Rose Marcario (former President and CEO of Patagonia) at the Aspen Ideas Festival and talked about sustainability and profitability with Yael Alfolo, CEO and Founder of Reformation, at WWD's CEO Summit.
2018
Walking The Walk
In 2018, Public School x EILEEN FISHER collaborated on a zero-waste collection made at the Tiny Factory of damaged clothes from our take-back program. This same year, we became one of the first brands to introduce wool certified to the new Responsible Wool Standard, and we completed a renovation of our New York City creative center that received LEED Gold certification.
2019
Yesterday & Tomorrow
Eileen appeared on NPR's "How I Built This" podcast with Guy Raz and received the Positive Change Award from the Council of Fashion Designers of America. After refocusing our giving, we announced the grant winners for our Women in Environmental Justice pilot program, which will define our efforts in the future.
2020
Choosing Circles Over Lines
Five years after VISION2020, we launched Horizon 2030, our bolder plan to make clothes in a way that has a positive impact through practices like circular design and regenerative agriculture. The work is backed by our new commitment to the Science Based Targets initiative, setting actionable goals to reduce greenhouse gas emissions in accordance with the Paris Agreement targets to limit global warming. 2020 was also the year we introduced Regenerative Wool to our line—produced by farms that make the land more resilient and increase biodiversity, it helps fight climate change.
2020
Back to Simple
In response to COVID-19 and its impact on the industry, Eileen doubled down on her original vision of simplicity, refocusing the line as a system of simple shapes that work together simply and provide options for every body. Each piece has a purpose.
2021
Some Things Change
As of 2021, we had 700+ employees, 61 stores and were carried in more than 300 department stores. This was the year we extended our line to more inclusive sizing, making every design available in sizes XXS-3X.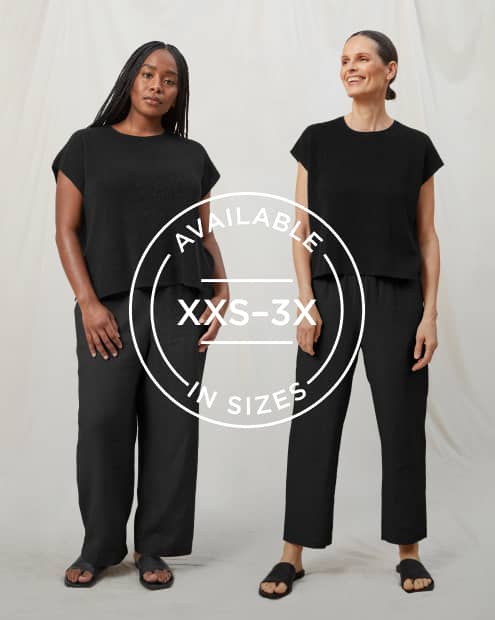 2022
Our Principles Remain the Same
We've come a long way in four decades, but our design principles are still rooted right where they began in 1984.