Renew 101: How to Shop Secondhand Clothes
March 9, 2023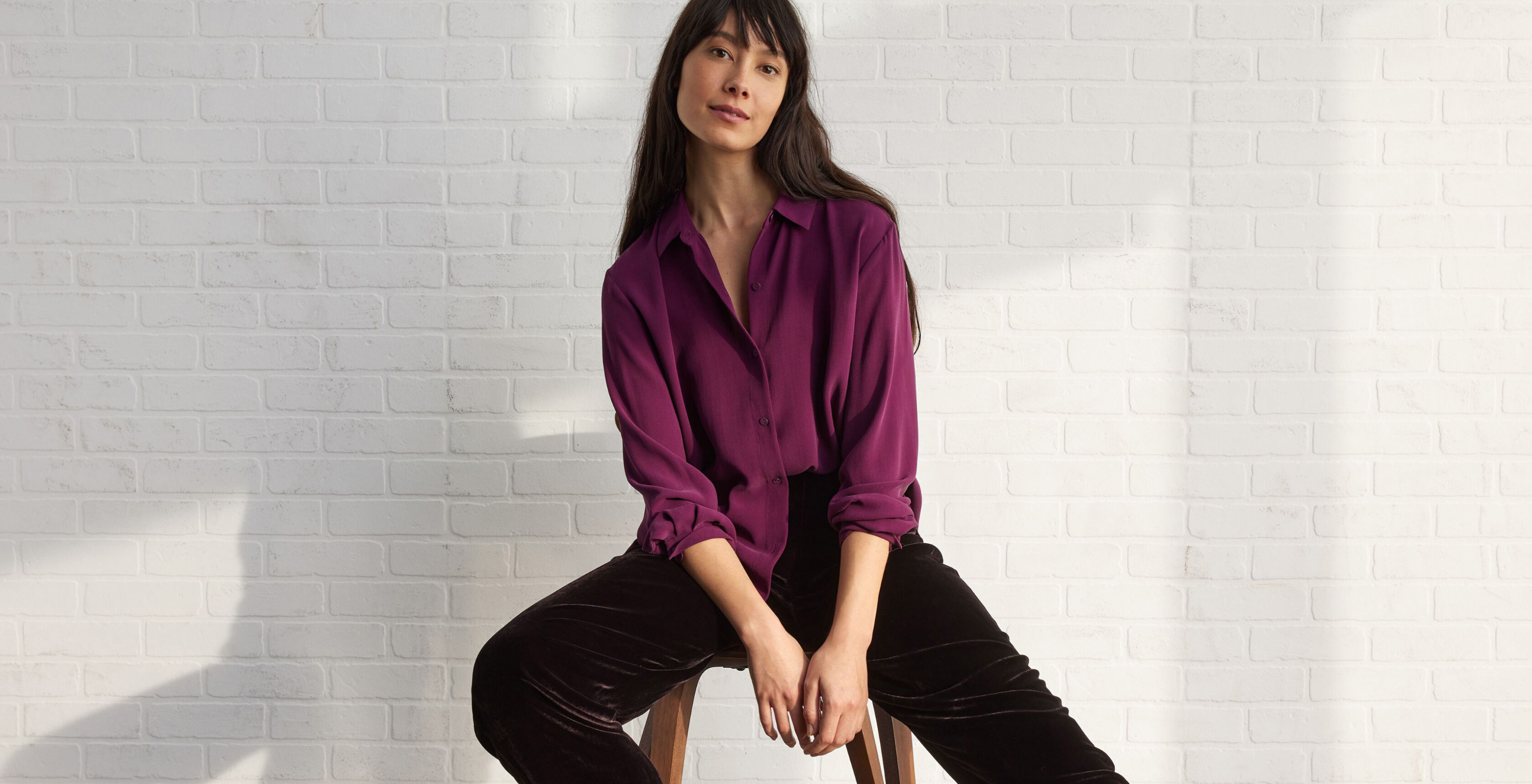 Want to build your wardrobe sustainably—and without breaking the bank? We put together a few tips on how to shop pre-owned EILEEN FISHER pieces through our take-back program.
Let's face it, shopping resale can be overwhelming: the seemingly endless racks, the needle-in-a-haystack feeling of one-off sizing, the reality that you might find your winter coat in July. But with the right attitude and a bit of know-how, shopping secondhand can also be freeing: the endless options, the realization that size is a matter of interpretation—and seasonality, a mere suggestion. If you open your mind, the right piece might just find you.
A little background: We began accepting gently used EILEEN FISHER clothes through our Renew take-back program in 2009 to address the environmental impact of discarded garments. Because timeless design and quality materials have always been part of our brand, longevity is built into our clothes, and giving them a second life was a natural fit. We now have a stand-alone Renew store in Seattle, Washington, and another in Irvington, New York, a shoppable online store, and pop-up racks in select EILEEN FISHER locations around the country.
Our teams send the pre-owned pieces out for an environmentally friendly cleaning, then hand curate them for stores. We select colors and textures that feel relevant today, in addition to staples that have proven themselves on our line over the years. Because whether you're a resale newbie, vintage afficionado or simply obsessed with finding that one pair of side-zip cotton twill "Jackie O." pants that we don't make any more (sigh)—we want to make shopping lightly used pieces as easy and enjoyable as possible.
To help you get started, we put together a few insider tips on how to shop our lightly used clothing.
LEAVE YOUR SHOPPING LIST AT HOME.
Instead of an itemized list, we suggest shopping Renew with a category or theme in mind. "I generally go with the idea of filling a conceptual gap in my wardrobe," explains Lilah Horwitz, Director of Renew Content & Marketing. "Say I'm going on vacation, or I'm changing from remote to in person at my job."
Opening your mind makes you less likely to be disappointed if you don't find that floor-length spaghetti strap gown, she explains. And expanding the parameters of a need, let's say fun evening clothes, lends itself to looking at pieces you may not have considered—like a sheer silk shirt—in a new light.
It may also help to think about what your wardrobe is missing functionally. There are the practical pieces you'll get a lot of wear out of—tees, tanks and denim, which we always stock—and the more unique or unexpected pieces that you may wear less, but that also aren't as easy to find. In general, we recommend being mindful about what you really need. It's better for your closet and the environment.
HAVE FUN AND ENJOY THE EXPERIENCE.
Megan Arnoud, our Senior Leader of Renew Stores, likes to go in with a treasure-hunting mentality and the question, "What's going to find me today?" She suggests you start by simply taking in the sensory experience of the store. "It's nice to let your hands do the walking, and your eyes wander around for whatever might jump out at you." She and her team arrange the Seattle store like a boutique, with racks of styles that work together, to offer wardrobe inspiration or simply get you thinking about the possibilities. It's refreshed weekly with anywhere from 150 to 400 new pieces, which gives you plenty of reasons to check back, especially if you enjoy it. "There's a playful element to shopping Renew," she says. "It's called retail therapy for a reason."
IF YOU'RE LOOKING FOR SOMETHING SPECIFIC, TRY ONLINE.
At eileenfisherrenew.com, you can shop by category and filter by material, color and size. While putting together this article, I searched for pink cotton pants and found eight options, which narrowed to three—after I filtered for size S—and ranged in price from $35-$55 (pricing for Renew is typically around 25% of the original retail price). It's definitely easier to get specific when shopping online, and since the product assortment is updated daily, you can always check back for similar items.
To get a better idea of how a piece might fit you, reference our online sizing chart here.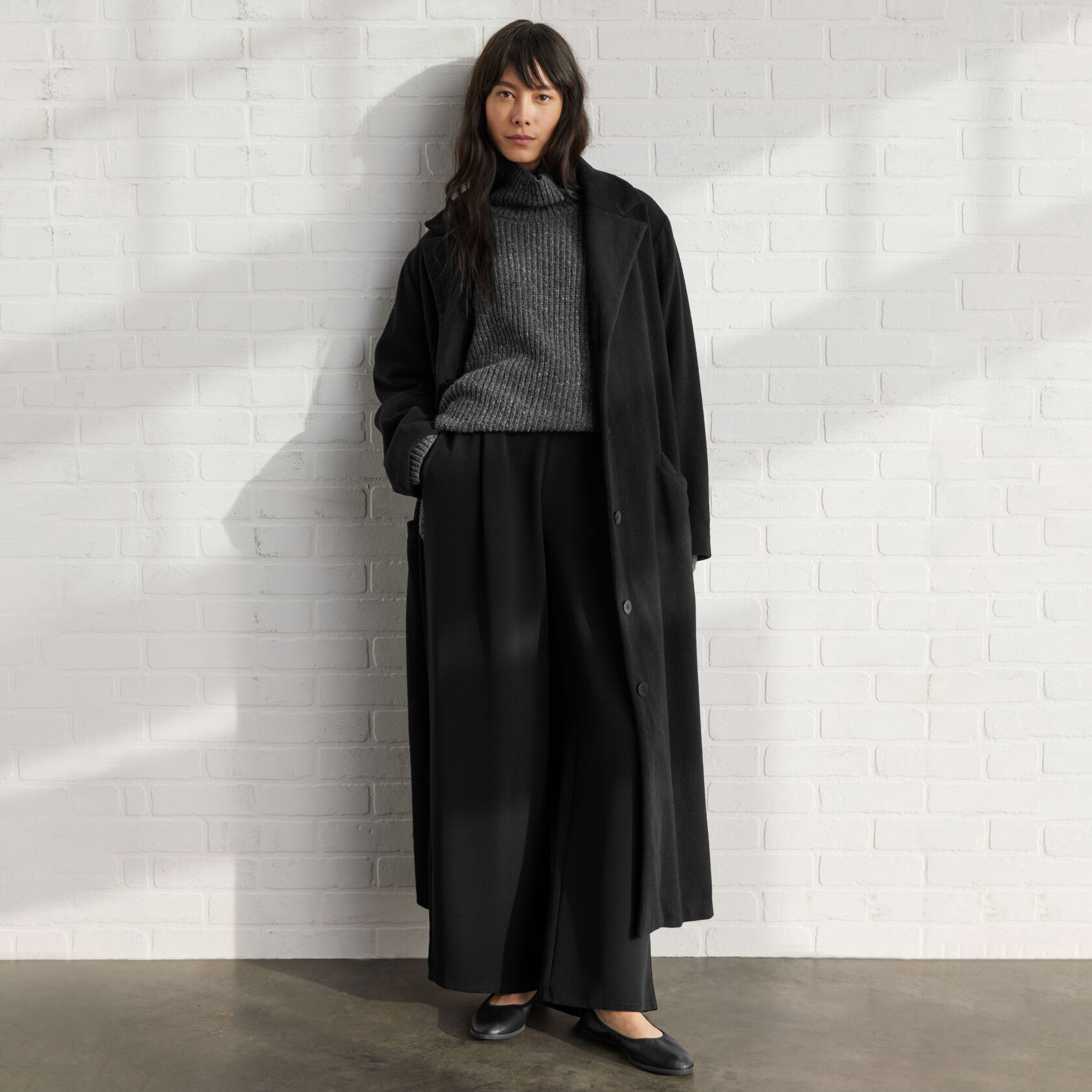 FORGET EVERYTHING YOU THOUGHT YOU KNEW ABOUT SIZING.
"I always tell people: You have three sizes in EILEEN FISHER, and especially Renew," Megan says. Yes, styles have changed over the years, but our designs in general also allow you to go up or down a size. It depends on whether you want an easier fit or one that's more body conscious. Since preferences may differ from garment to garment, Megan suggests not shopping by size, but instead by fabric, color or any other quality that speaks to you about a piece. If you're new to EILEEN FISHER clothes, you can often go a size down from other brands (if you're usually a size L, try a size M).
A fun tip: To get a preview of how a pair of pants will fit without trying them on, wrap the waist around your neck. If it fits comfortably, it will fit your waist the same way.
GET TO KNOW WHAT KINDS OF PIECES WORK OVERSIZED.
Because EILEEN FISHER pieces are so simple, Lilah explains, they often can be worn in different ways. "You might find a shirt you love and discover that a size up looks great open over a dress." For example, tops designed with a drop sleeve identifiable by a shoulder seam that hits farther down the arm—tend to work well oversized. "You can always roll the sleeves up," she adds. Lilah suggests balancing an oversized boxy sweater with a slim bottom like our ponte skirt, which has stretch and can be sized down. "If you master one tool," she says, "make it proportion play." Read more on how to choose and pair different proportions here.
QUALITY IS BUILT INTO OUR CLOTHES—BY DESIGN.
When it comes to shopping resale or vintage in general, you can spot quality simply by running your hand through the rack and feeling the fabrics. Because you're shopping EILEEN FISHER pieces, you can be sure that you're getting fabrics that have proven themselves worthy of our line (and your wardrobe) over time. We hand select pieces that are in near-perfect condition, which are labeled "Good as New" online. We also carry pieces that are "Not Quite Perfect," marked as such, for a fraction of the price. If you're a stickler for construction details, you can always check the stitching, which should be straight and evenly spaced. Read more about how to spot quality seams here.
IF YOU LIKE VINTAGE, LOOK FOR OUR SPECIAL TAGS.
Online and in stores, we curate shoppable collections of vintage pieces. But you can also find them on the racks by looking at the woven label in the garment. Although we can't identify an exact season, everything from before 2009 has a larger rectangular tag with a logo that has "EILEEN" stacked on top of "FISHER."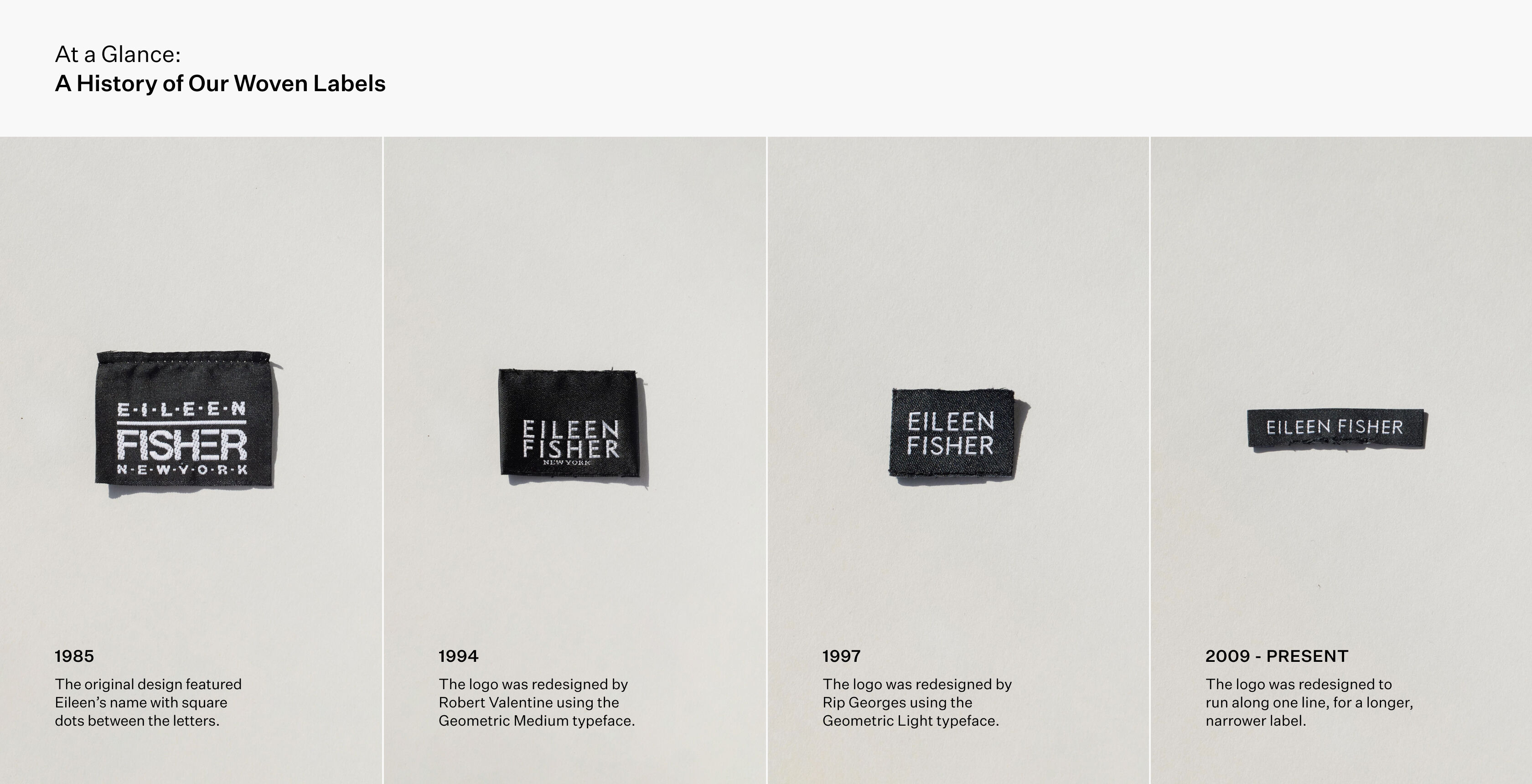 "Clothes want to be worn. You can tell what works on your body. And if you can't? We can also help with that."


HOW TO MAKE THE OLD NEW—ALL OVER AGAIN.

To give vintage pieces a modern look, Lilah recommends thinking about what the contemporary version of the styling might be. For example, a cardigan from the '90s may have once been paired with a long skirt, but today you could throw it over high-waisted jeans and a white tank. When in doubt, she recommends balancing one vintage piece with a contemporary one. When styling pieces from a few seasons or years ago, Megan suggests adding of-the-moment touches—like a tuck or a tie on a shirt—or experimenting with wearing it open à la the "shacket." Or it might be as simple as updating a look with jewelry. "Clothes want to be worn," she says. "You can tell what works on your body. And if you can't? We can also help with that."