Cashmere Silk Bliss Turtleneck Box-Top
Boxy Fit, Basic Length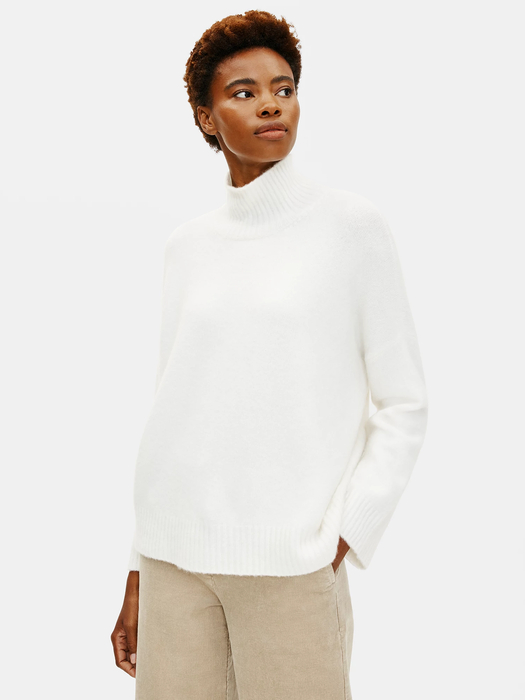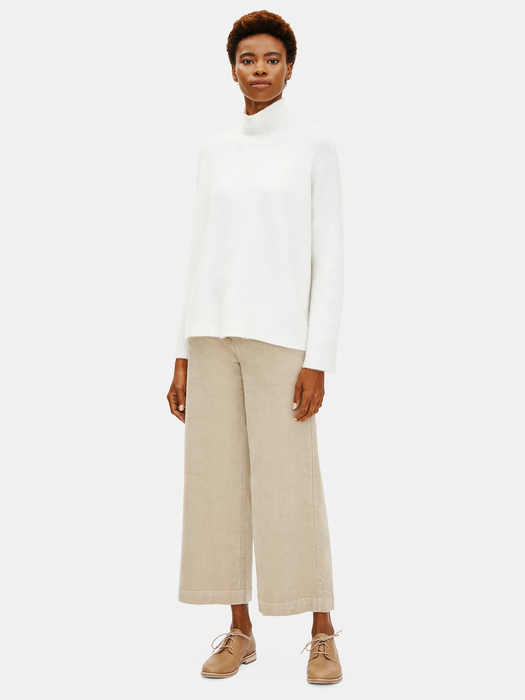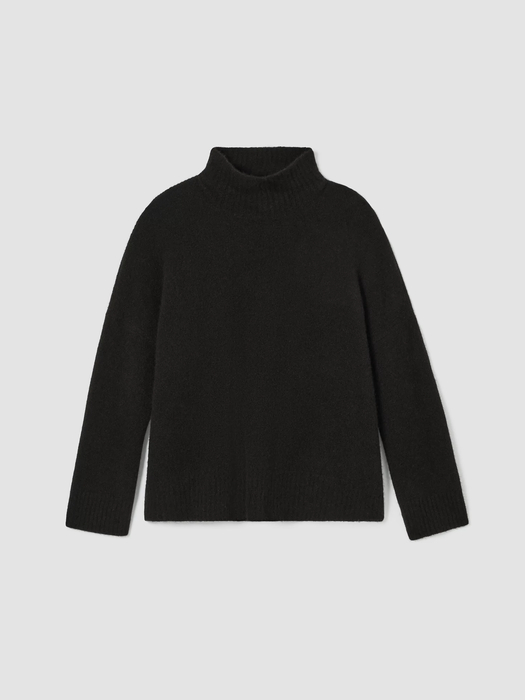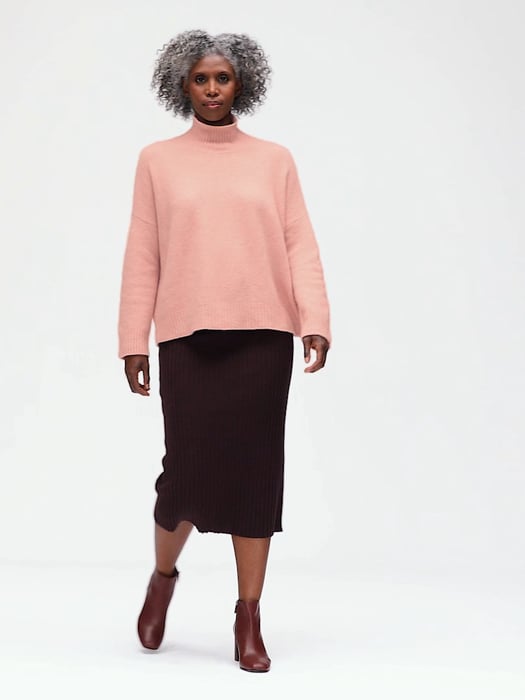 Fit Chart
Fits vary by style—and personal preference. Size up or down as you please.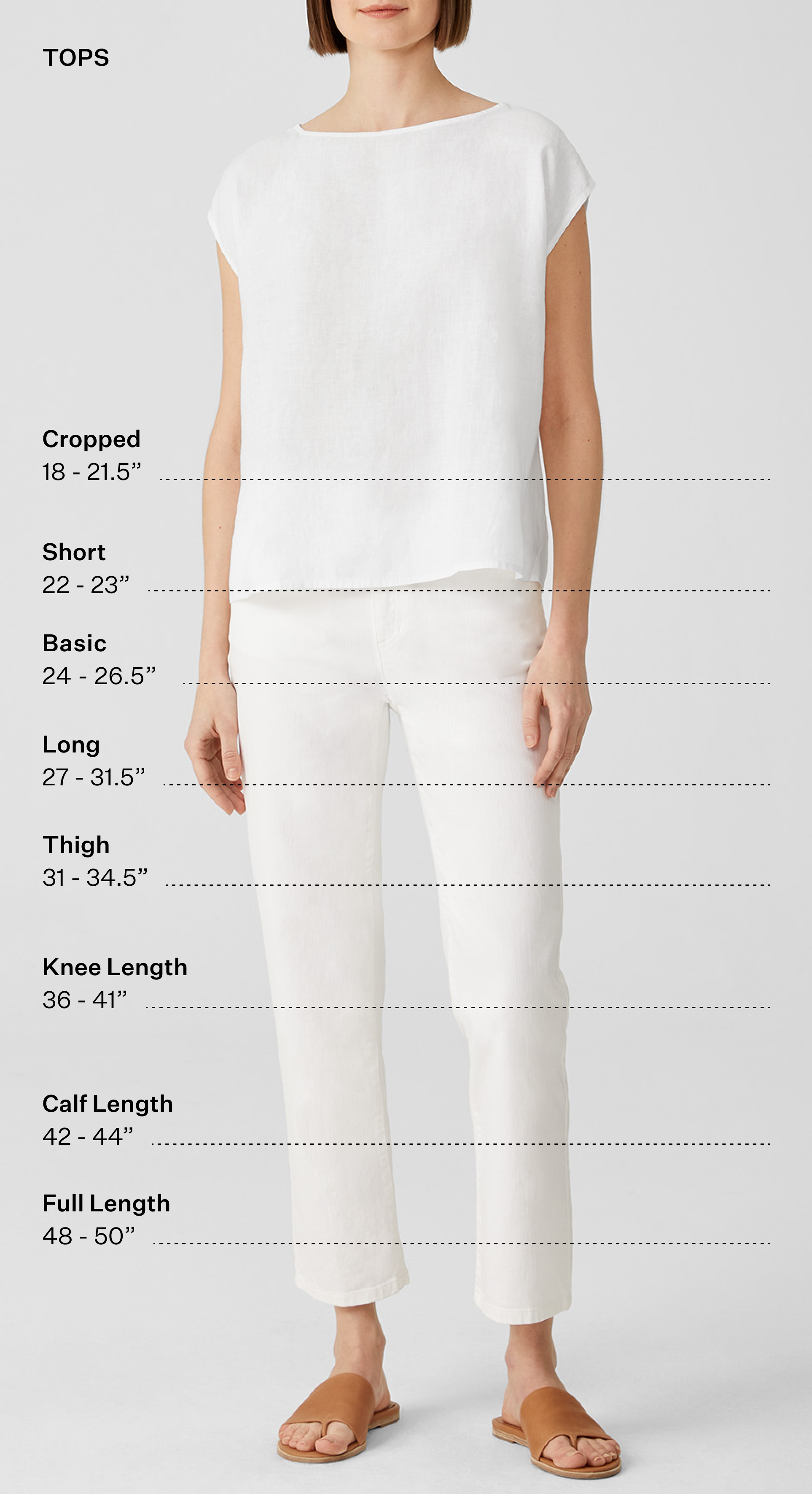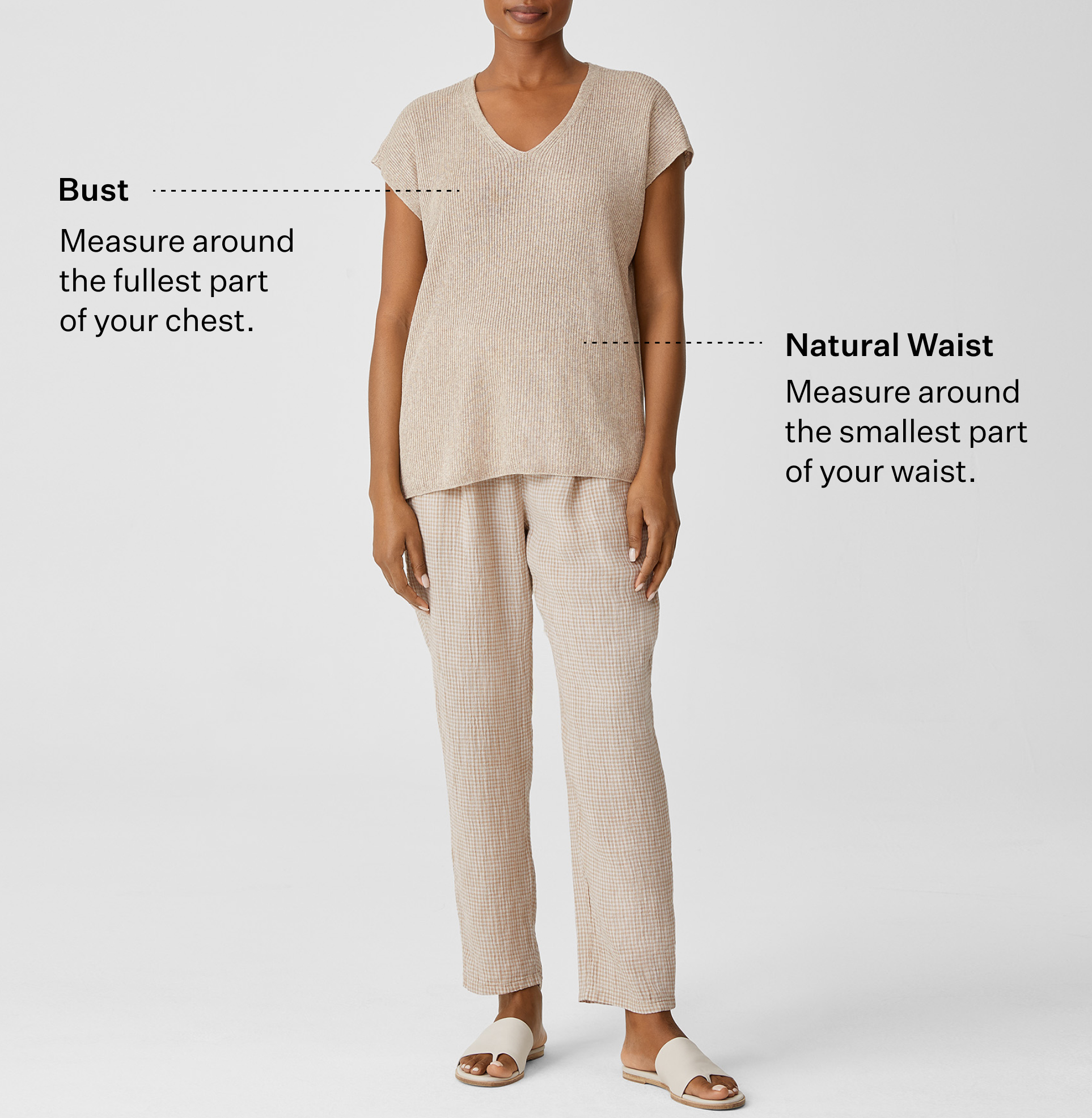 Select Styles for Availability
Select a store to see the availability
Blissfully soft. Our iconic box-top with a turtleneck and ribbed trim. In a textural blend of cashmere and silk--one of our softest and most luxurious yarns.
Style No. F0MPW-W5554
Designed with an easy, boxy fit.
Spun and dyed in Italy.
Pearl only available online.
Model is 5'10" and wearing a size small, which measures 25 3/4 inches on the body.
Turtleneck, drop shoulder.
Finely finished with rib trim at the neck, sleeves and hem.
Style No. F0MPW-W5554

SKU:
An Italian boucle with textural poufs of cashmere and silk.
We recommend hand wash cold. May be dry cleaned.
Made in Romania. 72% Cashmere/17% Silk/10% Nylon/1% Spandex.
Wear It With
Price reduced from

$248.00

to
$74.50
Ratings And Reviews
Rated

4

out of

5
by
Jeannie
from
Cosy cocoon in gorgeous soft pink
A nice little cocoon! Delightfully soft, warm; fabulous pale pink Blush color away matches/coordinates with Powder pink EF tops to wear under as well as Powder pink EF silky asymmetrical hem skirt. Also nice with EF Cassis (a rich dark maroon/mulberry color) stretch crêpe pant, and terrific with any EF stretch crêpe pants in any shade of grey. The boxy fit is a bit extreme, the lower hem pokes out and stands away from the body, surprising drape on a garment in such a soft fabric.This may be fine on a more flat chested person but not ideal with a medium to larger bustline. Nonetheless I loved the sweater enough to keep it. Would have been five stars if the lower hemline were not quite so wide. Be aware this fabric will pill, but anybody with a lot of knits must have a trusted electric sweater shaver which makes maintenance easy. I am normally a size PM or PL. Oddly, size S was nearly identical in girth, length and sleeve length to PM. So I arbitrarily kept the PM. Overall this boxy sweater runs large so feel confident sizing down.
Date published: 2021-03-08
Rated

1

out of

5
by
Dahlia
from
my normal size was way too big
so sad. a beautiful pink sweater but it was way way too wide. i should have know to order a size smaller based on the reviews... had to return...
Date published: 2021-03-04
Rated

5

out of

5
by
Beth519
from
Bliss....
Beautiful "touch", feel and color. I purchased a "bliss" cardigan a few years ago and wear that alot....even in Florida!! Although this "bliss" is a turtleneck, I look forward to wearing it when I visit my Mom (NJ) and even those cold days in Daytona!
Date published: 2021-02-08
Rated

5

out of

5
by
Heather
from
Best sweater ever!
I have several of these sweaters, in different colors. They are my favorite sweaters! Soo soft and comfortable. I love the boxy look, it's chic without being too tight to let your body breathe.
Date published: 2021-02-05
Rated

5

out of

5
by
BFeild
from
Sweater Softness
This is absolutely the softest sweater I have EVER owned. And I have almost every brand of cashmere sweater made. Is it worth $500? Not sure about that with any sweater but buying at Xmas usually provides additional discounts. It does pill, like any other cashmere sweater, but it is definitely my "go to". I LOVE this sweater.
Date published: 2021-01-22
Rated

5

out of

5
by
Holly
from
Heaven in a Box!
Light as a feather, warm for winter. Elegant. Fits as anticipated.
Date published: 2021-01-13
Rated

3

out of

5
by
Arenare
from
Missed the mark
Beautiful fabric-but just too boxy on the fit and I even tried two sizes. I loved the more fitted cashmere loose neck sweater in the soft pink shade from a couple years ago. Mine shrunk beyond my wearing and I tried to replace it. Not happening this year with the box style top.
Date published: 2021-01-07
Rated

4

out of

5
by
Sandy
from
Frustrated
The sweater is lovely but I will be returning it. The silk makes it cling to me in an unattractive way. I would prefer sweaters that are not tight, but not so full. I also do not like the dropped shoulders. I have relied on Eileen Fisher for years, but, currently, I find it hard to find tops that suit me. Could we have some options that have raglan sleeves or sleeves with the seam at the shoulder. I also find that a 24 or 25 in length is best for every day.
Date published: 2021-01-03
Rated

2

out of

5
by
Arizona Executive
from
Cashmere Silk Bliss Turtleneck Boxtop
The cashmere silk bliss is my favorite Eileen Fisher fabric, so luxuriously soft and comfortable. However this sweater is way too large and boxy, not at all flattering. Sadly, it has to be returned. I wish Eileen would make it in a black open cardigan like the soft white one from last season. A regular turtleneck without the large, loose boxtop style would be wonderful, too. Please make more items in this fabulous knit fabric that are in your classic styles!
Date published: 2021-01-02
Rated

5

out of

5
by
Anonymous
from
Softest sweater!
So soft and not scratchy at all. A great cut! Runs a bit large so might want order one size down.
Date published: 2020-12-31
Rated

5

out of

5
by
Mary
from
Ultimate luxury!
Beautiful cashmere, lofty and lightweight and wonderfully warm and cozy! It's the ultimate indulgence. The fit is roomy and non-clinging. I wear a silk cami underneath. This sweater is great for dressy or casual. I wore it with my jeans yesterday!
Date published: 2020-12-24
Rated

5

out of

5
by
Carol
from
If you like cashmere, this is a must buy .
Fabulous hand! Probably one of the top cashmere sweaters I own and I have cashmere from England and Spain.
Date published: 2020-12-22
Rated

5

out of

5
by
jeho
from
great sweater
I absolutely love this sweaters. Got them in every color.
Date published: 2020-12-13
Rated

5

out of

5
by
Linda
from
Beautiful sweater
Purchased the beautiful pearl color. This sweater is very soft and warm. The pearl color is a beautiful neutral that can be worn with black, grey, navy and other colors. It is a very versatile sweater that looks good with denim, slacks, or a skirt. I wear the Eileen Fisher system long silk shell underneath. The shell is a perfect length for layering underneath this sweater. The cashmere is excellent quality and I will have it forever and wear it often. A great piece!
Date published: 2020-11-29
Rated

5

out of

5
by
Bella Doll
from
Turtle neck box top sweater
Great look, and very light to wear through the seasons.
Date published: 2020-11-16
Rated

5

out of

5
by
inNM
from
Lovely pink, lush knit
I actually prefer the looser neck of the gray in photos online, which is not the same as the other colors and that confused me. I went to the store to see in person what the neck was for sure. I love the color and only so-so on the meh mock turtleneck but the fabric is light yet cozy. With an EF silk jersey long sleeve tee underneath, I'm in heaven, it's lovely. The price and mock neck keep me from buying in other colors. Maybe next year...
Date published: 2020-11-13
Rated

5

out of

5
by
IsobarMagpie
from
If you buy only one sweater this year....
The softest, most elegant sweater you will buy all season. It has all the qualities we love from EF. A must have, for sure.
Date published: 2020-11-10
Rated

5

out of

5
by
Kiri
from
A sweater to make your heart sing!
In this time of change and uncertainty we all seek comfort. Don't reach for the cookie jar or the chocolate box, reach instead for the enveloping softness, blissful warmth and beauty of this gorgeous sweater: a dear, true friend for difficult days. Some comments have been made about the capacious boxiness of this wonderful sweater, and it's true that it's dimensions are generous. This has the benefit of allowing several layers of other garments to be easily worn beneath it if one chooses, and if like me you've turned your home's thermostat down to conserve energy, you will love this sweater all the more for being so obliging in, at the same time, letting you be both stylish and toasty. Its generosity also allows it to be spread over ones knees when seated. None of us disagree that Black is a well-deserved classic color and plays an important part in our wardrobe ensembles, but I am extremely grateful for the beautiful Softwhite, Blush, and Pearl colors available for this sweater - they lift my spirits and lighten my steps as we head into winter. The relaxed turtleneck is super-flattering and super-comfortable. An outstanding sweater to care for and keep for many, many years.
Date published: 2020-11-05
Rated

5

out of

5
by
Debbie
from
My new favorite piece of clothing
I put the sweater on and my very first thought was that I never want to take this off. It is so soft, good looking and comfortable. It was a bit of a risk spending the amount of money it cost but totally worth every penny.
Date published: 2020-11-01
Rated

5

out of

5
by
Gloria
from
This sweater is a bliss to wear.
The sweater is beautiful, soft, comfortable and a bliss to wear.
Date published: 2020-10-30
Rated

2

out of

5
by
EF fan
from
Not the same as last years .....
I purchased this last year in a pearl gray in my usual EF size of small - I LOVEd it - loved it so much I tried for it in white but unfortunately it was sold out This year I was determined to get it early - after reading reviews I actually hesitated but sized down to x-small and crossed my fingers. Well the color was lovely - the fabric was as soft as last years - pretty yummy - albeit slightly thinner - BUT the cut - I'm not sure what they were thinking - first of all all the models are like 5-10 and I'm 5-4 and slim - how is it that it lands on me the same part of the body as it lands on them. This was cut way too short - and WAY too boxy - I love boxy and last years was slightly boxy but this year it was full way up under the arms (Like about by 4 inches under each arm) and had no shape to it - a family member said to me it looks like a huge sack - sleeves were so wide I could get 3 wrists in the cuff - last years hugged the wrist loosely. And this was in a full size down from my regular size - Hugely disappointed - this was my favorite sweater and I would've ordered in other colors had they not changed it - sadly I returned it - (I was also a bit surprised that EF sent an almost 500 dollar sweater in a lightly padded envelope.)
Date published: 2020-10-28
Rated

5

out of

5
by
Alice
from
My favorite sweater!
Absolutely delicious sweater—soft, cozy, and great, flattering fit. I liked it so much I bought another in gray. Very pricey but worth it.
Date published: 2020-10-24
Rated

5

out of

5
by
MaryLou
from
Cashmere silk bliss turtleneck box- top.
This is a fabulous sweater. Looking forward to wearing it.
Date published: 2020-10-23
Rated

2

out of

5
by
EF Addict
from
Newer isnt always better!
I was so excited to see this cashmere silk bliss item offered in a plus size. I have several similar sweaters that are box tops in extra large and wanted the flexibility of ordering truer to size. Upon receipt, disappointed to find that the item wasn't nearly as soft or plush so returned it.
Date published: 2020-10-18
Rated

5

out of

5
by
New Yorker
from
size of sweater may take shrinkage in account
Like another reviewer, I lost out on a color (white) I wanted in my size last year, so bought one quickly this year. It is just like last years funnel neck-- lovely, cozy sweater. I look forward to wearing it when the weather cools down. Last year, I commented that the sweater shrank in the wash, so it would be a good idea to "size up" to account for that. It appears that EF took that advice to heart, and made the sweater a bit larger at the outset, probably so that when it shrinks, it will still maintain that boxy look and still fit well. I suspect that is why some of the other posters noticed that it is on the large size. So potential purchasers should bear in mind the shrinkage issue (unless you want to dry clean, which I did not want to do) when deciding whether to switch from their regular EF size.
Date published: 2020-10-11
Rated

5

out of

5
by
Ann G
from
I love this sweater.
I love this sweater. It is so soft and cozy. It's perfect for long, cold, winter days. It feels like a constant hug.
Date published: 2020-10-10
Rated

4

out of

5
by
lb13
from
Beautiful sweater!
I ordered my normal size and am returning for a smaller size. The body of the sweater is very large. I love the sweater and am hoping the smaller one works!
Date published: 2020-10-09
Rated

2

out of

5
by
b jean
from
Disappointed
Color blush is lovely — 5 stars Fabric is soft, cosy, warm — 5 stars Fit—unflattering Last year I ordered the EF cashmere silk bliss sweater too late and my size medium & color was not available. This year was I was determined to purchase this item as soon as it came out. The cut is VERY different from last year's cashmere silk bliss box top sweater. Not only shorter, the body of this sweater seems disproportionately large even for an EF box top. At 5'10" and 157 lb. with an over 70 tummy, I'm not a small person and I prefer a loose fit in clothes. Even size small looked huge...though snug in shoulders/arms. Hopefully next year?
Date published: 2020-10-08
Rated

5

out of

5
by
Mimi
from
Delicious
This is the snuggliest sweater I've ever owned. It also looks fantastic on. 5 stars! The only problem with it is the price. $$$$$ 5 dollar signs. But if you can afford it, get it. It's delicious.
Date published: 2020-10-06
bvseo_sdk, dw_cartridge, 18.2.0, p_sdk_3.2.0
CLOUD, getReviews, 1ms
reviews, product