2007-2009 GRANT FOCUS

SELF-IMAGE GRANT FOR WOMEN AND GIRLS
A positive self-image plays a central role in a woman's ability to lead a full and meaningful life. Self-confidence and self-care are essential in every effort a woman undertakes, from leading her own business to raising a family. By understanding how to care for our bodies and ourselves, we create a better life, a happier future and a healthy self-image.
Activating Leadership Grantees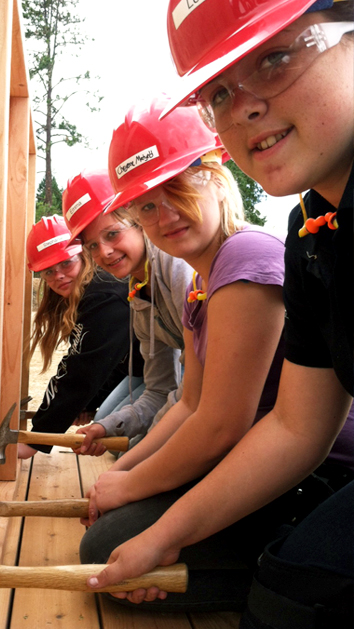 2009
Adhikaar: Hamro Katha, Hamrai Awaz (Our Stories, Our Own Voices)
Grant: $12,000
www.adhikaar.org
BEBO
Grant: $10,000.
www.beboinc.org
Bright Endeavors: Employment and Personal Achievement for Young Women in Chicago program
Grant: $25,000
www.brightendeavors.org
Fabric of Life Foundation - Hèrè jè Center: Hè rè jè Project (means "Happiness Group" in Bambara)
Grant: $10,000
www.schillios.com
Figure Skating in Harlem: After School Education and Ice Skating Program
Grant: $10,000
www.figureskatinginharlem.org
Girls For A Change
Grant: $10,000
www.girlsforachange.org
Girls Write Now: Mentoring Program
Grant: $10,000
www.girlswritenow.org
Groundswell Community Mural Project: Voices Her'd Visionaries
Grant: $15,000
www.groundswell.nyc
Lotus Outreach International : Non-Formal Education, Skills Training and Life Options for Sex Workers and their Children
Grant: $10,000
www.lotusoutreach.org
New Directions for Women
Grant: $20,000
Reel Grrls: Girls Make Media that Matters
Grant: $15,000
www.reelgrrls.org
Row New York: Health, Leadership, and Empowerment through Rowing
Grant: $10,000
www.rownewyork.org
Women's Equity in Access to Care and Treatment (WE-ACTx): Rwandan Girls — A Better World is Possible
Grant: $ 26,292
www.we-actx.org
YMCA of Greater Seattle, Metrocenter YMCA Branch: Patsy Collins Adventure in Leadership program(PCAL)
Grant: $10,000
www.seattleymca.org
Youth Outlook: Our Turn
Grant: $6,000
www.youth-outlook.org
2008
Academy of Natural Sciences: WINS (Women in Natural Sciences)
Grant: $25,000
www.ansp.org/education/programs/wins
CANY (Creative Alternatives of New York): Drama Mamas
Grant: $10,000
www.cany.org
Charlotte Maxwell Complementary Clinic: Integrative Cancer Care for Low-Income Women
Grant: $50,000
www.charlottemaxwell.org
Family Tree: P.U.R.E. (People Using Resources to renew their Esteem)
Grant: $5,000
Gina Gibney Dance: Domestic Violence Project
Grant: $15,000
www.gibneydance.org
Girls Educational and Mentoring Services
Grant: $50,000
www.gems-girls.org
Girls For A Change: Girl Action Teams
Grant: $50,000
www.girlsforachange.org
Girls in the Game: Sports, Health, Leadership, Life
Grant: $20,000
www.girlsinthegame.org
International Organization for Women and Development, Inc: Outreach Educational Program
Grant: $13,000
www.iowd.org
Literature for All of Us: The Body Project
Grant: $20,000
www.literatureforallofus.org
Maurer Foundation: High School Breast Health Program
Grant: $5,000
www.maurerfoundation.org
Nassau County Coalition Against Domestic Violence: Psychodrama Expressive Arts Treatment of Trauma in Women
Grant: $20,000
www.tscli.org
Oregon Tradeswomen, Inc.: Trades Offer Girls Options
Grant: $13,500
www.tradeswomen.net
Project Exploration: Services for Girls
Grant: $30,000
www.projectexploration.org
Puppies Behind Bars: Classroom and Correspondence Course Education for Female Inmates
Grant: $18,500
www.puppiesbehindbars.com
Rehabilitation Through The Arts: Bedford Hills Correctional Facility
Grant: $35,000
www.rta-arts.org
Sadie Nash Leadership Project
Grant: $30,000
www.sadienash.org
Treehouse: The Wearhouse
Grant: $5,000
www.treehouseforkids.org
WHEDco (Women's Housing and Economic Development Corporation): JAM (Just Ask Me) Peer Counseling Program
Grant: $20,000
www.whedco.org
Willie Mae Rock Camp for Girls
Grant: $30,000
www.williemaerockcamp.org
YMCA of Greater Seattle, Metrocenter YMCA Branch: Patsy Collins Adventure in Leadership Expansion Project
Grant: $20,000
www.seattleymca.org
Youth Outlook: Our Turn
Grant: $15,000
www.youth-outlook.org
2007
1+1+1=One: The We Got Issues! Leadership Institute
Grant: $50,000
Brigham and Women's Hospital: Reproductive Health and Sexual Education of Somali Adolescent Girls Who Have Undergone Female Genital Cutting
Grant: $30,000
www.brighamandwomens.org
CASES (Center for Alternative Sentencing and Employment Services): GirlRising
Grant: $20,000
www.cases.org
Eleanor Roosevelt Center at Val-Kill: 2007 Girls' Leadership Workshop
Grant: $25,000
www.ervk.org
Girls Educational and Mentoring Services
Grant: $18,000
www.gems-girls.org
Girls Incorporated of Westchester County: Girls Inc. Westchester Capacity Building Initiative
Grant: $50,000
www.girlsincwestchester.org
Girls Learn International
Grant: $25,000
www.girlslearn.net
INSPIRIT, a dance company, Inc.: Project: BECOMING
Grant: $20,000
www.inspiritdance.com
International Organization for Women and Development, Inc: Outreach Educational Program
Grant: $12,500
www.iowd.org
Project Exploration: Services for Girls
Grant: $10,000
www.projectexploration.org
Puppies Behind Bars: Educational Opportunities for Female Prison Inmates
Grant: $16,000
www.puppiesbehindbars.com
Red Tent: Girls in the Wild
Grant: $30,000
Sadie Nash Leadership Project
Grant: $50,000
www.sadienash.org
The Girls Project/Institute for Labor & the Community: The Girls Project
Grant: $50,000
www.gp-bp.org
The Lower Eastside Girls Club: Healthy Bodies/Healthy Minds
Grant: $50,000
www.girlsclub.org
The Women's Therapy Centre Institute: I See Me
Grant: $15,000
www.wtci-nyc.org
WomensLaw.org: Email Legal Hotline
Grant: $25,000
www.womenslaw.org