RESPONSIBLE FIBERS
We're committed to changing the way clothes are made, starting with the materials we choose.
WHY WE'RE COMMITTED TO

RESPONSIBLE WOOL
Our most popular wools support the welfare of sheep and the land they graze on.
Read More:
A Letter from Eileen
Responsible Sourcing: Animal Products (PDF)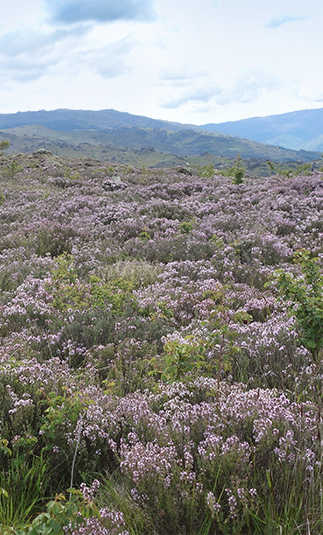 Every year, 1 billion sheep produce 2 million metric tons of wool. Most of it is bought and sold by a complex web of brokers and middlemen, making it virtually impossible to trace fibers back to the farm.

For 30 years, all our wool was part of that system. That changed in 2018, when we became one of the first brands to introduce wool certified to the Responsible Wool Standard (RWS).

"Responsible wool means that we know exactly what farms produce our wool and how the animals and the land were managed," says Megan Meiklejohn, our Sustainable Materials and Transparency Manager. "It's an entirely new supply chain—we had to reinvent our sourcing from scratch."

That meant 3 years of research. We visited farms in South America, New Zealand and Australia. We met with veterinarians, biologists and industry experts. We ran quality tests with our yarn spinners. And we joined like-minded brands in consulting with Textile Exchange, the nonprofit that introduced RWS in 2016.

THE IMPACT: SHEEP
RWS requires audits to ensure that farms support the Five Freedoms of Animal Welfare. Defined by the Farm Animal Welfare Committee and internationally accepted, these standards call for:

Freedom from thirst, hunger and malnutrition
Freedom from discomfort
Freedom from pain, injury and disease
Freedom to express normal patterns of behavior
Freedom from fear and distress

What we've seen on our visits: Sheep are kept "free from fear and distress" with low-stress handling—no loud barking, nipping dogs. Chad Taylor of Mumblebone Merino in Australia told us, "Getting sheep to move from Point A to Point B can be as simple as being in the right spot. They'll move more freely if they're not scared."

THE IMPACT: LAND
RWS addresses the environmental impacts of overgrazing, which, in the worst case scenarios, leads to bare ground, erosion and desertification. RWS requires farmers to maintain soil health, protect biodiversity and promote native species.

What we've seen on our visits: In Argentina, the farmers we work with are going above and beyond RWS and using sheep to regenerate depleted soil. Ovis 21 is training farmers in nine provinces to restore 1.2 million acres of depleted grassland. By herding sheep in patterns that mimic nature, they're restoring soil health--dung adds important nutrients, sheep hooves turn over dead plants and stimulate new root growth. The unseen benefit: Healthy soil sequesters carbon, helping to combat climate change. Learn more at www.savory.global/land-to-market


BUSINESS AS A MOVEMENT
In addition to being a pioneering brand in supporting RWS, EILEEN FISHER has joined Savory Institute's Land to Market program, a commitment that will help bring the importance of regenerative agriculture to the forefront of the fashion industry. Learn more at en.ovis21.com/english-version

Learn more here:
Responsible Wool Standard responsiblewool.org
Savory Institute savory.global
International Wool Textile Organisation iwto.org/wool-production .