IN INDIA, FAMILY


AND FACTORY

By Jenny Van Alstine
Join us on a journey to Shingora, the scarf factory presided over by Mridula Jain, an entrepreneur whose story is inspiring a new generation of Indian women.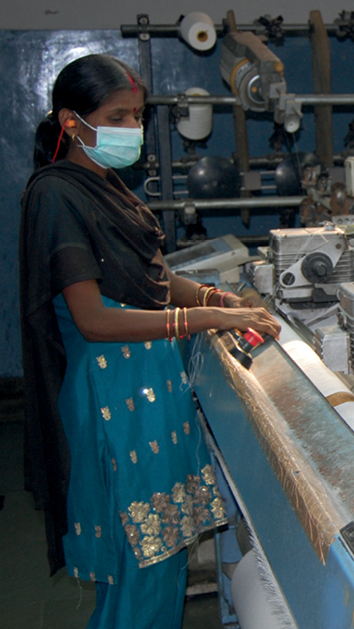 ---
The reusable water travels by small canals to water a plantation of trees planted nearby, now about twenty feet tall. What can't be recycled from the process is dried and stored instead of allowed to return to the local environment.
The station in Delhi is a crush of people. They move around us in a rush of color carrying suitcases, briefcases and babies. We board the train that will take us to meet Mridula Jain and chug past slums, past endless people engaged in the simple tasks of morning life, the outdoors their bathroom and cooking area. Mothers dress small children and hang pieces of clothing on makeshift lines.

Delhi behind us, we pick up speed, pass open fields with kilns for brick making, and then expanses thick with grain, and finally, people again, as we pull into our destination. The Shingora factory is in Ludhiana, a city that produces bicycles, motorcycles, car and tractor parts and textiles in the middle of a vast agricultural region.

Driving from the train to the factory is a major undertaking. Scrawny cows roam next to the highway looking for food. The beeping from the cars and trucks is deafening. People hawk wares everywhere. Small shops are gradually replaced by larger factory buildings. The dust remains. At last we reach Shingora, a business with a long history.

Three decades ago, Ashok Jain, whose family was in the wool business, married a young woman named Mridula. He continued in the family business, providing uniforms for the military, while she taught school. By the time they were raising two young sons, the business was losing money, and they knew something had to change.

Mridula thought about what she wanted for herself, and her answer was beautiful, handloomed shawls. The word pashmina, the fine cashmere wool and the shawls that are made from it, was just coming into every woman's vocabulary. Mridula went to her family and begged them for their two handlooms. With these came the first major transformation of their business.

The Jains began to produce pashmina, styled with Mridula's fashion eye, her own twist on an ancient craft. When her older son Amit was ready to go off to college in America, the business was taking off but it wasn't yet capable of covering that kind of expense. Deeply ingrained in the culture, it is tradition in India for a family's wealth to be held in the gold jewelry it buys over the years. Gold jewelry, worn at weddings and other special occasions, is a symbol of both wealth and status. (India remains the world's largest consumer of gold.) To put her son through college, Mridula sold her only real wealth, her gold bangles.

Amit went to Kentucky, to study engineering and business, and when he finished, he got on a plane to return to India, the only one of his friends who didn't stay in the United States. On the plane home the man sitting next to him told him he was crazy to go back. "Don't even get off the plane," he said. Amit responded, "I have to go back. My mother sold her bangles."

And so, Amit returned. He was full of new ideas about modernizing and improving the business and talked his parents into taking out a loan. It was a giant leap of faith for all of them. They bought computerized weaving machines and invested in a high-tech dyeing process for the yarn. They hired and trained more workers.

Over twenty years later, the business is thriving. The facilities are state of the art. There are rooms full of computerized knitting machines buzzing and clicking and churning out gorgeous fabrics, and upstairs from these, a quieter room of ancient looms where hand weaving is still done, the treadles worked by the bare feet of older workers who still practice this ancient craft. The young prefer the modern mechanized machines where craft is reinvented by technology.

Dye makes its way through long tubes into vats in another room, where it's mixed through a computerized process, without ever being touched by human hands. Wastewater travels out of the factory to an adjacent water treatment plant where it is cleaned and processed.

The reusable water travels by small canals to water a plantation of trees planted nearby, now about twenty feet tall. What can't be recycled from the process is dried and stored instead of allowed to return to the local environment.

Mridula Jain still presides over the factory as Managing Director. When she strides into the room to greet us she is a wash of pink silk. She has the countenance of a woman who knows both her mind and her business. Widely recognized as a business leader, Mridula speaks at events and conferences where she is an inspiration to a new generation of Indian women. At her own factory, she has taken on the role of supporting women workers and has instituted programs to protect their safety and encourage their personal growth. Her philosophy guides her practice. "You have to be honest to yourself. Honesty comes from your kindness and attitude towards life."

Shingora is a modern factory born out of the ancient art of weaving and the Jain family's vision. (And, of course, the gold bangles.) The Jain family lives and works together as their business continues to change and grow and prosper. All three families live in the same compound in Ludhiana. Though each family has its own style of house, they share a large communal yard.

Mridula's husband and both her sons are very present at the factory. Amit is now the President. Her younger son, Anuj, is the CEO. Shingora is dedicated to social responsibility, meets SA8000 accountability standards and stays true to the original idea of producing beautiful textiles—a synergy mirrored at EILEEN FISHER.

A weave of the past and present, these scarves start with our designers in New York, travel to a city north of Delhi and return. It's a cycle that starts with a timeless concept and an ancient craft, and returns modern and new. A cycle that feels a little like India itself.