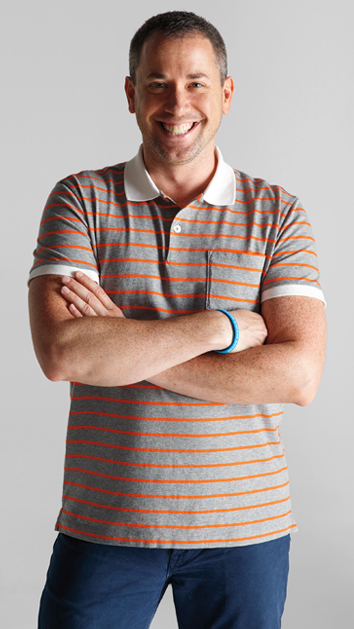 HURRICANE


CHARLIE
By Claire Whitcomb
Whether he's producing a photo shoot or after-work drinks, the ad team's Charlie Mullen is an organizational whirlwind. So it wasn't a surprise that he hit the ground running when Hurricane Sandy blew in.
Working with Reisa Brafman from our Social Consciousness team and Mariclare Van Bergen, Vice President of Sales, Charlie pulled together a small army of employee volunteers who spent Fridays in Rockaway and on Staten Island cleaning basements, hauling trash, knocking down sea-soaked walls and providing relief in any way possible.

You were training for your fifth New York City Marathon when Hurricane Sandy arrived.
Up until the hurricane, everything in my personal life revolved around running. But being without heat, hot water and power for almost five days shifted my focus rather quickly.

Our offices were closed, so I unglued myself from my smartphone. I was able to really look around and soak up the generosity and resourcefulness around me. Delis handed out free coffee. Strangers who were charging cell phones in bank vestibules brought power strips so others could join in. Friends and co- workers offered hot showers, meals and electricity over social networking sites.

The Saturday after the marathon was cancelled and the power was restored in my neighborhood, I headed out to Rockaway to support a friend who lost her apartment. There was so much devastation, loss and pain, raw and written on the faces of every individual we met along the way. When Monday arrived, I pitched the idea about giving EF employees paid time off to volunteer and help with the relief efforts.

How did your experience in producing photo shoots translate into organizing
a five-week volunteer campaign?
I knew that the secret to success was that each task—from meeting points for volunteers on their way to Staten Island to coat and blood drive instructions— required planning, clear direction, follow-up and flexibility. With Reisa's guidance, we were able to figure out the most effective ways to contribute. We acted fast and started our relief work in just four days.

The emails you circulated about EF trips to Rockaway were galvanizing even for those of us who didn't make it out there. Do you have any pointers on spreading a volunteer culture?
My takeaway, simply put, is talk about your experience. Get others inspired. There is no wrong way to volunteer. Everyone can contribute, whether it's lending moral support or donating goods.

The common denominator in any project is that volunteering just makes you feel good. It is the best and most rewarding kind of work. I find that even though I'm supposed to be helping others, I'm the one who learns from them. The human spirit is insanely resilient and I'm thankful that each of these volunteer efforts lets me see that.

Had you done much volunteering before you went to New Orleans after Hurricane Katrina?
No. My first real introduction to volunteering was the 2009 trip to Louisiana with In Good Company. We were fortunate enough to be exposed to a great mix of community nonprofits. We helped build a house in Hollygrove for Ms. Alice Cousin through a group called Rebuilding Together New Orleans. We worked with Jenga Mwendo on transforming a vacant Ninth Ward lot into community vegetable plots called the Guerilla Garden. And we planted marsh grass with Bayou Rebirth.

New Orleans is such a magical city, rich in culture, diversity and spirit. That spirit that really shone through in the amazing people we met doing post- Katrina work.

How did the trip shift your thinking when you came back to New York?
It really opened my eyes to the needs surrounding me each and every day here in New York City. I remember being aware of everyone and everything around me. I wanted to give every homeless person money. I wanted to hold doors. Acts of kindness go a long way. It does not cost anything to extend yourself in some small way each and every day.

Have you been able to keep the spirit going?


Recently I sent the email that's below to my friends. My friend Christina came up with this idea for her own birthday and I loved it. I can't tell you how many great responses I got afterward. It was the best birthday ever.



From: Charlie Mullen
Subject: My birthday

I want 2013 to be different for me... a better year than I've ever had. To do that, I'll need to make some changes, and it's going to start with my birthday celebration. Instead of gathering for dinner, cake and/or drinks, this year I ask that you do one selfless act to help someone else. Maybe you can pay for someone's subway or bus fare, put some money in a meter about to expire or leave $5 with the cashier to pay down the next customer's bill. Maybe you can walk a neighbor's dog, shovel someone's driveway, offer to babysit your friends' children so they get a night out or visit an elderly person you haven't seen in a while.

Your gift to me is to let me know what you did.

By celebrating my birthday this way, I will be able to invite more people to my "party" than ever before!! I will have guests across the country joining me. In doing this, you will help me feel that my being born made a difference in someone's life—even beyond the people I know. And I personally think that is a pretty terrific gift :-)

So you have five days. You have the next five days to find one something you can do to make somebody else's life better. This will be the longest party I've ever had! And each note I receive about your good deed will make me smile over and over and over again....