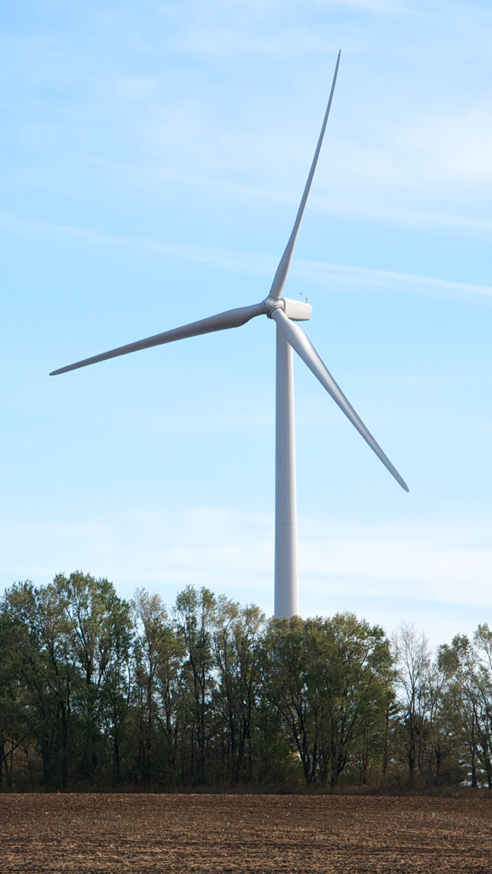 GREEN POWER


IN OUR STORES
We're going beyond LED lighting by purchasing Renewable Energy Credits for 100% of our electricity consumption at our stores and corporate headquarters. We're also offsetting 50% of our inbound shipping emissions by helping to build wind turbines in rural communities through NativeEnergy.


Like many American homes, our stores and corporate headquarters are supplied by local power suppliers that generate electricity primarily through coal. After the 2010 Deepwater Horizon oil spill in the Gulf of Mexico, we decided to do more to support renewable energy and began funding wind turbines through NativeEnergy.

NativeEnergy is a socially conscious company that pools the resources of both individual investors and companies like EILEEN FISHER in order to fund local renewable energy projects. In terms of wind, it focuses on small sites many developers would pass over, assessing each for wind-worthiness—and social impact.

Building even a single wind turbine is a huge venture that can cost approximately $3.5 million. We are proud to have joined Aveda, Ben & Jerry's, Clif Bar and others to support two recent NativeEnergy projects:


Iowa Farms Wind Project. For small farmers who struggle financially, leasing their land for wind turbines provides a critical source of additional income. Crops can grow right up to the foot of the turbines; communities benefit from increased tax revenue and expanded job opportunities. The Iowa farm project, which we contributed to in 2011 and 2012, has financed two wind turbines in northern Iowa.

Shenandoah School Wind Project. In Middletown, Indiana, three rural schools now have a wind turbine to power 85% of their energy needs. The Shenandoah School Wind Project, which we contributed to in 2013, has helped cut school costs—with savings projected to total $1.77 million over 20 years—and created a renewable energy learning lab for students. The project has also eliminated an estimated 13,000 metric tons of carbon emissions.

To learn more about NativeEnergy's Help Build projects, go to www.nativeenergy.com/help-build-project-portfolio.

To learn more about the energy footprint of your house, your car and your travel, play with our Carbon Calculator at nativeenergy.com/eileenfisher.