Past Grantees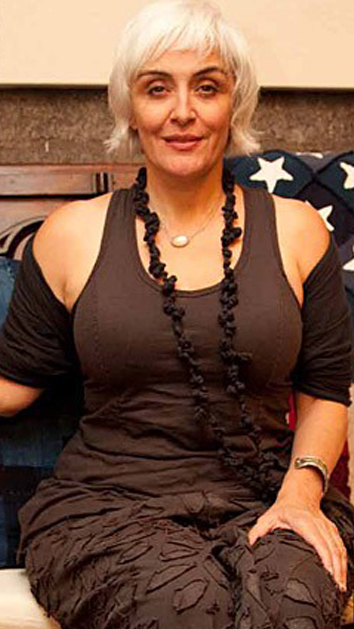 2013
Natalie Chanin started her clothing company, Alabama Chanin, in her hometown of Florence, Alabama. She is challenging the fashion industry with open source patterns and a network of local, fairly paid homeworkers who produce intricately hand-sewn, one-of-a-kind organic cotton garments. Her business has expanded recently to include a factory and a machine-made line.

Carrie Blackmore of Good Nature Brewing is bringing her community together at her "farm-to-glass" microbrewery and taproom in Hamilton, New York. She is committed to working with local family farms, artists and small businesses.

Amy Bauman started greenGoat to keep construction castoffs out of the landfill. Based in Somerville, Massachusetts, this social enterprise redistributes architectural salvage to people and businesses who give the materials new life. Along the way, Amy teaches building professionals how to boost efficiency by conserving resources and managing waste streams.

Melissa Joy Manning creates beautiful, modern jewelry using recycled metals and sustainably sourced stones. In addition to ethically sourcing her materials, Melissa creates a company culture and supplier relationships built on environmental and social sustainability.

Polymer artist Merrie Buchsbaum turns writing into an art at Merrily Made in Cromwell, Connecticut. She produces a unique line of pens, some of which are crafted with materials straight from her own garden.

Susan Matteucci leads Southwest Creations Collaborative, a social enterprise in Albuquerque, New Mexico, that operates a sewing facility that provides well- paid jobs and low-cost childcare for women. By investing in women, they help women become leaders in their families and their communities.

2012
With The Blue Pig ice cream shop in Croton-on-Hudson, New York, owner Lisa Moir honors small town traditions by serving sustainably made, locally produced ice cream. She uses milk from a nonprofit Hudson Valley dairy cooperative for innovative flavors such as Roasted Banana and Mojito.

Fashion-forward clothing that's made in New York City: that's the mission of designer Carrie Parry. She produces a beautiful product line with sustainably sourced fibers—and "heart."

Farmers Ann Adams and Liz Brensinger saw a need: tools and equipment designed specifically to work with women's bodies. While continuing to grow sustainable produce, they created Green Heron Tools in New Tripoli, Pennsylvania.

Gabby Fludd's Gumdrop Swap Kids and Maternity Boutique is a unique alternative to consignment and thrift shops. It lets customers swap (and shop for) children's and maternity clothing in Bridgeport, Connecticut.

Catherine Conway created Unpackaged, a London grocery store that sells local and organic produce-and encourages customers to bring their own containers. "We believe that a lot of packaging is unnecessary so we've removed it," she says.

2011
Mother and daughter team, Meryl and Cary Gabeler are the unstoppable powerhouse team behind Anjolie Ayurveda in Hastings-on-Hudson, New York. Together they have created a natural, luxurious organic skincare line that is manufactured in India by a woman-owned social enterprise.

Ashley Phelps' botanical paints, which are derived from fruits, vegetables, flowers and spices, are almost good enough to eat. We love the product and the way Glob of Berkeley, California, "pays it forward" by donating her sustainable arts-and-crafts to needy schools.

Finding the perfect blend of creativity and repurposing clothing makes designer Christina Collins-Pezzner, of the Seattle-based Ricicli, a true original. Check out her infant and youth apparel company, which creates and sells upcycled clothing to environmental and fashion conscious consumers.

Winston-Salem based eco-advocate, product designer and mom of three, Valerie Lecoeur is committed to saving our oceans and cleaning up our beautiful beaches. Her innovative Zöe b Organic makes sustainable and biodegradable products for babies and kids.

2010
Artterro is the brainchild of two enterprising moms in Madison, Wisconsin. Forrest Espinoza and Jennifer Conn create eco art kits packed with natural, artist-quality materials. They believe that open-ended projects offer an unplugged experience, tapping into creativity and problem-solving skills. Their ethically sourced kits are assembled in the US by people with special needs at Goodwill Industries of Southeastern, Wisconsin.

Kari Erickson-Valenzuela started making play clay with aromatherapy oils for her young daughter Olimpia. Her Seattle-based company, Creative Beast, produces Mama K's Aromatic Play Clay with all-natural, gluten-free play dough and scents to sooth, inspire and balance the creative beast within.

When her daughter was born, Seattle designer Holli Harris realized that she couldn't find stylish work clothes that were practical for breast-feeding. Her Seattle-based clothing company, HadleyStilwell, fills that gap. Holli says that if she can remove obstacles so that working mothers can breast-feed that much longer, "then I've accomplished my goal."

Esmerelda Kent is taking eco-consciousness from cradle to grave with her innovative San Francisco-based company Kinkaraco. It specializes in green burial products, including 100 percent natural, biodegradable fabric shrouds for every type of funeral service.

2009
Designers Anna Bario and Page Neal believe that jewelry should meet a higher standard. At Bario Neal, their Philadelphia store and workshop, they create beautiful jewelry using reclaimed precious metals, recycled diamonds and gemstones that are tracked from mine to market.

Pull up to one of the gas-station-style pumps at BioFuel Oasis in Berkeley, California, and you can fill your car with biodiesel from recycled vegetable oil. Owners Margaret Farrow, Ace Anderson, Novella Carpenter, Melissa Hardy and Jennifer Radtke call it the "most sustainable filling station in the nation." Their worker-owned cooperative not only specializes in collecting and selling biofuel, it runs an Urban Farm Store and offers classes on everything from raising chickens to keeping bees.

"Saved and made in the USA" is the motto of GG2g. Owned by Day Moore, GG2g creates upcycled accessories from salvaged restaurant seating, billboards, bicycle inner tubes and recycled glass bottles. GG2g centers its manufacturing in Connecticut, working to build a skilled labor force and provide low-income, minorities and non-English speaking individuals with jobs, education and career opportunities in the green fashion industry.

When Lynn Julian and Chance Claxton calculated the amount of lunch trash being produced each day at their kids' schools, they started thinking about Kids Konserve. Their innovative e-commerce website offers a complete line of waste-free, BPA-free lunch-packing solutions. Today, they cater not only to kids but also to grown-ups who are interested in stylish containers for salad bars, takeout, travel and leftovers.