SUPPLY CHAIN
The farms, factories and faces behind our clothing.
EILEEN


GOES TO CHINA
Several years ago, Eileen took a trip to China that deepened her understanding of factory life. Combining vacation with a supply chain tour, she traveled with her son and a few close friends. Here she reflects on what she saw—and how she hopes to inspire change.
Read More:
Meet Eileen
Business as a Movement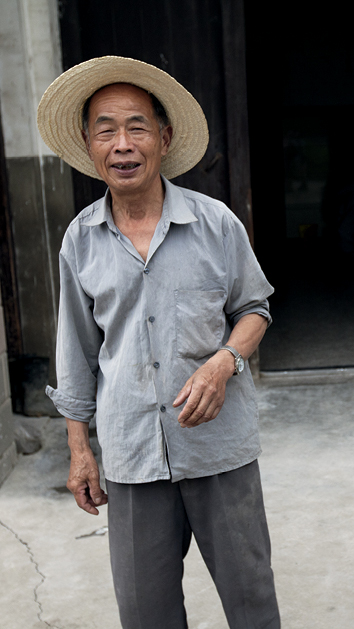 What inspired you to take this trip?
The factories. I wanted to understand what it's really like to be a worker there. And I wanted to meet the people who own and run the factories we use. I wasn't sure whether I would have a contribution to make. For me it was about really thinking through what it means to manufacture in China.

Water is a big issue. Companies are already moving out of China because of environmental issues and because it's cheaper to produce in other countries—labor costs less. Companies devastate the land and then they pick up and move. That doesn't feel like a good idea to me.

So I wanted to see what things were like. I'd wanted to get to China ever since we started making clothes there [in 1992]. But my kids were little and I never felt I could leave them for that chunk of time. We planned this trip so that my son, Zack, could go along. We spent a week traveling—Zack wanted to see the Great Wall so we went to Beijing. There must have been a hundred times I was grateful we'd taken that week before diving into the factories. It gave me a feeling for China and the people, the fashion, daily life. I thought there was a general sense of prosperity and optimism.

What is most different about a Chinese factory?
The intensity of the work. I didn't expect that. In the New York factories the workers chat more. In China, I felt they were hyperfocused on getting their work done. It was intense.

In China, the workers are migrants who have moved hundreds of miles away. Making money and spreading their wings is a big reason they're in a factory. In New York, the men and women live nearby. They go home to their families. They don't see their coworkers every evening in the dorms.

We're one of the brands committed to doing more—to helping in ways that go beyond what we already offer: training on worker rights and workshops on topics such as health and social skills.

Still, what I saw made me want to own a factory, to create it with our values in our way. So we could give the workers some of the benefits our employees have—wellness, education and profit sharing. I'm also thinking about what we can learn from China. That kind of focus and dedication produces incredible quality. How can we understand more about their work ethic?

How do you see EILEEN FISHER creating change in China?
With our bluesign® certified silks, our commitment to organic fibers and our strong advocacy for human rights. I was glad to see that we are shifting our supply chains.

The next step is reaching out to other brands. Sustainability shouldn't be a competitive factor, a way for companies to distinguish themselves—"We're different because we have organic cotton." Sustainable practices need to become an industry norm. We should all be working together toward a larger goal, keeping the environment and social issues front and center—in China, the US and everywhere.