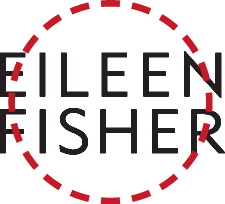 THE LIMITED-EDITION COLLECTION
The shapes are iconic, the fabrics some of our favorites. What sets the 500 pieces in our Remade in the USA collection apart is that almost no new raw materials were needed to make them. All the styles, from Washable Stretch Crepe box-tops to felted kimono jackets, work with new and recycled clothes from EILEEN FISHER and GREEN EILEEN, a selection of which will also be available at our Brooklyn pop up shop.

The shop—one location, two weekends, 500 limited-edition pieces—is just the beginning. Along with their galvanizing enthusiasm, Teslin, Lucy and Carmen are leaving behind a new model for clothing production. We're one significant step closer to our vision for becoming a closed-loop company.
THE TECHNIQUES
Felting

With thousands of barbed needles, a felting machine punctures sweaters and tangles the fibers, creating a new dense material that can be cut and sewn using classic EILEEN FISHER patterns. "The art is in how you feed the linen and wool sweaters into the machine," says Carmen. "We overlap them to create a specific pattern of colors and textures."

"Our nickname for this project was 'stains on stains,'" says Teslin. Using natural ingredients such as eucalyptus leaves, saffron and madder root, the trio overdyed silk tops to camouflage their stains. To create abstract patterns, they dipped the garments in dye pots or scattered them with leaves and pigments, rolling them into a bundle and steaming them to affix the colors. "The great thing about an overdyed tunic," says Teslin, "is that if you spill on it you only add to its character."

Because they have minimal seaming, our clothes are easy to deconstruct. But cutting out the worn parts and turning the remaining fabric into equally simple styles is not quite so easy. "We started with EILEEN FISHER patterns and added seams in places that look good on the body," says Lucy. "We also engineered the patterns so we could minimize waste by using as much of the recycled garment as possible."
EILEEN FISHER X CFDA
The best way to change the fashion industry is to mentor new talent. Two years ago, we began working with the CFDA, the Council of Fashion Designers of America, to recruit three top design school grads steeped in sustainability. We'd immerse them in our design process, they'd offer ideas for moving our VISION2020 goals forward. From that emerged a year-long assignment: prototype commercially viable ways to make new designs from the damaged clothes in our GREEN EILEEN recycling program. It's a zero-waste project we're calling REMADE IN THE USA.
MEET OUR 3 SOCIAL INNOVATORS
To make their project commercially scalable, the CFDA trio looked for garments that turn up with consistent damages. Silk with food stains? The perfect candidates for overdyeing. Pants with torn inseams are an ample source of fabric for new designs. And sweaters with moth holes can be fed into a felting machine to create new fabric. "Our goal was to find techniques that minimize waste and preserve the inherent value of EILEEN FISHER's materials," says Carmen. "They're so beautiful they can easily have a second and maybe third life."

Behind our felted and sewn products is an invisible skill: a designer's eye for color. "If we're making a box-top from one and a half pairs of pants or felting fabric from multiple sweaters, we need to mix tones," says Lucy. "Even the blacks have variations, depending on how a customer has washed them." That's why the trio considers sorting as an essential part of their design time. "We prepare a specific stack of recycled fabrics," says Teslin. "Then EILEEN FISHER's production team takes over at their workshop in Irvington, New York."
VISION2020: REUSE
At the end of the day, we make stuff. Where it ends up is our responsibility. We start by designing our clothes to last, so they'll stay in your closet longer. And when you're done with them we take them back to resell. By 2020 we expect that recycling total to hit one million. And the pieces we can't sell? They're tomorrow's raw material, to be reborn as new textiles or refashioned as new clothes. It may take longer than 5 years, but we imagine a future in which waste is a thing of the past.
"My vision is for a closed-loop company that designs into sustainability from the very beginning all the way through to our recycling program—and now, our upcycling program."
#RemadeInTheUSA