ACTIVATING LEADERSHIP
Learn how we support leadership programs for women and girls, women-owned businesses and local communities.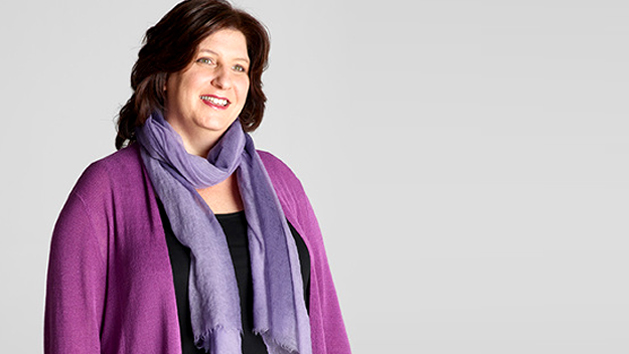 REISA BRAFMAN


IS ON A MISSION
You're an attorney who represented domestic violence survivors. How did you end up in a fashion company?
As part of our Social Consciousness team, Reisa Brafman guides our company mission in supporting women, girls and communities in need. On Monday you might find her networking with girls' leadership groups; on Tuesday, marching across the Brooklyn Bridge for International Women's Day; on Wednesday, meeting a girls' theater group that received an EILEEN FISHER Activating Leadership Grant. Of course all of this happens between reading grant proposals and deepening relationships with nonprofit partners.

Tell us how you ended up at EILEEN FISHER.
After 9/11, I realized life is really short. I had a rich career and I loved my clients, but I also loved art, travel and photography. I knew if I kept working, I wouldn't have time to think and explore.

So I did something bold. I gave two months' notice and quit my job. I hadn't even had my good-bye party when I opened The New York Times and saw an EILEEN FISHER ad for a sales associate at the Columbus Avenue store. At the bottom it said, "Supporting Women & Girls."

To make a long story short, I took the job. I loved the clothes, the customers and the mission—I got involved in community outreach and work with nonprofit partners. I traveled to Ecuador on a photography expedition, I took knitting and culinary classes.

After a year and a half, I thought, "Maybe I should get back to my life." My manager said, "Don't go. You're such a good culture fit."

So you took another leap of faith.
I transferred to the corporate offices to work as an executive assistant for Jim Gundell, who is now EILEEN FISHER's co-COO. Even though I'm a far better attorney than executive assistant, I figured that working for Jim, who's one of the best and the brightest in the business, was a great way to get to know the clothing industry.

Jim was-and still is-an amazing mentor. I use what I learned in that role every day. But at the time, I had no idea where I was heading. It was a stroke of luck that the Social Consciousness team had an opening-and I had the right background.

You now guide our grant programs for women and girls. How does your team decide which of the many leadership organizations get a grant?
It all starts with employees who spend their evenings reading grant proposals and analyzing annual reports. We go on site visits or, if applicants are too far away, we interview them by phone. Together we look for programs that take an innovative and holistic approach to activating leadership in women and girls of any age.

A program might encourage girls to play rock 'n' roll or to get up on ladders and paint urban murals that address domestic violence or consumerism. Or it might support global digital action campaigns, linking women in remote towns and villages with high-impact forums such as UN Women. It's a six-to nine-month process that has a ripple effect in the company. Many of our grant committee volunteers tell me they've been inspired to apply some of the leadership skills to their own lives.

How has Eileen's view of leadership been influential in the grant program?
Eileen is truly our inspiration. She believes that by giving women and girls confidence-confidence is the essence of leadership-they can find their voices and create change within their families, their schools, their communities. The changes might be big or small and leaders might be bold or introspective, outgoing or imaginative. Our grant program has, in turn, inspired Eileen. In 2010, she started the EILEEN FISHER Leadership Institute, which is funded by the nonprofit EILEEN FISHER Community Foundation.

You also work with nonprofit partners, particularly at the store level, that address a broad range of causes.
We approach community outreach a little differently. We want to do more than simply raise money for a worthy cause-we see a nonprofit partnership as an opportunity to raise awareness about issues. If we're supporting a group like N Street Village, a Washington, D.C., nonprofit that helps homeless women, we'll invite the women to come into the stores and meet our customers. Recently we held salons to talk about the PBS documentary Half the Sky: Turning Oppression into Opportunity for Women Worldwide.

When Molly Melching was on a book tour, we invited her to talk about her work to end female genital cutting in Senegal, activism that Aimee Molloy chronicles in her book However Long the Night. Eileen wants our stores to offer customers a safe space to talk and connect deeply. I love watching the networking and the friendships that take place. When people leave, the connections don't end. Both the customers and the sales associates come up with great ideas for helping our nonprofit partners.

Where are some of the unexpected places you find leadership?
There are many, but I'll tell you about one. In 2010, we went to a maximum security prison in Bedford, New York, because Puppies Behind Bars applied for a grant. We passed through the endless checkpoints and clanging bars to meet the inmates and their dogs. Puppies Behind Bars gives each woman an 8-week-old puppy to train as a service dog that will go on to assist wounded veterans and law enforcement officers.

The women eat and sleep with the dogs, teaching them 80 life-saving commands. We spent the afternoon hearing what this relationship means to the women. They told us that when you're behind bars, it's so important to find a way to do something positive in the world. Puppies offer the women one of the only ways to show love and care–and receive it unconditionally.

Is there a common thread that connects your work and your personal life?
I try to live my life by listening and learning from everyone I meet. I grew up in Far Rockaway, Queens, in one of the neighborhoods hit by Hurricane Sandy. I walked to school with kids from Panama, El Salvador, India, the Dominican Republic. It was the best way to grow up. I learned about my friends' holidays and they learned about mine. I understood at a young age that all people have a story worth telling. When you listen with kindness, you make them feel welcome, confident, understood.

I've seen the difference it makes when a woman coming into a homeless shelter is treated with kindness, even though she hasn't bathed or slept in a bed. Just the way you say hello or invite someone into a conversation can make them feel valued and empowered.

How do I live my day? A lot of what matters in life is very simple. It comes down to how people treat each other.



How to be a leader



Over the last three years we donated $1.2 million to 33 leadership organizations. Here is a sampling of our 2012 Activating Leadership Grants.

California Healthy Nail Salon Collaborative
Low pay, toxic fumes and chemical exposure to beauty products-these are just some of the obstacles faced by the largely immigrant and refugee Vietnamese women who work in and own California nail salons. The California Healthy Nail Salon Collaborative provides education to an underserved population and trains workers to become grassroots advocates for better products and safer regulations.

GlobalGirl Media
These high school girls have interviewed Michelle Obama, covered a workers' strike at Walmart and reported on rape in Morocco. GlobalGirl Media was created by a coalition of women broadcasters and journalists who recognized that mainstream reporting too often focuses on flash points of violence, celebrity or disaster while the change-making voices of young women passed silently under the radar.

N Street Village: Senior Peer Corps
Meals, shelter, wellness, health care, job training. N Street Village provides all this and more for one of the most vulnerable populations in the Washington, D.C., area: homeless and low-income women challenged by addiction and/or mental and physical illness. Senior Peers mentor new arrivals and demonstrate that N Street women can do more than receive help-they can be leaders and change lives.

RightRides for Women's Safety
This Brooklyn-based nonprofit began in 2004 with a simple response to a spate of late-night sexual assaults: a car, a volunteer driver and a free, safe ride home for girls, women and LGBTQGNC individuals on Friday and Saturday nights. Today, RightRides runs on donated Zipcars and some 150 volunteers (one in three has been a Rider).

Seattle Police Foundation: The If Project
It began when Detective Kim Bogucki asked inmates at the Washington Corrections Center for Women: "If there was something someone could have said or done to change the path that led you here, what would it have been?" Today, the If Project answers that question in innovative ways through writings, film, an interactive website and outreach that help Seattle girls to find their strengths and avoid the mistakes inmates have made.

Zoe's Place: Zoe's Cupcake Cafe
Zoe's Place, a residence for disadvantaged teen moms and their babies, is funded through donations and a creative enterprise: Zoe's Cupcake Cafe. Teens are trained to run the cafe, providing them with more than just a paycheck. They're taught how to be leaders in their daily lives, even while working and going to school. Studies document that every girl who completes her education and secures employment positively impacts her children's chance for success.