GREEN EILEEN
Our recycling initiative. Giving our clothes a sustainable afterlife.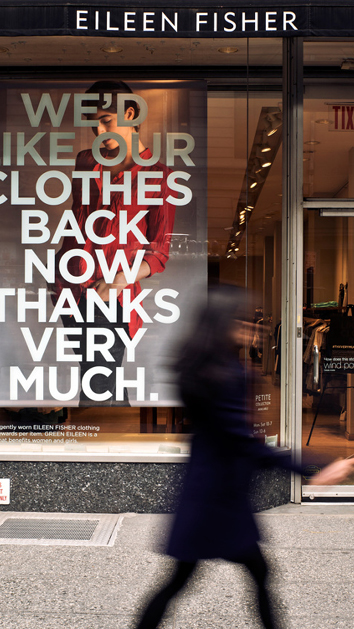 ---
"We had someone tell us, 'I got off the bus just to see what was going on.'"
— Kathyll Carnegie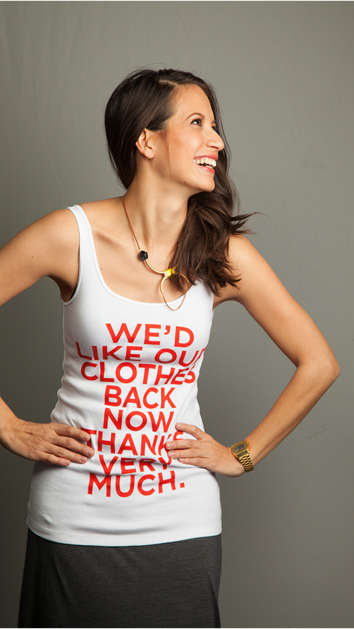 GREEN EILEEN:


#THXVERYMUCH
When we asked customers to bring back their clothes, no one expected eight tons would arrive in the first three months.
The request that appeared in EILEEN FISHER store windows in April 2013,
in large, bold type, had a note of urgency.

WE'D LIKE OUR CLOTHES BACK NOW THANKS VERY MUCH.

It was enough to make some customers fear the worst. Had there been a robbery? "We had someone tell us, 'I got off the bus just to see what was going on,'" says Kathyll Carnegie, Assistant Store Leader at the Madison Avenue store at 79th Street in New York.

Nothing had been stolen, but something out of the ordinary did happen next: Customers began to bring back their used EILEEN FISHER clothing with an atypical amount of glee. The head-turning, occasionally head- scratching campaign announced the launch of GREEN EILEEN's national take-back program, which supports the EILEEN FISHER Community Foundation. Customers could now deliver their donations to any retail store or Company Store in the United States.

Most brands prefer to see their product move unidirectionally, from store to customer, never to reappear. Few would eagerly hand out incentives to people who came back months—or decades—later to drop off merchandise.

But at EILEEN FISHER, where each item of donated clothing earns five dollars in credit on a rewards card, old clothes are received with the sort of excitement that usually accompanies record-breaking sales, not record-breaking returns. That's because the foundation uses proceeds from recycled clothing sold at GREEN EILEEN stores to support women, girls and the environment.

Many of the curious and the concerned who stopped to inquire about the campaign returned hauling bags of clothes they no longer wore but couldn't bear to toss. "It was un-be-liev-a-ble"—Kathyll Carnegie emphasizes all five syllables—"a landslide. People were bringing in suitcases, and having their husbands come in and help them. They want to know, 'Is this program going to continue?'"

GREEN EILEEN, here to stay, is one of a constellation of ways that EILEEN FISHER has found to address the life cycle of the clothing it makes. "Our goal is to reduce consumerism and to keep the clothes in the clothing chain so they don't end up in the landfill," says Cheryl Campbell, GREEN EILEEN founding team leader and Social Consciousness team member. "We do everything we can to resell them so they can have a second life with a new family."

Cheryl, who has helped nurture the clothing recycling operation since it began as an experiment in 2009, felt prepared for Earth Month 2013. But almost instantly the small team of clothing recovery specialists at the GREEN EILEEN Recycling Center in Irvington, New York, found themselves processing 10,000 items and navigating corridors of garment boxes stacked six and eight feet high. And that was just in Irvington.

A second location in Seattle's Columbia City neighborhood, serving the West Coast, received another 5,000 items during the same period.

Donations arrived cleaned and folded, almost gift-like in their presentation. "Women have a personal relationship with these clothes," Cheryl says. "We get pieces that they've wrapped in tissue paper to send back to us. You can tell how much they care."

With no shortage of options for donating clothing, what accounts for the particular success of GREEN EILEEN? Knowing something about where the clothes end up, and whom they help, seems to make giving them up a little easier.

"Sometimes I can't bear to let this stuff go, even when it doesn't fit anymore," says Emilie Klagsbrun, a regular Madison Avenue customer. "But I feel good about bringing it here rather than bundling it in a plastic bag to send to some strange place. The clothing is too nice to do that."