GREEN EILEEN
Our recycling initiative. Giving our clothes a sustainable afterlife.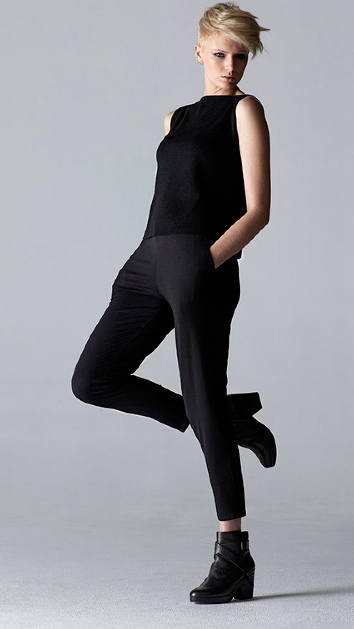 We introduced this boatneck top to our line in 1997. It's not available today, although you might find one at GREEN EILEEN.
---
"We started without any expectations, just curiosity. We had slow sales, but what mattered most is that the concept did really well, that people have no reservations about looking in the recycled section. It was amazing how well received the recycled clothes were."
—Sigi Ahl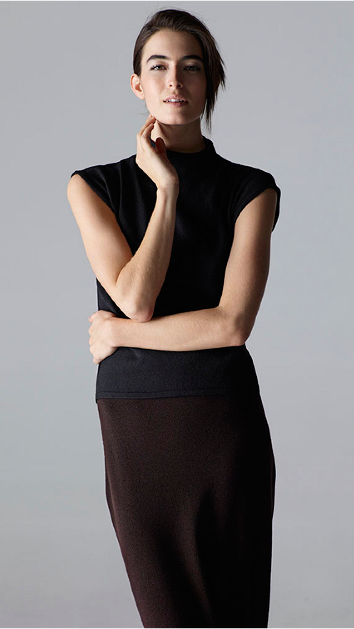 Funnel-neck top, originally from 2002, still looking good ten years later. It's paired here with a straight skirt that we introduced in 1997.
---
"I feel good about the fact that I'm buying pre-owned clothing at GREEN EILEEN."
— Susan Rubin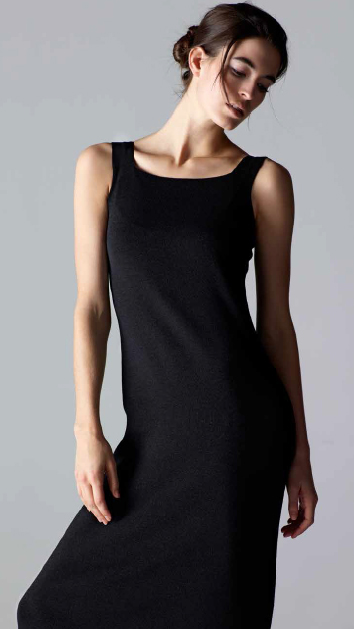 How many pieces do you wear that are over ten years old? The square neck dress in Washable Wool dates from 1997.
GREEN EILEEN:


PUTTING TIMELESS TO THE TEST
By Kristi Cameron
There's a shop in an unassuming strip mall in Yonkers, New York, where the selection of EILEEN FISHER clothes spans three decades.
Among the discoveries in this living archive? A knit motorcycle jacket that sells for $80–and that's on the high end. A citrine sweater and skinny jeans average $40, while a basic, cotton tee costs just $15. Welcome to GREEN EILEEN, where the clothes that line the walls with rainbow logic are recycled.

The store sells the company's gently worn clothing, donated by customers. In 2011 it was the only one of its kind, but not for long. A second location opened in Seattle's Columbia City neighborhood in 2013, proof that what began as an experiment in 2009 has produced very real results.

GREEN EILEEN hatched as a new model for funding the company's charitable giving when the sluggish economy took its toll. "We were in danger of not being able to support some of the nonprofits we love so much," Eileen says. "So we thought, 'can we create a business idea that will ensure we always have money to fund the things we believe in?' We needed a sustainable way to practice our values."

Cheryl Campbell, GREEN EILEEN's founding team leader and a Social Consciousness team member, is dedicated to positively impacting the lives of women and girls. She had a theory she wanted to test. Inspired by William McDonough's cradle-to-cradle philosophy, which argues that waste needn't be the end result of manufacturing, she believed the brand could sell its clothes secondhand. "I thought EILEEN FISHER clothes would lend themselves to recycling, because they have longevity, both in terms of the styles and the quality," she says.

At the time, Eileen was developing the LAB store–a concept shop in Irvington, New York, where the current collection rubs shoulders with pieces from recent seasons and one-of-a-kind sample designs. Eileen was willing to test secondhand clothes as part of the mix, but she wasn't entirely without reservations.

"When we started this recycling program, I was honestly a little nervous. I thought, 'Oh no, I'm going to start seeing old designs I'm not sure I want to see,'" she recalls. "And of course, we've made mistakes, but it's pretty stunning to see how much of it still works after all these years, especially since we live in a culture of planned obsolescence." And therein lay the discovery for Sigi Ahl, who runs the LAB store. The recycling program underscores the inherent value of EILEEN FISHER clothes.

"At first, we thought the secondhand merchandise and the new product should not be put together," she says. "We worried that customers might feel the secondhand clothes threw a bad light on the new clothing–selling them in the same store was a new idea. But then we realized they could feed into each other and show the quality of what we produce, both in terms of the material and the design."

When the LAB store opened in September 2009, the recycling program began with a few racks and 400 pieces of clothes from Eileen's own archive, supplemented by donations from EILEEN FISHER employees. It took another eight months to map out the logistics for taking donations from customers, but there was still one important consideration. "The big worry was whether people would donate enough clothes to make the whole thing work," Cheryl says. "It's fairly insane to create a business plan when you don't know anything about your supply chain, or even if there is one. But we were doing this in the New York area, where we had been selling clothes for such a long time—we just felt they had to be out there."

As it turned out, donations were brisk–for a while clothes came in faster than purchases were made, but sales weren't the litmus for the program. "We started without any expectations, just curiosity," Sigi says. "We had slow sales, but what mattered most is that the concept did really well, that people had no reservations about looking in the recycled section. It was amazing how well received the recycled clothes were."

Within a year, it became clear the program had physically outgrown the LAB store and needed a home of its own. Yonkers, situated between the Bronx and the well-heeled towns of Westchester County, would serve existing customers while also reaching new ones. GREEN EILEEN opened its doors in November 2011.

With thousands of donations arriving monthly, the program is now a complex enterprise coordinated by a small, dedicated team. The process begins when donations are collected from participating EILEEN FISHER stores and taken to the 1,100-square-foot warehouse space back in Irvington (acquired after donations stored at the company's headquarters began spilling into aisles and workspaces).

There, clothing recovery specialists choose the best pieces for GREEN EILEEN. Items with flaws are set aside for our Remade in the USA program or for upcycling in craft workshops, where woven swatches combine to make patchwork pillows, stretchy scraps take shape in potholder-style rugs and felted knits find new life as "chop-shop" sweaters.

The GREEN EILEEN selections are professionally cleaned and, whenever necessary, repaired by a mending specialist, who de-pills knits, fixes snags in sweaters, closes up torn seams, replaces buttons and sews on missing labels to ensure that no garment that could possibly find new life in Yonkers gets left behind.

Shopping at GREEN EILEEN differs from the experience at an EILEEN FISHER retail store in more than the obvious respect. Because the merchandise is unplanned, a customer may fall in love with a piece that's not her size. But what the store lacks in depth, it more than makes up for in other ways. If, for example, you don't see what you're looking for, it pays to ask.

"We do our best to hunt things down," says Jennifer Beato, who manages the store. An associate takes down a description of the desired item and lets the customer know if something similar comes in. The GREEN EILEEN team tracked down a red cardigan for a man who called from Texas after his wife left her beloved sweater in a cab. "We emailed him a picture, and it was almost identical to what she originally had," Jennifer says. "She was thrilled."

While some customers seek out the store in hopes of replacing a favorite style, most simply come for the deals. Charlotte Aden, a passionate EILEEN FISHER customer, now shops regularly at GREEN EILEEN because she's over 65 and on a fixed income. "I can't afford what I used to," she says. She's gotten to know the staff well enough that she bakes chocolate chip cookies and banana bread to bring on her regular visits; likewise, the staff has learned her style and sets aside pieces she'll like.

Rima Vesely-Flad was unfamiliar with the brand until a friend who knew she needed affordable professional clothes told her about GREEN EILEEN. On her first visit, Rima, a doctoral student in social ethics at Union Theological Seminary, walked out with four pairs of pants, five cardigans, and a shirt. "I don't think I've ever spent this much on clothes before," she says. "I've never had money or nice clothes, and now I feel like I do. That's really significant to me, since I'm about to go out into the job market."

But price is only part of the reason Susan Rubin, an environmental activist working on a short film about garbage, makes the thirty-minute "pilgrimage" from her home in Chappaqua, New York. "We waste so much here in America," Susan says. "We're mindless about our consumption, and when we're done with all those things we buy, we just throw them out. I feel good about the fact that I'm buying pre-owned clothing at GREEN EILEEN, and I feel good about the fact that the money is going to the foundation."

In hindsight, there's an air of the inevitable about GREEN EILEEN—how could it not work? But it's worth remembering this was new territory. "A designer who sells her clothes twice, the second time to support women, girls and the environment—I haven't heard of anyone doing that," Sigi says. It's a perfect example of what Eileen calls "business as a movement," using the power of industry as a tool to effect positive change in the world. "That's my real passion," Eileen says, "and GREEN EILEEN is one of the things I'm most proud of."