SUPPLY CHAIN
The farms, factories and faces behind our clothing.
EILEEN


GOES TO CHINA
In 2012, Eileen took a trip to China that shifted her thinking about manufacturing in the US and abroad. Part vacation, part factory tour, she traveled with her son and a few close friends, including Jenny VanAlstine from the EF Ad Team. Here Eileen reflects on what she saw—and how she hopes to inspire change.
Read More:
Meet Eileen
Business as a Movement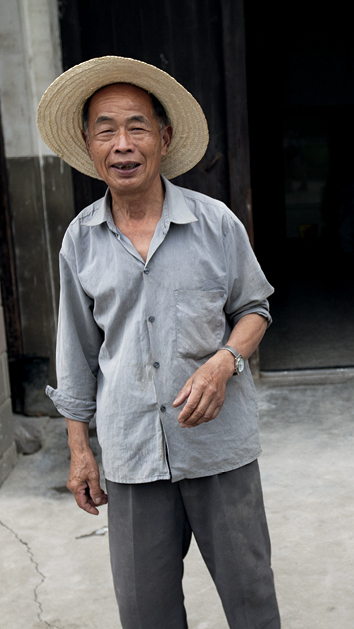 ---
I've been passionate about
the environment for so many
years, but really understanding
the environmental problems in
China—the water shortage, the
air pollution, the toxins in the
rivers—was a turning point for me.
I've started asking, "How can we
stop taking baby steps and start
running? What can we do to move
faster?"
—Eileen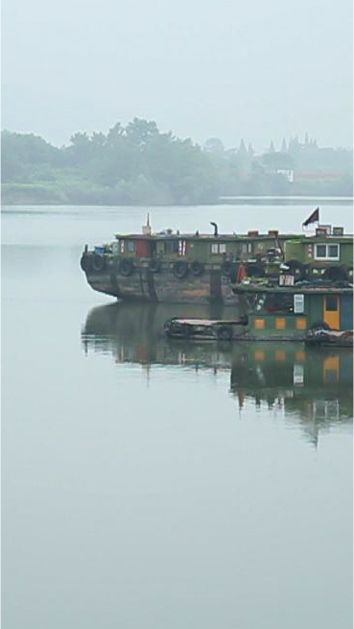 Candice Reffe (Core Concept Team): Eileen, what motivated you to take this trip?
Eileen: The factories. I wanted to understand what it's really like to be a worker there. And I wanted to meet the people who own and run the factories we use. I wasn't sure whether I would have a contribution to make. For me it was about really thinking through what it means to manufacture in China. I'd wanted to get to China ever since we started making clothes there [in 1992]. But my kids were little and I never felt I could leave them for that chunk of time. We planned this trip so that my son, Zack, could go along. We spent a week traveling—Zack wanted to see the Great Wall so we went to Beijing. There must have been a hundred times I was grateful we'd taken that week before diving into the factories. It gave me a feeling for China and what life is like there.

Jenny: I was really impressed with the vibrancy we saw.

Eileen: Yes. The people, the fashion, live music in restaurants. We watched ballroom dancing in the park. I thought there was that general sense of prosperity and optimism, like the 50s in America. The idea that the future holds more promise than the present was a real, palpable thing that you could feel.

CR: What stays with you about the factory visits?
The intensity of the work. I didn't expect that. In the New York factories the workers chat more. In China, I felt they were hyperfocused on getting their work done. It was intense. It reminds me of my Catholic school, to tell you the truth.

CR: When I went to China earlier in the year, we interviewed some of the workers in their dorm rooms. In that setting, the women were relaxed, lively and fun. When we saw them again in the factory, they were completely focused.
The context is different. In China, the workers are migrants who have moved hundreds of miles away. Making money and spreading their wings is a big reason they're in a factory.

In New York, the men and women live nearby. They go home to their families. They don't see their co-workers every evening in the dorms or on the basketball court.

CR: You've been asking questions about what we can do—how we can help the workers in ways that go beyond what we already offer: training on worker rights and workshops on topics such as health and social skills.
What I saw made me want to own a factory, to create it with our values in our way. So we could give the workers some of the benefits our employees have—wellness, education and profit sharing. I'm also thinking about what we can learn from China. That kind of focus and dedication produces incredible quality. How can we understand more about their work ethic?

CR: I realize that owning a factory is just a glimmer of an idea, but do you have a location in mind for this factory?
I'm thinking here in the United States. I wouldn't want to abandon the factories we use, both here and in China. But something local feels like a good place to begin.

I'm remembering back when we started our own retail stores. We were selling to department stores and boutiques, but we didn't really understand retail. We used our stores as a lab—we figured out why customers bought this and not that. We thought about how to set up a retail space so that the customer would be treated the way we wanted her to be treated. We could make sure we stocked everything she needed to make an outfit.

Having our own retail stores made us better partners for wholesale and accounts. I feel there's a parallel idea in starting a factory. If we have our own factory, we can start to understand what makes production fluid, what cuts waste, what makes the environment better for the workers so that they're leading more meaningful lives.

Jenny: When we talked to the factory owners in China, one thing they said they wanted from us was a consistent flow of work. They don't want to have to lay workers off in down times.

Eileen: Downtime is a problem. A factory spends time training workers and loses that investment when it has to lay them off if production slows down. Some of the workers go on to another factory, others go back to their village. And a new crop of workers has to be trained.

Susan Young, our VP of Manufacturing, was with us on the trip. We spent a lot of time talking about "engineering the line"—designing and selling the line so there's a smoother production flow. This kind of change is a big can of worms—it means reevaluating a lot of our habits and timelines—but we're going to take it on.

CR: You've also been thinking about the environment.
Jenny: Susan had just come back from the Textile Exchange conference in Hong Kong where the big topic was the water crisis in China. Multiple regions in the country are projected to run dry by 2030—including the areas where our factories are.

Eileen: I've been passionate about the environment for so many years, but really understanding the environmental problems in China—the water shortage, the air pollution, the toxins in the rivers—was a turning point for me. I've started asking, "How can we stop taking baby steps and start running? What can we do to move faster?"

CR: Even if 70% of the water supply in China weren't polluted, there still wouldn't be enough water. Agriculture is water-intensive. And so is textile production.
Jenny: I was surprised to learn that it takes 700 gallons of fresh water to make a T-shirt.

Eileen: Water is a big issue. Companies are already moving out of China because of environmental issues and because it's cheaper to produce in other countries. Labor costs less. Companies devastate the land and then they pick up and move. That doesn't feel like a good idea to me.

It's a big problem and to really create change, fashion companies need to work together. We were talking about that at the Foundation for Social Change roundtable recently. Livia Firth, who co-founded the Green Carpet Challenge, was wonderful. She said, "You can't change the world on your own. All of us have to do it together." I'm really interested in the idea of partnering with other companies. And I'm thinking about how I can use my voice, which I struggle to find, and leverage the influence we have.

Jenny: You might have to go to Washington, D.C.

Eileen: I dread public speaking, but I'm willing to try.

CR: You're doing a lot more speaking up within the company about our commitment to using more organic cotton and other sustainable fibers.
Organic and sustainable fibers, yes. And also the dye process. In clothing, the dye process is like the secret sauce. Factories don't want to share their secret ingredients because they don't want competitors to steal their business, but sometimes they use nasty chemicals. If we want to understand our environmental impact—and be transparent about it—we need to figure out what's going on.

Jenny: When we visited the dyehouse that makes our bluesign® certified silks, it was a big surprise to find out that they weren't operating at full capacity, especially when they'd done so much.

Eileen: Yes, they invested in new energy-efficient machinery, reformulated their dyes so they are free of toxins and finally achieved bluesign® certification for the silks they produce. And now we're not sending them as much business as we used to—silk is trending down. We're a fashion company and we can't make what the customer won't buy. We want to support the dyehouse, so we are looking at what other materials can be dyed there. And we're letting other brands know about it.

I mentioned the dyehouse at the Foundation for Social Change roundtable. People there were surprised that I would share one of our sources. The fashion business tends to be highly competitive. But we want to support suppliers who are supporting the environment.

CR: Sustainability shouldn't be a competitive factor, a way for companies to distinguish themselves—"We're different because we have organic cotton." Sustainable practices need to become an industry norm. We should all be working together toward a larger goal—the health of the planet.
That is exactly right. For me, what's clear is that we need to keep the environment and social issues front and center—in China, the US and everywhere. We just have to keep looking for new ways to go forward—as fast as we can.