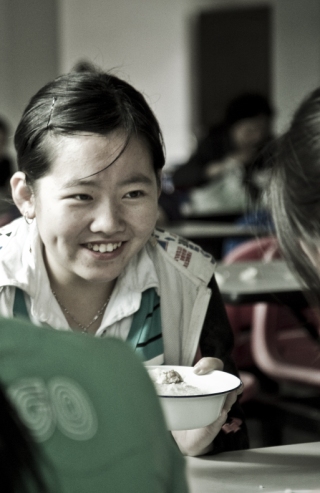 Through our training initiatives, we are able to provide our workers with the relevant knowledge and tools, so that they can act as change agents in their individual communities.
Training Initiatives in China In addition to our dedication to the SA8000 standard in our factories, we have taken the added step of training our Chinese factory workers and managers on various corporate social-responsibility and personal-enrichment topics. Training and knowledge are vital to creating an empowered workforce and ensuring a positive working environment.

Worker Training
Since 2002, we have partnered with Verité to provide training to our factory workforce in China. This training program helps workers develop the understanding and skills needed to participate in improving workplace conditions. Verité's staff and subject experts facilitate on-site workshops engaging our factory workers in interactive sessions on a variety of topics. Prior to each training session, workers are surveyed to discover the topics most important to them. Five sessions are held at each factory every year. Examples of the training topics are: women's health and hygiene, worker rights, marriage and family relations, health and safety, stress management, grievance systems, harassment, disciplinary practices and managing personal finances.

The average worker in our factories has achieved a middle school education, so the workshops--especially those that cover basic health, hygiene and social skills--are the only way they receive essential information and practical tools for personal and professional development. Because we are also committed to educating workers about human trafficking and slavery, we made the topic a mandatory session and expanded the training program to all seven of our factories in China for 2011. Our goal is for our workers to better understand their labor and human rights, as well as to be able to exercise those rights when needed.

Manager Training Along with providing training for our factory workers, we have partnered with Verité and Social Accountability International to provide training workshops for our factory managers in China. In order to encourage collaboration, these trainings typically bring together all thirty to forty managers from our seven factories at a single site in Shenzhen, China. The workshops cover subjects ranging from environmental sustainability to factory management systems to EILEEN FISHER workplace values. In 2011, we included human trafficking and slavery as a mandatory session for all managers (in addition to workers), focusing on the use of labor brokers and the importance of effective grievance systems.

We are constantly striving to offer our factory managers high quality and engaging training that will inspire creativity, collaboration and greater capacity for managing social and environmental issues.