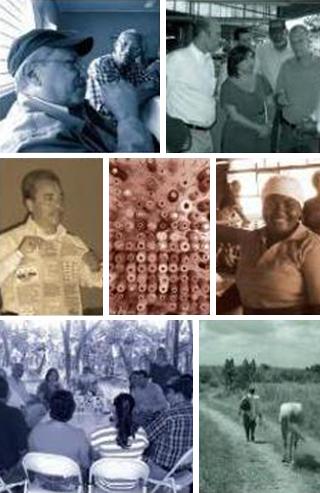 Social Accountability International SA8000
Since 1997, EILEEN FISHER has been a Signatory member of Social Accountability International (SAI), a multistakeholder organization dedicated to developing and implementing socially responsible labor standards. SAI developed SA8000, the comprehensive workplace standard that our factories follow. Based on conventions from the United Nations, the International Labor Organization (ILO) and the Universal Declaration of Human Rights, SA8000 sets forth fundamental human rights in nine areas: child labor, forced labor, freedom of association, disciplinary practices, discrimination, working hours, remuneration, health and safety and management systems.
Becoming SA8000 certified is a huge commitment of both time and financial resources for our suppliers, so we do not require certification. For us, it is more important that suppliers are actually doing the right thing and following SA8000 guidelines. Currently, two out of our thirty-one manufacturing partners are SA8000 certified--one in China and one in India. We use independent, third-party auditing firms to verify compliance with SA8000 and provide training on a variety of related topics to factory managers and workers as needed. Women, who constitute 80 percent of our factory workers, are important beneficiaries of SA8000 guidelines.
Our relationship with SAI is especially rich as our Director of Social Consciousness, Amy Hall, has been a member of the SAI Advisory Board since 2001 and currently chairs the Corporate Programs Committee.
SA8000 stipulates the following:
Child Labor
There should be no workers under the age of fifteen.
The age minimum is lowered to fourteen for countries operating under the ILO Convention 138, an exception for developing nations.
Remediation occurs when any child is found to be working.
Forced Labor
There is no forced labor, no prison or debt bondage labor and no lodging of deposits or identity papers by employers or outside recruiters.
Health and Safety
Factories must provide a safe and healthy work environment with regular worker training.
There must be a system to detect threats to health and safety and steps must be taken to prevent injuries.
Workers must have access to bathrooms and potable water.
Freedom of Association and Right to Collective Bargaining
Employers must respect workers' right to form and join trade unions and bargain collectively.
Where law prohibits these freedoms, employers must facilitate parallel means of association and bargaining.
Discrimination
There should be no discrimination based on race, caste, origin, religion, disability, gender, sexual orientation, union or political affiliation or age.
There should be no sexual harassment.
Discipline
There should be no corporal punishment, mental or physical coercion or verbal abuse.
Working Hours
Workers will work no more than forty-eight hours per week with at least one day off for every seven-day period.
Voluntary overtime is paid at a premium rate and not to exceed twelve hours per week on a regular basis.
Overtime may be mandatory if it is part of a collective bargaining agreement.
In all other respects, employers must comply with applicable laws.
Compensation
Wages paid for a standard workweek must meet the legal and industry standards and be sufficient to meet the basic needs of workers and their families.
There should be no disciplinary deductions.
Management Systems
Facilities seeking to gain and maintain SA8000 certification must go beyond simple compliance to integrate the standard into their management systems and practices.
For more information on SAI and SA8000, please visit
www.sa-intl.org
.