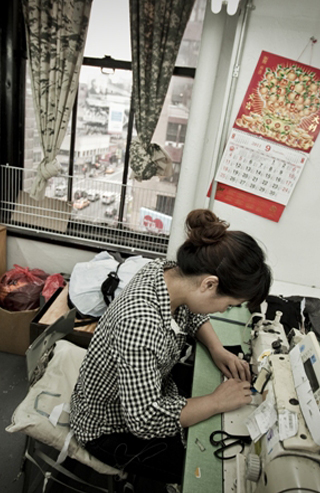 The garment manufacturing sector continues to be an entry point to employment for new immigrants. Our New York factories are owned and operated by first generation Americans. The same is true of the knitting factory we use in Los Angeles.
Made in U.S.A. Any discussion of manufacturing in the U.S. needs to begin with a startling figure: Today 98 percent of the clothes sold in this country are imported, quite a contrast to 1965, when 95 percent of U.S. clothes were domestically made.

Since its founding in 1984, EILEEN FISHER has maintained a steady and significant presence in New York City and its dwindling garment district. Depending on the season, we manufacture approximately 10 to 20 percent of our products domestically. One way that we sustain this level of business is by committing to bringing core fabrics to the U.S. to be cut and sewn. We know that Organic Cotton Stretch Jersey, Washable Stretch Crepe and Viscose Jersey will be important year after year, so we are able to guarantee a reliable flow of business for our local manufacturing partners.

Most of our domestically made clothes are produced in New York City's garment district on W. 38th Street and in Queens. Recently, we began working with a knitting factory outside of Los Angeles, California. Our designers and our manufacturing team are actively looking for new ways to bring more production to the U.S.

Made in USA is a subset of a larger company goal: to evaluate our entire supply chain and find ways to reduce our environmental footprint. Our goals include decreasing transportation costs, cutting down on production waste and using more eco-friendly fibers. Toward these ends, Made in USA is not always the best option. For instance, we deliberately created a local supply chain in Peru, manufacturing close to our sources for prized organic cotton and alpaca.

Our commitment to domestic manufacturing sets us apart in the industry. Erica Wolf, Executive Director of Save the Garment Center, told us, "I'm really glad to know that EILEEN FISHER still has a manufacturing footprint here."That kind of commitment is necessary, she says, to keep skilled labor jobs in the U.S. and provide resources for "emerging designers of the future" to join the fashion industry.

Examples of our Made in USA product include these best sellers: Viscose Jersey, Organic Cotton Stretch Jersey, Lightweight Organic Denim, Washable Stretch Crepe.