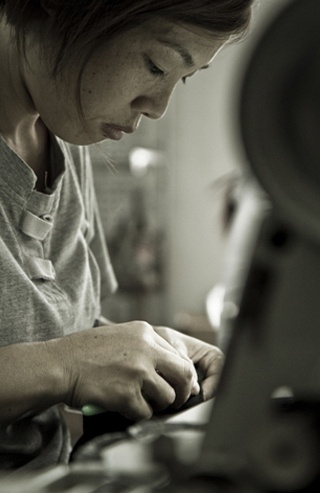 "A lot of people asked me 'Why China?' By working directly with individual business owners and our nonprofit partners in China, we have found that we can create positive social change, one factory at a time." --Eileen
Made in China
Our company decided to explore global manufacturing, particularly in China, roughly twenty years ago for complex reasons. We were working with a network of many small factories in metropolitan New York, and our needs changed. Orders increased, creating a demand for factories that could skillfully and reliably handle our increased volume.
Eileen had begun her business working with one fabric, linen, adding French Terry to the line within the first few years. As the business blossomed, so did Eileen's passion for materials. She brought in silk, the finest of which has been found in China for centuries. And the introduction of knit dressing led her to seek out the high quality and technical expertise that China offered. Eileen felt that as responsible global citizens we could source globally and do good by promoting the rights of people in our supply chain. We have found that by working directly with individual business owners and our nonprofit partners in China, we can create positive social change, one factory at a time.
Each of our seven Chinese clothing factories has been carefully selected by our manufacturing team based on their alignment with our values and their capacity and skill level. We have cultivated strong relationships that include visits from EILEEN FISHER's Social Consciousness team, factory worker and management training, third-party labor audits and consultations with nonprofit partners in China.
Recently, we completed a three-year project with the mill that dyes and finishes our core silks. Knowing that we were its primary customer, the dye house completely renovated its operations, resulting in bluesign® certification. The bluesign® standard uses a strict and holistic approach to assess the environmental impact of water, chemical and energy usage. Our bluesign®-certified silks account for approximately 10 percent of our total product, bringing our overall eco product up to 27 percent.
FAQ about Made in China
1. Why does EILEEN FISHER manufacture in China?
Cost is a factor, but our primary reasons are:
Quality. We work with some of the most highly specialized factories, whose skill level matches the artistry that our designs require.
Reliability. We count on our manufacturing partners to meet our production demands, including deadlines to perfect the fit and deliver goods to our accounts.
Proximity to fibers, especially silks, which constitute so much of our business.
2. What are conditions like in the Chinese factories?
Organized and well lit.
No child labor or forced labor.
While most knitters and sewers are between eighteen and thirty, there are roles for adult workers of all ages.
Grievance systems help workers address concerns with management.
Conditions are verified by third-party auditors.
3. What types of benefits do the workers in our Chinese factories receive?
Benefits vary slightly by factory but in general:
Days off for vacation, sick time, maternity leave, bereavement, marriage leave.
Government-run social insurance programs for retirement, medical, unemployment, workplace injury, maternity.
Most provide highly discounted dorms and meals for workers or housing stipends for workers who choose to live elsewhere in the community.
Extras can include internet access, annual bonus, transportation allowance, job training, karaoke, parties, sports facilities, annual dinner/picnic.
4. Your website talks about human rights issues, but how do you know that Chinese factories actually implement workplace protections? Do you use a third-party reviewer?
We employ third-party auditors; our current auditing firm is UL-STR (Underwriters Laboratories Specialized Technology Resources). We change auditors every few years to help ensure the integrity of our findings. In addition to third-party auditing, we also partner with Verité, a nonprofit that aims to ensure that people around the world work under safe, fair and legal conditions. Verité conducts worker and management training for us. We have long term, deep relationships with our suppliers. They know our culture and the way we work, which gives us the ability to track progress, create measurable goals and effect change within the factories.