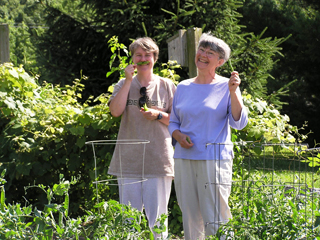 Liz and Ann are farmers and entrepreneurs. Their company, Green Heron Tools, makes ergonomic tools for women.
EILEEN FISHER Announces the Recipients of Its 2012 Business Grant Program for Woman Entrepreneurs.
Fashion-forward clothing that's made in New York City: that's the mission of designer Carrie Parry. She produces a beautiful product line with sustainably sourced fibers—and "heart."
Gabby Fludd's Gumdrop Swap is a unique alternative to consignment and thrift shops. It lets customers swap (and shop for) children's and maternity clothing in Bridgeport, CT.
With her Blue Pig ice cream shop in Croton-on-Hudson, NY, Lisa Moir honors small town traditions by serving sustainably made, locally produced ice cream. She uses milk from a nonprofit Hudson Valley dairy cooperative for innovative flavors such as Roasted Banana and Mojito.
Farmers Ann Adams and Liz Brensinger saw a need: tools and equipment designed specifically to work with women's bodies. While continuing to grow sustainable produce, they created Green Heron Tools in New Tripoli, PA.
Catherine Conway created Unpackaged, a London grocery store that sells local and organic produce—and encourages customers to bring their own containers. "We believe that a lot of packaging is unnecessary so we've removed it," she says.