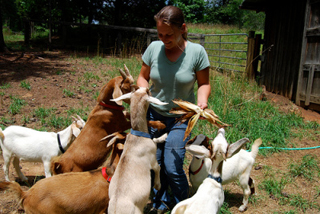 Alex Bowman, founder of Goat Patrol, an environmentally friendly company which uses goats to remove unwanted vegetation, with some of her "employees."
EILEEN FISHER Announces the Recipients of Its 2008 Business Grant Program for Woman Entrepreneurs.
Twisted Limb Paperworks was launched in 1998 by Sheryl Woodhouse-Keese in the wooded countryside near Bloomington, Indiana. Sheryl turns handmade, 100 percent recycled paper into mini works of art: invitations, thank-you notes, programs, guest books, business promotional items, school and nonprofit fund-raising and more. Twisted Limb is a pioneer in the green weddings and event movement.
Goats love poison ivy, noxious weeds and thick brush. Alix Boman of Durham, NC, created The Goat Patrol as an environmentally-friendly alternative to the use of chemical herbicides and gasoline powered machinery in the removal of noxious weeds and other unwanted vegetation. Although Alix has recently handed over the reins of her goat powered business, she continues to work as an eco-entrepreneur. See what Alix is up to now at Organic Transit.
Launched in 2005, Children's Clinic of Richardson (CCR) is one of the few clinics owned by a pediatric nurse practitioner. Martha Strong is dedicated providing low-income children in north Texas with all the benefits of a visit to a pediatrician's office, with the added caveat that "we take our time." Her clinic helps families avoid emergency room visits by offering quality, affordable health care.
Designer Jenny Hwa created Loyale in order "to make the simple act of getting dressed world changing." Her clothing company produces fashion-forward sustainable clothing that is made in the USA. Launched in 2005, Loyale has had the ups and downs that one can expect from a fashion company. It has one constant: "the intention to inspire activism."
Sorry to say that our friends Sara and Maggie Mohs of Simplyneutral "rode off into the eco-sunset" in December of 2011. We love their energy and remarkable sister-in-law partnership and wish them well, knowing that even if just for a little while, they helped us to live a healthier, more sustainable lifestyle with their natural, nontoxic cleaning products.