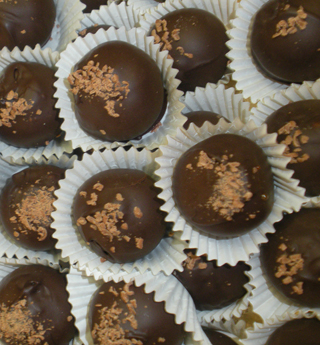 Chocolations award winning chocolate truffles are handmade daily and available in a variety of flavors.
EILEEN FISHER Announces the Recipients of Its 2006 Business Grant Program for Woman Entrepreneurs.
Biomimicry seeks sustainable solutions by emulating nature's designs and processes (for instance, solar cells that mimic leaves). Janine Benyus, biologist and author of six books, received our grant for a consultancy that is now called Biomimicry 3.8. The name refers to 3.8 billion years of design that stems from nature. Her company has become the global leader in biomimicry innovation consulting. In 2012 Janine won the Design Mind Award from the Smithsonian's Cooper-Hewitt National Design Museum. To learn more, try one of her online courses or read her landmark book, Biomimicry: Innovation Inspired by Nature (1997).
A stay-at-home mom turned lawyer turned chocolatier, Maria Valente had a vision: create community while preserving the tradition of custom-made chocolate. Choclations opened near the train station in Mamaroneck, NY, and became a local hub. Maria is dedicated to modeling environmental sustainability and sharing resources with other entrepreneurial women. In September 2010 she moved to a larger space with an open kitchen that lets customers watch the chocolate making process. She also invited two women-owned businesses, Lola's Tea House and Cake in a Cup NY, to share the space.
From 2005 to 2008, designer Anna Cohen, led a successful apparel company that brought sustainability to the forefront of the fashion industry. She has closed that chapter of her life and turned her talented eye to projects such as creating sustainable supply chains for wool fiber, yarn and apparel production within the United States. She is based in the Portland, Oregon area.
"Our inspiration came from seeing great companies giving away bad stuff," says Denise Taschereau. Her Vancouver BC-based company, Fairware Promotional Products, links brands with sustainably sourced promo items–organic cotton logo hats, journals with recycled paper, eco totes. In addition to finding products that communicate a brand's values, Fairware specializes in insightful and creative solutions to animate promotional campaigns.
We met Chef HuNia Bradley when she ran HuNia's Divine Soul Kitchen, dedicated to organic, local food that fans called "fabulous and fierce." HuNia is now a caterer and program manager at the Ecology Center's food justice program, Farm Fresh Choice. The program creates partnerships with local farmers that reflect the Bay Area's communities of color, ensuring that fresh, culturally-appropriate food is available for purchase at afterschool programs.