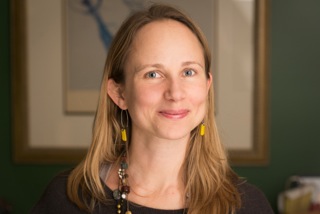 Rachel Lee Cumming started Armistead Caregiver Services when she was a college senior.
Celebrating Its 20th Anniversary, EILEEN FISHER Announces Its Business Grant Program for Woman Entrepreneurs
In 2004 our very first business grant of $20,000 was awarded to Armistead Caregiver Services of Vermont, dedicated to helping seniors and people with disabilities live at home and take part in their communities. The grant committee was very impressed with the passion and confidence of the company's young founder, Rachel Lee Cummings. In 1999, when she was a twenty-two-year-old senior at the University of Vermont, Rachel started the company with two part-time employees. By the time she graduated in June, she had a staff of eight. We have learned that Rachel sold the business in 2011 to take time to raise her young children. She continues to retain a minority stake in the Armistead Caregiver Services (the company now operates in three states) and sits on the its board. We look forward to seeing what the future holds for this innovative entrepreneur.