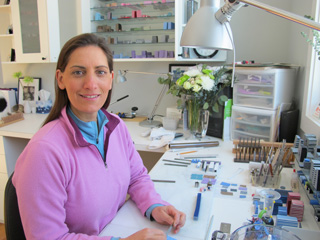 2013 grant recipient Merrie Buchsbaum of Merrily Made in her studio.
Meet the recipients of the 2013 EILEEN FISHER Business Grant Program for Women Entrepreneurs.
Natalie Chanin started her clothing company, Alabama Chanin, in her hometown of Florence, Alabama. She is challenging the fashion industry with open source patterns and a network of local, fairly paid homeworkers who produce intricately hand-sewn, one-of-a-kind organic cotton garments. Her business has expanded recently to include a factory and a machine-made line.
Carrie Blackmore of Good Nature Brewing is bringing her community together at her "farm-to-glass" micro-brewery and taproom in Hamilton, New York. She is committed to working with local family farms, artists and small businesses.
Amy Bauman started greenGoat to keep construction cast-offs out of the landfill. Based in Somerville, Massachusetts, this social enterprise redistributes architectural salvage to people and businesses who give the materials new life. Along the way, Amy teaches building professionals how to boost efficiency by conserving resources and managing waste streams.
Melissa Joy Manning creates beautiful, modern jewelry using recycled metals and sustainably sourced stones. In addition to ethically sourcing her materials, Melissa creates a company culture and supplier relationships built on environmental and social sustainability.
Polymer artist Merrie Buchsbaum turns writing into an art at Merrily Made in Cromwell, Connecticut. She produces a unique line of pens, some of which are crafted with materials straight from her own garden.
Susan Matteucci leads Southwest Creations Collaborative, a social enterprise in Albuquerque, New Mexico, that operates a sewing facility that provides well-paid jobs and low-cost childcare for women. By investing in women, they help women become leaders in their families and their communities.