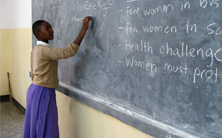 AfricAid's Kisa Project ensures a high school education for girls in Tanzania–and empowers them to mentor girls in their home communities.
Activating Leadership Grant Program for Women and Girls
Eileen strongly believes each of us has the ability to lead—in our personal lives, the workplace and our communities. There are many ways to lead, many styles of leadership and many kinds of effective leaders. Bold or introspective, outgoing or imaginative, we each have the potential to make a difference.
For thirty years, EILEEN FISHER has created clothes that invite women to dress simply and with delight. As a socially conscious company, EILEEN FISHER is dedicated to supporting women through social initiatives that address their well-being, to guiding our product and process towards sustaining the environment and to practicing business responsibly with absolute regard for human rights.


We continually seek new and innovative ways to empower women around the globe to find their voices and achieve emotional, spiritual and physical well-being. It is our hope to continue to be proactive in this effort, seeking out nonprofit organizations and causes that best encompass our philanthropic mission and that support issues Eileen feels passionate about.
Click here to view our past grant recipients.