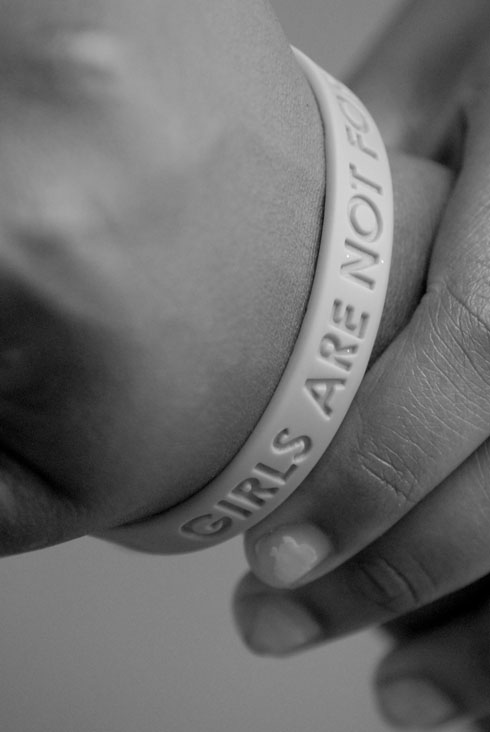 Girls Educational & Mentoring Services (GEMS) is the only organization in New York State specifically designed to serve girls and young women who have experienced commercial sexual exploitation and domestic trafficking. GEMS was founded in 1998 by Rachel Lloyd, a young woman who had been commercially sexually exploited as a teenager. GEMS has helped hundreds of young women and girls, ages 12-24, who have experienced commercial sexual exploitation and domestic trafficking to exit the commercial sex industry and develop to their full potential by providing young women with empathetic, consistent support and viable opportunities for positive change. GEMS is committed to ending commercial sexual exploitation and domestic trafficking of children by changing individual lives, transforming public perception, and revolutionizing the systems and policies that impact sexually exploited youth. EILEEN FISHER is a huge advocate of GEMS work since 2005 and recently donated a percentage of a full day of sales at its newly opened concept store in Bloomingdale's in New York City.
Preventing Human Trafficking & Slavery
in Our Supply Chain
Human trafficking is a form of slavery that can include forced labor, debt bondage and sex trafficking. An egregious violation of human rights, human trafficking and slavery exist in every country with over 27 million victims worldwide.
On September 30, 2010, the State of California signed the California Transparency in Supply Chain Act (SB657) requiring companies with annual sales of $100 million or more that do business in California to disclose their effort in eradicating human trafficking and slavery from their supply chains. Similar efforts are in progress nationally.
We see this as a positive trend propelling companies towards transparency, something we at EILEEN FISHER continue to work on within our supply chain. We are committed to building more transparency into our broader human rights approach and recognize that this is a long-term effort requiring continuous attention. Knowing that we cannot do this alone, we have engaged with nonprofit partners to help guide our efforts.
Eileen has long believed that our company's continued success and growth should be based on doing the best for our employees and, by extension, the people who manufacture our products. At the heart of this commitment is the notion that every person in our company and supply chain is employed at her or his own free will and that she or he has a voice.
How is EILEEN FISHER taking action?
EILEEN FISHER has a strong commitment to both women and human rights. To date, we have not found evidence of human trafficking and slavery in our supply chain. Our stable and long relationships with our manufacturing partners have allowed us to continually educate our suppliers on many human rights topics over the years. However, we know that conditions that can lead to human rights abuses can exist in very subtle forms such as the withholding of identity or travel documents and excessive recruitment fees. Therefore, we have made a company commitment to try to eliminate the root causes that could lead to human trafficking and slavery in our supply chain.
Our strategy to meet this commitment was developed with our audit firm UL-STR and nonprofit partners. It has five components:
Verification - We use the Fair Hiring Toolkit published by Verite, our long-time partner, to survey our suppliers on their recruitment practices and grievance systems so that we can evaluate where we could be vulnerable to human trafficking and slavery in our supply chain. We have also provided our supplier with a copy of their country law text pertaining to the topics of human trafficking and slavery in their native languages.
Auditing - We use independent, third party reviewers to conduct supplier audits for human rights issues. Audits are conducted on an announced or semi-announced basis; unannounced audits will be used when necessary. We have been working closely with our audit firm UL-STR to strengthen their audit tool to include seeking evidence of human trafficking and slavery during the audit through documentation review, management interviews and worker interviews.
Certification - We feel that it is our responsibility, not our suppliers', to certify that materials incorporated into our products comply with the country laws regarding human trafficking and slavery. Any time we purchase a yarn or a fabric from a supplier, we include questions that will help us target potential human rights issues and identify red flags prior to placing bulk orders. Our Social Consciousness Team works closely with our Design Team and Manufacturing Team to incorporate ethical sourcing into our fabric and yarn approval process and engaging our mills on social and ecological topics.
Internal Accountability - We have been building our human rights program here at EILEEN FISHER since 1997, and are committed to SA8000 and the Ethical Trading Initiative Base Code. We believe that employment should be freely chosen and that none of our suppliers shall engage in nor support the trafficking of human beings. We have communicated this commitment to our suppliers and, should we discover that they are in violation with this commitment, we will engage them in a remediation process. If the issue cannot be resolved, we will have no choice but to end our relationship with the supplier. Internally, we are looking at our company policies and procedures from various angles as well such as employee travel, investments and contractor selections.
Training - Partnering with our audit firm UL-STR, we hosted training sessions on human trafficking and slavery for our employees, in order to raise awareness about what can occur in the global supply chain, both in general and in reference to our particular vendors. The training took place at our main office in Irvington, New York, our creative center in New York City and in the offices of our sourcing and production agent in Hong Kong. These sessions distilled the process of identifying red flags by examining important root-cause factors of slavery and trafficking, recruiting practices and migrant worker issues.

In addition, we are engaging our long-time partner Verite to conduct trainings at our factories in China. In 2011, we included human trafficking and slavery as a mandatory session for all managers, focusing on recruitment and grievance systems. For factory workers, we are focusing on the definition of slavery and its modern-day manifestations, how to identify red flags, and how to get help if they find themselves or anyone in a compromised situation. We believe that by providing the people in our supply chain with the relevant knowledge and tools, they can act as change agents in their individual communities.
We have long been aware of human trafficking and how it adversely affects the lives of the victims and their families. Through our store partnerships and grant programs, we have funded various organizations working on this issue at the grassroots level. These activities help raise awareness of the issue of human trafficking among our customers, our store teams and our employees. Below are some of our partner organizations:
How can you take action?
As a consumer, you may be interested in the following resources to inform your purchasing decisions. By supporting companies who responsibly manage their supply chains, you can help prevent human trafficking and slavery worldwide. As stated by Free the Slaves, the largest anti-slavery organization in the U.S., it is possible to end slavery in 25 years. Everyone has a role to play--government, business, international organizations and consumers.
Human trafficking and slavery is often invisible for people who do not look carefully. If you think that you might have known or spotted a victim of human trafficking, there are actions that you could take to help him/her. Please click here to learn how you could help identify and assist victims of human trafficking.

To download a copy of this disclosure, please click here.