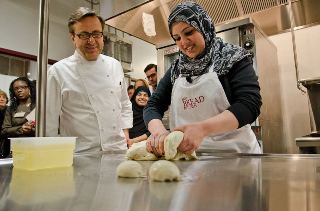 Hot Bread Kitchen is a non-profit social enterprise that creates better lives for low-income women and their families.
Annual EILEEN FISHER Business Grant Program for Women Entrepreneurs
The EILEEN FISHER grant program seeks applicants from wholly women-owned businesses that combine the principles of social consciousness, sustainability, and innovation to create new businesses or invigorate existing ones.
Eileen Fisher Inc. will award up to 5 grants of $12,500 to the winners of the annual Business Grant Program for Women. To apply, your business must be:
Innovative
100% women owned
Produce products or services that foster environmental and economic health in the community.
EILEEN FISHER INC. seeks established businesses with at least 3 years of operation that are ready to move into the next stage of their business plan. Only for profit businesses or for profit/non-profit hybrids (social enterprises) are eligible for this grant. Nonprofit organizations may qualify for funding through other programs listed on our grant page.
Annual grant applications are available in early March, with a mid-May deadline.
Please note: no organization or agency may charge for this application. Please report any unauthorized solicitations to ccampbell@eileenfisher.com