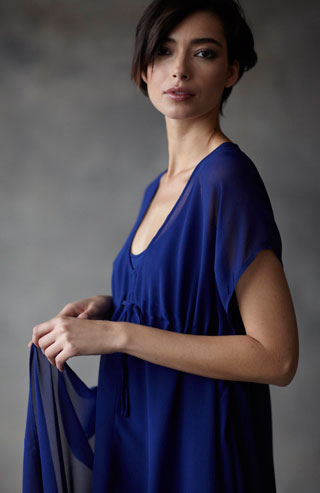 Silks: bluesign® certified
For two decades we have been using locally made, locally dyed silks from China, where silk expertise dates back thousands of years. In 2009 we decided to green our supply chain and began working with bluesign® technologies to transform the chemistry behind our core silks, which account for 10 percent of our product.

As of Spring 2012 our core China silks are bluesign® certified, which means that they are dyed and finished using fewer chemicals, less water and less energy.

Rather than treating wastewater to remove harmful chemicals after fabric is dyed, our dyehouse reduces toxins before they enter the manufacturing stream. It also assesses water and energy usage, helping us reduce the impact of manufacturing.

A Swiss company founded by a former fashion industry chemist, bluesign® technologies is an important player in eco textile circles, particularly among outdoor clothing manufacturers such as Patagonia, The North Face and REI. Our project is a first in two ways: • We are the first company to have bluesign® certified silks.
• We are the first American fashion company to be a bluesign® member. Our certification has been a three-year journey of both leadership and perseverance. "Dyeing is a hot-button topic," says Shona Quinn, EILEEN FISHER sustainability leader. "We wanted to create a more responsible product for our customers and create change in the textile industry. Our China silk dyehouse, which works almost exclusively for EILEEN FISHER, was a natural starting point." She adds that our silk fiber is locally produced, knit and woven, a centuries-old Chinese tradition. "It's great to see new technology and chemistry come to a long-time partner. Changing small inefficiencies can make a large difference."

The biggest fan of our bluesign® certification might well be Eileen. "I'm so happy that we're engaging our vendors to partner with us to create change," says Eileen. "The kind of holistic thinking behind the bluesign® standard shifts everyone's idea of what's possible and how business can be part of lasting environmental solutions."

Our bluesign® certified silks are:
GC Silk Georgette Crepe has a matte finish that goes from day into night.
GK Stretch Silk Jersey is a fluid knit we use for our system pieces.
GT/GTT Sheer Silk Georgette creates shape with a sheer wash of color.
HN Silk Crepe de Chine is a fine weave with elegant luster.
SC Sandwashed Silk Charmeuse is distinguished by a soft, peachy feel.
SM Stretch Silk Charmeuse combines a subtle shine with the surprise of stretch.
WL Whisper Silk, our light, lustrous scarf fabric.
YH Silk Habutai is tissue-weight silk, tightly woven for a lustrous surface.