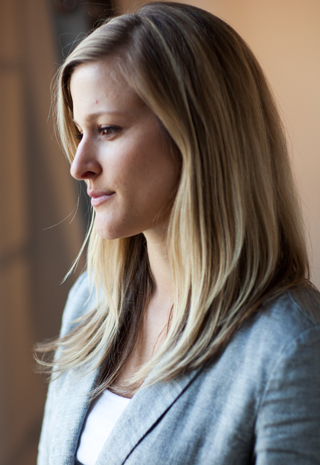 Brand Merchandiser – Retail & Web
NICOLE BENUSKA
Describe your role.
As a Brand Merchandiser at EILEEN FISHER, I work closely with the collection during the design process, following it all the way through to market where we hand it over to our sales team. We keep a pulse of what our customers are loving, what's selling, and what's not working, to help provide context for the design team. The highlight of the merchandising team's season is putting the new collection together and presenting it to the company in preparation for market.
Why did you choose this career/position or did it choose you?
I'm sure it was a bit of both. Fashion has always been a passion of mine. Growing up with an unusually hip mom and grandmother, I was inspired at an early age to see fashion as a means of expressing creativity. Having previously worked in the retail, buying and wholesale worlds, I've come to realize that as much as I enjoy the creative side, I also enjoy the analytic–that is, constantly finding ways to make a system function at its best. I love that I get to blend these two worlds together.
What keeps you doing this job?
This job provides a constant stream of high energy work. The continuous change, evolution and variety is exhilarating - there is truly never a dull moment. Working on multiple seasons at a time, I'm able to connect with a wide range of talented teams and individuals throughout the company. I've found the process of collaboration to be refreshing. Not only does it provide constant opportunity for growth, but I get to see the way other teams work within the system. Oh, and loving the clothes we make is a bonus!
What would you recommend to others interested in this role? What training would you suggest if any?
As the late Joseph Campbell used to say, "Follow your Bliss". I've been fortunate enough to work with a number of people who have the courage to follow what truly inspires and moves them. It brings a unique contribution to the table, and also carries a spirit and vitality that seems to energize those around. I'm thankful to work with a company that encourages people to grow in this way. In regards to what training I would suggest…well, for me, my previous work in sales and buying was integral in understanding the bigger picture. I found great value in listening to the customer's story and hearing their experience of the product first hand.
What sets EF apart from other places you have worked?
Having worked for small companies before EILEEN FISHER, I've actually been impressed that I've found more similarities than differences. The camaraderie and community I cherished about the small businesses also thrives in the EILEEN FISHER work culture. Our passion and commitment to sustainability, ECO initiatives and human rights truly inspires me.