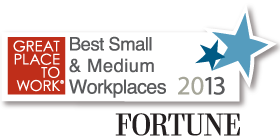 2013 Great Place to WorkTM Winner
"The company is a constellation of stars, each one of us bringing great talent, ideas, and experience to our path forward." –Eileen
We're excited to be recognized as one of "The Best Small & Medium Workplaces" in 2013 by the Great Place to Work Institute for the tenth year in a row! Though we have excellent benefits and work/life balance programs, the Great Place to Work Institute goes beyond a checklist. It defines a great workplace as one that is "built through the day-to-day relationships that employees experience."
What is a Great Workplace?
The Great Place to Work Institute says:
"Employees believe they work for great organizations when they consistently:

TRUST the people they work for;
Have PRIDE in what they do; and
ENJOY the people they work with.

Trust is the defining principle of great workplaces - created through management's credibility, the respect with which employees feel they are treated, and the extent to which employees expect to be treated fairly. The degree of pride and levels of authentic connection and camaraderie employees feel with one another are additional essential components."
EILEEN FISHER employee comments from the Great Place to Work™ survey:
"It is a very generous company that cares for its employees and their families. Some examples are the wellness and educational benefits afforded to us in addition to the
401(K), clothing benefit, work at home benefit, the amount of vacation time we have, birthday celebrations, lunches, 4 Fridays off during the summer and leaving at 1pm on the day before a holiday. Thank you to Eileen herself for these gifts."
"There is a freedom to create in this company. It inspires me to grow in my position with or without an official promotion attached. If you have a desire to grow and learn the company truly recognizes and rewards an employee's entrepreneurial spirit."
"So many companies do not take the time or put in the effort to go the extra step, but EF does. I had never heard of a company that values feedback from its employees as much as EILEEN FISHER does. By always being transparent with all employees and genuinely looking for contribution from everyone, I feel like I am truly a part of this organization and I have an impact."
"This company has a set of values that we live day to day both with each other and our outside partners. I have grown as a person and leader in the company in ways that are deep and long lasting."
Visit our Careers section for employment opportunities and employee stories.