Celeste:
Human Resources Leader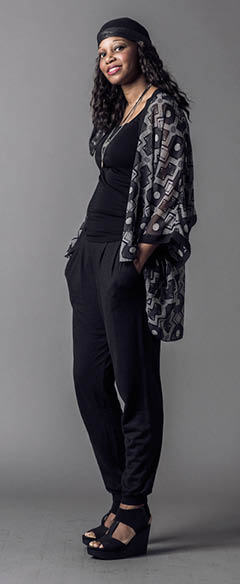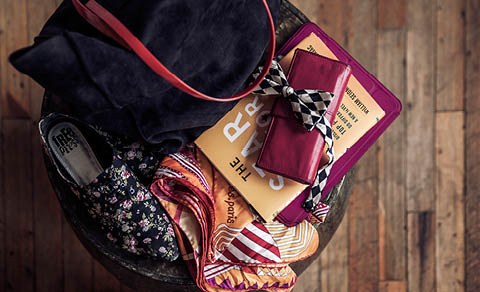 I am a chromophobe, which means fear of color, and I own that. If I do wear color it tends to be olive green or shades of blue, but this little pink dress–I saw it and I was like god that's so fabulous.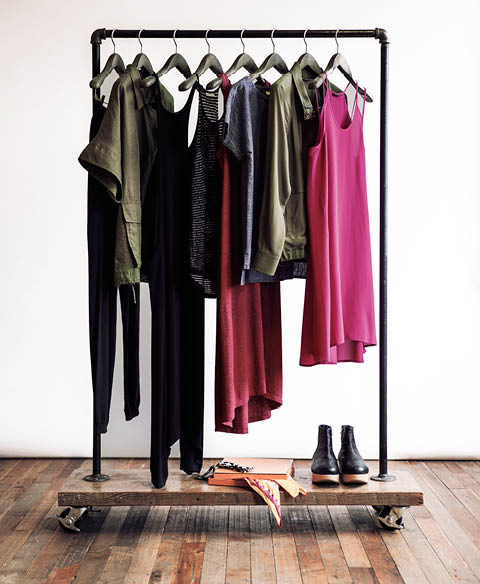 Slouchy pants work with the look I like, that sort of roll out of bed, I-didn't-try-too hard look.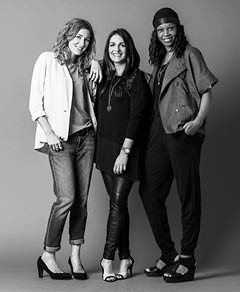 This harem jumper was like shock horror–we're actually doing that? And the next thing I was putting it on. I wear harems all the time and this is one-stop shopping.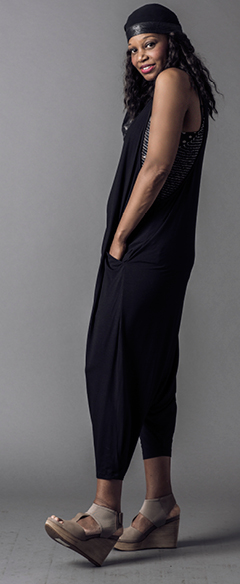 On style: I was thinking about style, but almost everything I picked was eco. It's a subliminal draw.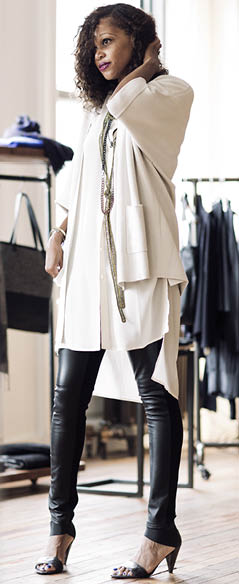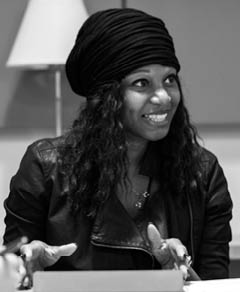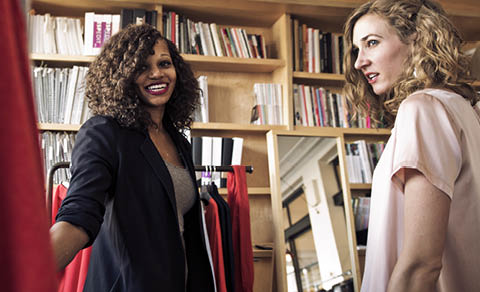 Celeste's Tips
Bomber Drama You all know that I love the '80s. That's totally why I was drawn to this silk bomber jacket. I like to pair it with slouchy pants for the full-on slumber party look! Available in late March.

Right on Track Pleats and a track-pant cuff: Meet my new favorite pants. I've worn them with Converse sneakers and platforms all in the same day! They are long enough so we tall girls don't have to worry. Available in late March.

Right on Track >

Tropical Getaway Drop this gorgeous little silk item over almost anything and you're off on a tropical vacation. Don't be shy–I'm wearing it over my new racer-back dress in Cerise. The lines and fabrics just work so amazingly well together. Available in late May.

Pinky Tuscadero Love the color, love the details: the high-low hem and racer-back. For me this dress really gets magical when you layer on a hot little silk cami dress in Cerise. Available in late April.

A Love Story When I first started at EF, I was obsessed with our linens. Sturdy, yet soft; classic, yet sporty–all at the same time. This is almost a shirt posing as a jacket posing as a shirt. And the zipper action is marvelous. Available in late March.

The Adult Onesie So I didn't think that I would attempt this piece, but once I put it on, it totally captivated me. I love one-stop shopping. Flats or heels, pockets...score! Shop >